They view my site with envious eyes

Sep. 21
HAPPY HORROR THRILLER BIRTHDAYS TO -
By E.C. McMullen Jr.
Producer Jerry Bruckheimer (THIEF, CAT PEOPLE, CRIMSON TIDE, THE ROCK, CON-AIR, BLACK HAWK DOWN, PIRATES OF THE CARIBBEAN [all], NATIONAL TREASURE [all], DEJA VU, BEWARE THE NIGHT, DELIVER US FROM EVIL) is 75.
Actor Christian Serratos (TWILIGHT [all], 96 MINUTES, FLIGHT 7500, THE WALKING DEAD [TV]) is 28.
Actor Maggie Grace (CREATURE UNKNOWN, LOST [TV], THE FOG, TAKEN, MALICE IN WONDERLAND, THE EXPERIMENT, LOCKOUT, THE TWILIGHT SAGA: BREAKING DAWN PART 1, TAKEN 2, THE TWILIGHT SAGA: BREAKING DAWN PART 2, AFTERMATH) is 35.
Psst! Hey! Keep it to yourself, but this birthday wish goes out to
Writer Stephen King (Books: BLOOD & SMOKE, DREAMCATCHER. Movies: CARRIE, CAT'S EYE, CHILDREN OF THE CORN, APT PUPIL, THE NIGHT FLIER, THE GREEN MILE, DREAMCATCHER, 1408, THE MIST) who is 71.
Next year I'll feature someone else's movie or book. I swear!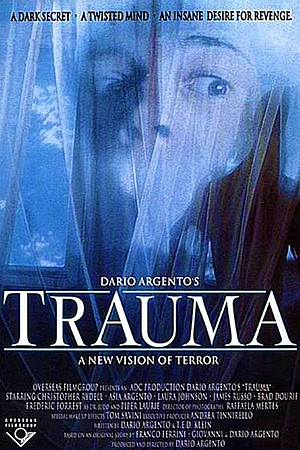 Sep. 20
HAPPY HORROR THRILLER BIRTHDAYS TO -
By E.C. McMullen Jr.
Actor Asia Argento (DEMONI 2, LA CHIESA, TRAUMA, LA SINDROME DI STENDHAL, IL FANTASMA DELL'OPERA, LES MORSURES DE L'AUBE, RED SIREN, THE KEEPER, LAND OF THE DEAD, LIVE FREAKY DIE FREAKY, TRANSYLVANIA, MOTHER OF TEARS, DRACULA 3D) who is 43.
Actor Brinke Stevens (NECROMANCY, THE SLUMBER PARTY MASSACRE, SOLE SURVIVOR, SLAVE GIRLS FROM BEYOND INFINITY, SORORITY BABES IN THE SLIME BOWL-O-RAMA, NIGHTMARE SISTERS, GRANDMOTHER'S HOUSE, PHANTOM OF THE MALL: ERIC'S REVENGE, TRANSLYVANIA TWIST, THE JIGSAW MURDERS, SPIRITS, BAD GIRLS FROM MARS, SHADOWS IN THE CITY, HAUNTING FEAR, MY LOVELY MONSTER, TEENAGE EXORCIST, JACK-O, MOMMY, REPLIGATOR, HYBRID, MOMMY 2, ILLICIT DREAMS 2, SIDESHOW, HELL NIGHT, HORRORVISION, VICTORIA'S SHADOW, WEB OF DARKNESS, EYES ARE UPON YOU, WITCH HOUSE 3, THE FRIGHTENING, AMERICAN NIGHTMARE, MARK OF THE ASTRO-ZOMBIES, HELL ASYLUM, BLEED, ZOMBIEGEDDON, DELTA DELTA DIE!, THE NAKED MONSTER, AXEMAN AT CUTTER'S CREEK, THE TROUBLE WITH BARRY, you get the idea, well over 100) is 64.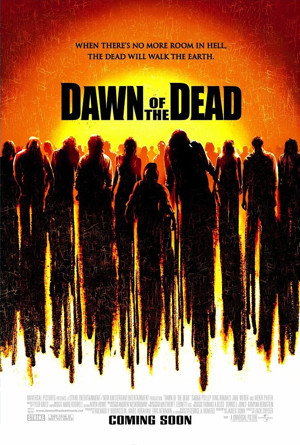 Sep. 19
HAPPY HORROR THRILLER BIRTHDAYS TO -
By E.C. McMullen Jr.
R! Avast there ye scurvy dogs! Wish some happy birthdays to
Actor Katrina Bowden (THE SHORTCUT, TUCKER AND DALE VS. EVIL, PIRANHA 3DD, HOLD YOUR BREATH, TUCKER 7 DALE VS. EVIL, PIRANHA 3DD, NURSE 3D, HOLD YOUR BREATH, SCARY MOVIE) is 30.
SFX artist, Horror columnist & Gadabout, Spooky Dan (Horror reporter. SFX: DEEP BLUE SEA, PSYCHO BEACH PARTY, FINAL DESTINATION 2, RESIDENT EVIL: APOCALYPSE, CURSED, FINAL DESTINATION 3, SLITHER, WRONG TURN 2: DEAD END, 2001 MANIACS: FIELD OF SCREAMS) who be 45.
Actor Danielle Panabaker (MR. BROOKS, FRIDAY THE 13TH [2009], THE CRAZIES, John Carpenter's THE WARD, PIRANHA 3DD, TIME LAPSE) be 31.
Look for Danielle's 2014 Thriller release of .
Actor Kevin Zegers (IN THE MOUTH OF MADNESS, SPECIMEN, SHADOW BUILDER, KOMODO, FEAR OF THE DARK, WRONG TURN, DAWN OF THE DEAD [2004], THE HOLLOW, 50 DEAD MEN WALKING, FROZEN, THE VAMPIRE, THE ENTITLED, THE COLONY, THE MORTAL INSTRUMENTS: CITY OF BONES, THE CURSE OF DOWNER'S GROVE) be 34.
Sep. 18
ON THIS DAY: HELLRAISER
It was 31 years ago today, Clive Barker showed us how to play.
My review of /Hellraiser.
And
HAPPY HORROR THRILLER BIRTHDAYS TO -
By E.C. McMullen Jr.
Writer Brett Ellen Block (DESTINATION KNOWN, THE GRAVE OF GOD'S DAUGHTER, THE LIGHTENING RULE) be 45.
Actor Annie Burgstede (DEATH TUNNEL, FOLLOW THE PROPHET, THE ANNIVERSSARY AT SHALLOW CREEK) is 35.
Actor Billy Drago (VAMP, HUNTER'S BLOOD, HERO AND THE TERROR, DARK BEFORE DAWN, CYBORG 2, LUNARCOP, NEVER SAY DIE, A DOLL IN THE DARK, CONVICT 762, THE CIRCUIT, IMPRINT) be 69.
Actor James Marsden (CAMPFIRE TALES, DISTURBING BEHAVIOR, GOSSIP, X-MEN [all], STRAW DOGS, RED MACHINE, THE LOFT) is 45.
James shares a September birthday with his director from X-MEN, Bryan Singer.
Sep. 17
THE PREDATOR
Well of course I saw it!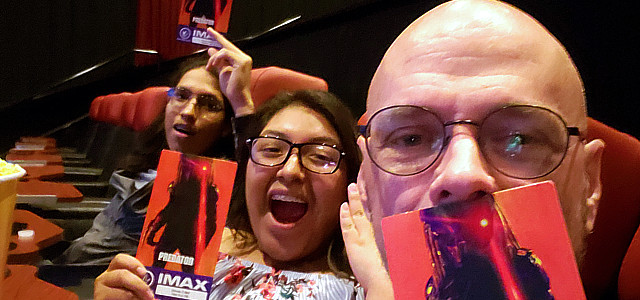 Uncle Feo takes the kids to see THE PREDATOR
So how does it compare to the rest of the franchise?
You'll have to read my review to find out what I thought of...
And
HAPPY HORROR THRILLER BIRTHDAYS
TO -
By E.C. McMullen Jr.
Writer, Director Neill BlomKamp (DISTRICT 9, ELYSIUM) is 39.
Writer David Bain (various short stories) who is 48.
Actor Allie MacDonald (HOUSE AT THE END OF THE STREET, THE BARRENS, THE RIVERBANK, STAGE FRIGHT) is 30.
Actor / Horror Host / Gadabout Cassandra Peterson aka Elvira (FRIGHT NIGHT [TV], JEKYLL AND HYDE...TOGETHER AGAIN, ELVIRA MISTRESS OF THE DARK, THE ELVIRA SHOW [TV], ELVIRA'S HAUNTED HILLS, HER MORBID DESIRES, THE HAUNTED WORLD OF EL SUPERBEASTO, ALL ABOUT EVIL) is 67.
Actor Ella Purnell (NEVER LET ME GO, INTRUDERS, KICK-ASS 2) is 22.
Director Bryan Singer (PUBLIC ACCESS, THE USUAL SUSPECTS, APT PUPIL, THE X-MEN, X-MEN 2, X-MEN: DAYS OF FUTURE PAST) is 52.
SUNDAY -
Writer John Urbancik (A GAME OF COLORS, SINS OF BLOOD AND STONE [W/Michael Oliveri]) is 42.
SATURDAY -
Actor Tom Hardy (STAR TREK: NEMESIS, DOT THE I, THE RECKONING, LD 50 LETHAL DOSE, EMR, LAYER CAKE, SWEENY TODD, MINOTAUR, A FOR ANDROMEDA, FLOOD, THE KILLING GENE, ROCKnROLLA, BRONSON, INCEPTION, TINKER TAILOR SOLDIER SPY, THE DARK KNIGHT RISES, LOCKE, MAD MAX: FURY ROAD, CHILD 44) is 40.
Look for Tom in the upcoming 2018 Horror Thriller, VENOM.
Actor Tommy Lee Jones (EYES OF LAURA MARS, BLACK MOON RISING, THE PACKAGE, UNDER SIEGE, THE FUGITIVE, BLOWN AWAY, THE CLIENT, NATURAL BORN KILLERS, VOLCANO, MEN IN BLACK, U.S. MARSHALLS, DOUBLE JEOPARDY, RULES OF ENGAGEMENT, MEN IN BLACK II, THE HUNTED, THE MISSING, IN THE ELECTRIC MIST, CAPTAIN AMERICA: THE FIRST AVENGER, MEN IN BLACK 3) who is 71.
Director Jonathan Liebesman (DARKNESS FALLS, THE TEXAS CHAINSAW MASSACRE; THE BEGINNING, THE KILLING ROOM, BATTLE LOS ANGELES, WRATH OF THE TITANS, THE TEENAGE MUTANT NINJA TURTLES) is 42.
Director Steven R. Monroe (THE CONTRACT, HOUSE OF 9, IT WAITS, SASQUATCH MOUNTAIN, LEFT IN DARKNESS, OGRE, STORM CELL, WYVERN, ICE TWISTERS, I SPIT ON YOUR GRAVE [2010], MONGOLIAN DEATH WORM, JABBERWOCK, MoniKA, END OF THE WORLD, I SPIT ON YOUR GRAVE 2: STILL MORE SPITTLE) is 54.

LOVE THIS SITE?
Support it when you buy my books
E.C. McMullen Jr.
PERPETUAL
BULLET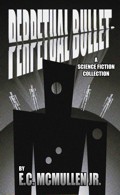 "'Some People' ... may be the standout story in the book."
- John Grant, Infinityplus
WILLOW BLUE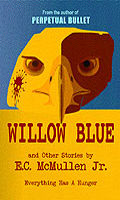 "'Willow Blue' will burrow under your skin and stay there long after you've put the book down."
- Jeffrey Reddick, Creator of
FINAL DESTINATION
IN OTHER BOOKS
E.C. McMullen Jr.'s
short story
CEDO LOOKED LIKE PEOPLE
in the anthology
FEAR THE REAPER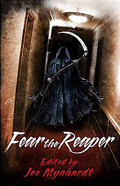 "This Ray Bradbury-esque is one of the most memorable and one of the more original stories I've read in a long time."
- Amazon Review
HORROR 201:
The Silver Scream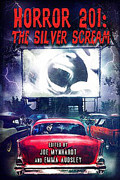 Filmmaker's Guidebook
featuring
RAY BRADBURY,
JOHN CARPENTER,
WES CRAVEN,
TOM HOLLAND,
E.C. McMULLEN Jr.,
GEORGE A. ROMERO,
and many more.
Extensively quoted in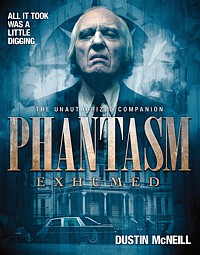 PHANTASM
EXHUMED
The Unauthorized Companion
Robert S. Rhine's
SATAN'S 3-RING
CIRCUS OF HELL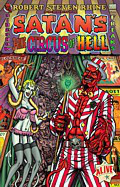 Forward by
GAHAN WILSON &
FEO AMANTE.
Featuring comics by
ALEX PARDEE,
WILLIAM STOUT,
STEVE BISSETTE,
FRANK DIETZ,
JIM SMITH,
FRANK FORTE,
ERIC PIGORS,
MIKE SOSNOWSKI,
OMAHA PEREZ,
DAVID HARTMAN,
STEVEN MANNION,
and more!
Also
IN CINEMA
E.C. McMullen Jr.
Head Production Designer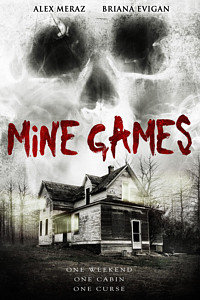 MINE GAMES
(Starring:
JOSEPH CROSS, BRIANA EVIGAN,
ALEX MERAZ)
Dept. head
Special Effects Make-Up
(SFX MUA) and Michael Madsen's stunt double on the movie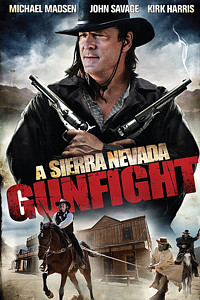 A SIERRA NEVADA GUNFIGHT
(MICHAEL MADSEN & JOHN SAVAGE).
PRODUCTION DESIGNER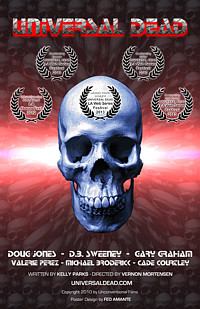 UNIVERSAL DEAD
(DOUG JONES,
D.B. SWEENEY,
GARY GRAHAM)
ART DIRECTOR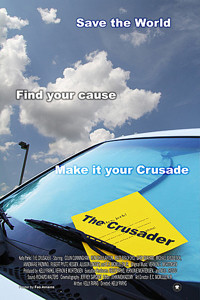 THE CRUSADER
(COLIN CUNNINGHAM,
GARY GRAHAM)