Review by
Mike Oliveri

THE HITCHER

- 1986
HBO Home Video
Rated: Australia: R / Finland: K-18 / France:-12 / Norway:18 / Sweden:15 / UK:18 / USA: R
I thought Rutger Hauer (BLADE RUNNER, BUFFY THE VAMPIRE SLAYER, HEMOGLOBIN [aka BLEEDERS], ) was damn cool in BLADERUNNER, but he really shows off his darker acting skills as the psychopathic title character in THE HITCHER. He's got the look, he's got style, and he's scary as Hell.
Jim Halsey (C. Thomas Howell: "KINDRED: The Embraced" [TV], TREACHEROUS) is driving a car from Chicago to San Diego for it's owner. It's pouring rain and he's dangerously close to falling asleep at the wheel. He then sees a man thumbing for a ride in the rain. Looking for some companionship and someone to keep him awake, he decides to pick the guy up. Unfortunately, he'll never make the delivery now that he's picked up John Ryder (Hauer).
After a few genuinely creepy moments with this taciturn stranger, Halsey realizes something is wrong. Ryder reveals he has murdered the driver of the car they have just passed,
"I cut off his legs . . . I cut off his arms . . . and I cut off his head," he says calmly, and he tells Halsey he's next. However, Halsey manages to ditch the hitcher and survives the experience.
But that's when the real fun begins.
Ryder catches a ride with a couple and their two young kids. Halsey tries to warn them, but botches it and soon discovers the family's stopped car. He pursues Ryder to a small town, where Ryder mysteriously confronts him, then lets him live and catches a ride with another driver. Halsy gives chase, and is nearly killed in another confrontation at a locked up gas station.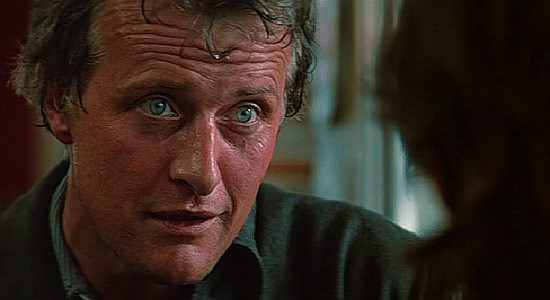 YOU WANNA KNOW WHAT HAPPENS TO AN EYEBALL WHEN IT GETS PUNCTURED?
The film continues in this vein, with Ryder continually setting Halsey up for more and more trouble. Framed for murder and desperate, Halsey even resorts to hijacking a police car to try and get somebody to believe he is not the killer. Along the way he picks up Nash (Jennifer Jason Leigh: SINGLE WHITE FEMALE, SPAWN [HBO animated series], eXistenZ), a young girl working at her cousin's diner, with dreams of moving to California.
For Ryder, however, his target's new partner only makes things all the more interesting ...
There is a big showdown in the end, of course, and it's somewhat of a letdown. In fact, after the first half of the flick, the plot becomes less and less believable. Still, I have to give screenwriter Eric Red (NEAR DARK, BODY PARTS) credit for coming up with a nasty character and an interesting situation. The psycho-toying-with-a-victim bit has seldom been cooler, despite the somewhat awkward execution in this flick.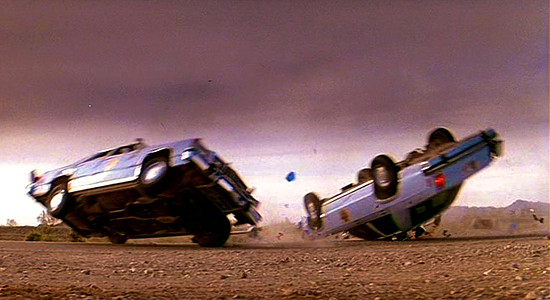 THRILLING? HELL YEAH! READ MORE ABOUT THIS AMAZINGLY INTRICATE DOUBLE CANNON ROLL AT HOLLYWOOD STUNTMEN.
Hauer is no doubt what makes the film. Without him, it would hardly be worth watching. Leigh does a fair job as the small town girl, but Howell is just plain awful. It's not hard to see why he's hardly picked up more than B movies since his appearance in THE OUTSIDERS. The rest of the actors are mostly unknown, though Jeffrey DeMunn (THE GREEN MILE, STORM OF THE CENTURY [TV]) has a small part as a Captain of the sheriff's police, and STAR TREK: DS9's Armin Shimerman (BUFFY THE VAMPIRE SLAYER [TV series], SLAUGHTER OF THE INNOCENTS) plays an interrogator.
While it's not usual policy, I'm going to split the final rating. What makes the flick a classic is Hauer's outstanding portrayal of the hitcher, so I'm going to give him four Shriek Girls. However, the film itself lacks pizazz, and again, it has that disappointing ending, so I give it two Shriek Girls.

This review copyright 2000 E.C.McMullen Jr.
E.C. McMullen Jr. is a participant in the Amazon Services LLC Associates Program, an affiliate advertising program designed to provide a means for sites to earn advertising fees by advertising and linking to amazon.com.
LOVE THIS SITE?




KEEP IT GOING WHEN YOU BUY MY STUFF!
LOVE THIS SITE?


SUPPORT IT WHEN YOU BUY WORKS FROM


E.C. McMullen Jr.


PERPETUAL BULLET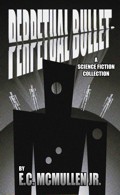 "'Some People' ... may be the standout story in the book."
- John Grant, Infinityplus

WILLOW BLUE


"'Willow Blue' will burrow under your skin and stay there long after you've put the book down."
- Jeffrey Reddick, Creator of
FINAL DESTINATION

IN OTHER BOOKS


E.C. McMullen Jr.'s


short story
CEDO LOOKED LIKE PEOPLE
in the anthology
FEAR THE REAPER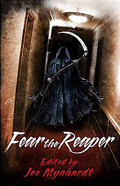 "This Ray Bradbury-esque is one of the most memorable and one of the more original stories I've read in a long time."
- Amazon Review

HORROR 201: The Silver Scream
PAPERBACK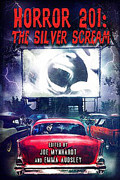 Filmmaker's Guidebook
featuring
RAY BRADBURY,
JOHN CARPENTER,
WES CRAVEN,
TOM HOLLAND,
E.C. McMULLEN Jr.,
ED NAHA,
GEORGE A. ROMERO,
and many more.
Extensively quoted in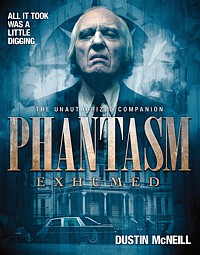 PHANTASM EXHUMED
The Unauthorized Companion
ALSO
IN CINEMA
E.C. McMullen Jr.
HEAD PRODUCTION DESIGNER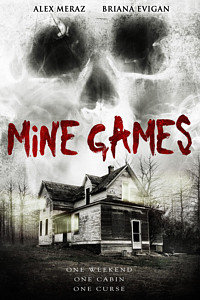 MINE GAMES
(Starring:
JOSEPH CROSS, ALEX MERAZ, BRIANA EVIGAN)
Dept. head
SPECIAL EFFECTS MAKE-UP
(SFX MUA) and Michael Madsen's stunt double on the movie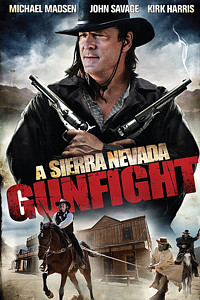 A SIERRA NEVADA GUNFIGHT
(Starring:
MICHAEL MADSEN and JOHN SAVAGE).