Review by
Mike Oliveri
I SPIT ON YOUR GRAVE

aka

Day Of The Woman

- 1978
Elite Entertainment
Rated: Australia:

BANNED

/ Finland:

BANNED

/ UK:

BANNED

/ USA: R





(

This flick is banned just about everywhere! Seems Guys don't want women watching this flick and getting any "ideas!" -Feo

)
Six minutes into the tape (not the film, the actual tape), our heroine strips and goes for a nude swim in the lake. I immediately expected the film to feature a lot of gratuitous nudity. A minute later, she finds a gun in a dresser drawer. The camera lingers on it for a moment . . . And I figured okay, gratuitous violence, based on the film's rep for brutality.
Already I'm writing the review in my head. I figured I'd be able to take a humorous angle, talking about the infamous "Three B's" that several guys say makes a great flick: Bullets, Bombs, and Boobs. I'd even break them down, talk about how much of each were heaped into the script.
Soon, however, I found out I was way off, folks.
See, that's when the first rape scene started.
Written and directed by Meir Zarchi (DON'T MESS WITH MY SISTER), and originally released as DAY OF THE WOMAN, the film features a rather simple plot about rape and revenge. What makes the film so great, however, is how Zarchi handles those elements.
Jenny (Camille Keaton: RAW FORCE, SAVAGE VENGEANCE [apparently a sequel to I SPIT ON YOUR GRAVE]), a young writer from New York City, rents a summer home out in the boonies so she can have some quiet time to complete her first novel. The moment she arrives, however, she catches the eye of the local boys.
Johnny (Eron Tabor: his only role) is the ring leader. He owns the gas station in town when Jenny first arrives, and is the group's incentive to go after Jenny. Matthew (Richard Pace: his only role) is more or less the village idiot. He's the one the rest of the guys pick on, and he takes a shine to Jenny after he delivers her groceries. Rounding out the four villains are the two thugs, Stanley (Anthony Nichols: you guessed it! His only role) and Andy (Gunter Kleemann: do I have to say it? Just look at his name!).
One day while Jenny is sunbathing in her rowboat, Andy and Stanley ride up in their motorboat. After pushing her around a bit, they tow her to shore where Matthew and Johnny are waiting. At first the boys are just trying to get Matthew laid. But when he chickens out, they all hold her down while Johnny rapes his turn with her.
Again, I expected some T&A and some silly acting and a lot of fooling around. Instead, it was very short and brutal. After Johnny's finished, they simply let go of her and let her wander off, shattered.
Naked and filthy, hurt and humiliated, Jenny stumbles through the trees and mud toward home and shelter. Instead, she encounters Andy calmly playing his harmonica. She freezes as Johnny approaches through the trees, innocuously wiping his hands on his ever-present rag. She tries to flee, but Stanley and Matthew have her surrounded.
They bend her over a large rock, and this time it's Andy's turn. She screams, and he beats her viciously. Again, they just calmly walk away.
She finally makes it home. A shirt hangs from the door and she wraps it around herself, at last finding some solace in its thin fabric. She picks up the phone and dials the police. As soon as a voice answers, however, Stanley kicks the phone away from her.
The boys at last talk Matthew into taking his turn. He does. Shattered, Jenny submits to Stanley as he moves in for his turn. He only humiliates her further and kicks her several times. They leave her there, bleeding and broken.
Sound intense? It is. It's been awhile since a flick got my blood boiling like this one did. While it's not quite as bloody and gory as its reputation makes it out to be, it hits home. The fact that these nobody actors starred in the flick is the first part of what makes it so terrible. There's much less a sense of reality if, say, Brad Pitt pinned the woman down. Second, despite their being nobody actors (not to mention the name Meir Zarchi provokes a response of "Who?" in 99.999% of the public), these people did an excellent job portraying their characters.
See, there's a little more to it than these guys being a group of horny good ol' boys. They rationalize their actions. They convince themselves that any woman from the big city is just looking to get laid. Johnny even goes so far as to say she actually wanted them all to nail her, with the clothes she wore and the way she walked around in front of them at the gas station (she paced by the pumps, stretching her legs after a long time in the car). If you're the type that buys this bullshit when rapists use it as a defense in court, take a look at this flick: maybe you'll change your mind.
The boys, worried about her calling the police, send Matthew in to finish her off with a switchblade. Fortunately for her, as he kneels over her bleeding and unconscious body, he can't bring himself to do it. He runs back outside and tells them he did the job, and they get out of there.
Two weeks pass. Jenny works on putting herself back together. She tries to write, but she still cannot face up to what has happened. The boys start to worry: no body has been found yet. They cruise by the house.
Now they have to finish the job. She knows it, and they know it. So Jenny takes the initiative, hunting them down one at a time . . . The revenge is slightly over-the-top, but I found myself cheering for her more and more. These guys really get their just desserts.
I have no real complaints about the story, but some of the sound editing is atrocious. At several points I had to crank up the volume to hear what Jenny was saying. Suddenly there's a cut to another scene featuring a very loud, very annoying motor boat engine. Zarchi also goes for some different cinematics, but I don't think they turn out as well as he intended (look for the shots through Stanley's legs as they tow Jenny's boat).
In all, an outstanding flick that I'm happy to add to my collection. If you're a fan of real horror, not just the psychopathic slasher flick bordering on the ridiculous, then you'll love I SPIT ON YOUR GRAVE. I give it four Shriek Girls.

This review copyright 2000 E.C.McMullen Jr.
E.C. McMullen Jr. is a participant in the Amazon Services LLC Associates Program, an affiliate advertising program designed to provide a means for sites to earn advertising fees by advertising and linking to amazon.com.
BOOKS FROM
E.C. McMullen Jr.
WILLOW BLUE


"'Willow Blue' will burrow under your skin and stay there long after you've put the book down."
- Jeffrey Reddick, Creator of FINAL DESTINATION

PERPETUAL BULLET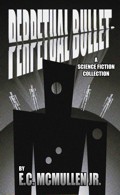 "'Some People' ... may be the standout story in the book."
- John Grant, Infinityplus

IN OTHER BOOKS
E.C. McMullen Jr.'s
short story
CEDO LOOKED LIKE PEOPLE
in the anthology
FEAR THE REAPER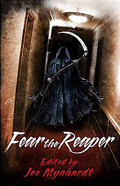 "This Ray Bradbury-esque is one of the most memorable and one of the more original stories I've read in a long time."
- Amazon Review
HORROR 201: The Silver Scream
PAPERBACK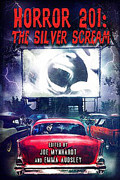 A tome of interviews with
RAY BRADBURY,
JOHN CARPENTER,
WES CRAVEN,
TOM HOLLAND,
E.C. McMULLEN Jr.,
ED NAHA,
GEORGE A. ROMERO, and many more.
Extensively quoted in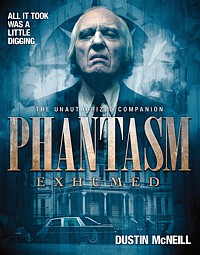 PHANTASM EXHUMED
The Unauthorized Companion

Robert S. Rhine's
SATAN'S 3-RING CIRCUS OF HELL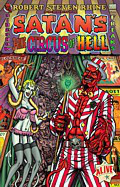 Forward by
GAHAN WILSON,
FEO AMANTE.
Featuring comics by
WILLIAM STOUT,
HILARY BARTA,
STEVE BISSETTE,
SPAIN RODRIGUEZ,
FRANK DIETZ,
JIM SMITH,
TONE RODRIGUEZ,
FRANK FORTE,
ERIC PIGORS,
ALEX PARDEE,
MIKE SOSNOWSKI,
OMAHA PEREZ,
DAVID HARTMAN,
D.W. FRYDENDALL,
SHANNON WHEELER,
VINCENT WALLER,
JACOB HAIR,
NENAD GUCUNJA,
STEVEN MANNION,
NORMAN CABRERA,
and more!
ALSO
IN CINEMA
E.C. McMullen Jr.
Dept. head for
Special Effects Make-up
(SFX MUA) and was Michael Madsen's stunt double on the movie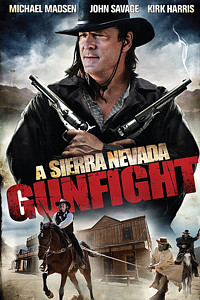 A SIERRA NEVADA GUNFIGHT
(Starring:
Michael Madsen and John Savage).
Head Production Designer on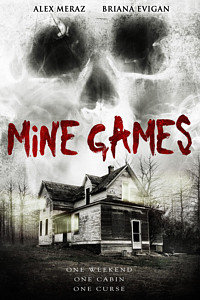 MINE GAMES
(Starring:
Alex Meraz, Briana Evigan)

Production Designer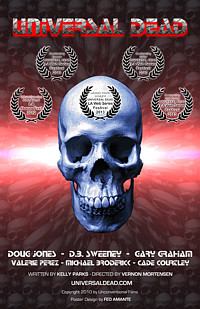 UNIVERSAL DEAD
(Starring:
Doug Jones, D.B. Sweeny, Gary Graham)