FRANKENSTEIN CHANGES EVERYTHING
No kidding! Add Frankenstein to the title of pretty much any movie that has nothing to do with Frankenstein, and the entire movie takes on a whole new meaning.
Seriously! You don't have to 'Shop it up with anything else, just add the word Frankenstein to the title.
My theory engages with satire but the point is this: for years people have been Horror mashing other well-established works of fiction like, PRIDE, PREJUDICE, AND ZOMBIES. Or historical figures, ABRAHAM LINCOLN: VAMPIRE HUNTER. As well as modern fan favorites like NIGHT OF THE LIVING TREKKIES.
But with all of those examples and many more, the book covers and posters are changed to reflect the new direction. It needs to be made overtly obvious.
What if you didn't have to do that? What if the title alone was changed by the addition of a single word, like FRANKENSTEIN? I'm pursuing the idea that if the entire poster was exactly the same, except for the addition of FRANKENSTEIN, that name carries so much weight today it would radically alter your perception of the rest of the movie poster's visual and further, the poster's tag line.
That one additional word would cause you to read a different meaning into everything else you were seeing.
For example: before Elizabeth Olsen was our favorite Scarlet Witch? This could have been her breakout role -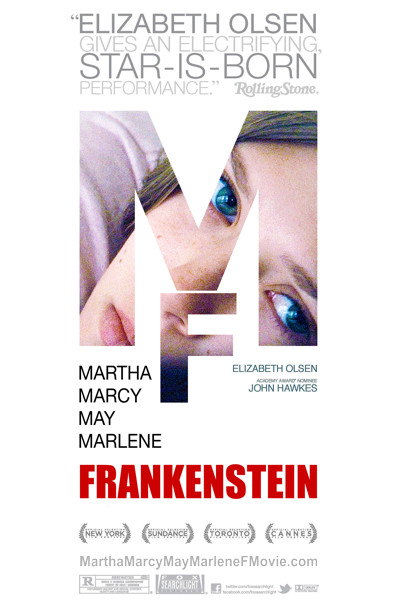 Satire Copyright 2018 by E.C.McMullen Jr.
E.C. McMullen Jr. is a participant in the Amazon Services LLC Associates Program, an affiliate advertising program designed to provide a means for sites to earn advertising fees by advertising and linking to amazon.com.