---
Link to us!



If you would like to use the graphic above, just save the icon image to your server and link it back to feoamante.com!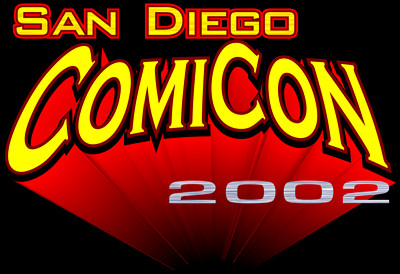 PHOTOS BY KELLY PARKS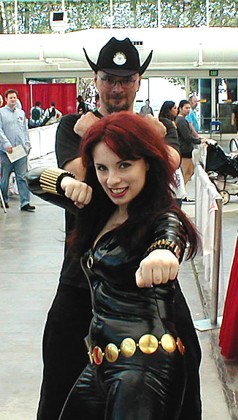 Feo goes into Superhero mode with vinyl clad beauty,
Vera Vanguard
. Here we see Vera saving Feo from the Evil WhatEvers!
Unfortunately, I was only able to attend the first two of the four-day festivities this year, but it was well worth it. I picked up some great horror-themed comics to review (coming soon), and managed to score a newsworthy tidbit or two.

I also rendezvoused with Feo, who was part of the Comic-Con Establishment, working in the Autograph Area as a Celebrity Wrangler. Basically, this meant his job was to protect the guest celebrities from mentally unbalanced fanboys like, well, like Feo himself. Talk about the fox watching the henhouse. Actually, Feo did a bang-up job. I personally watched him lay the beat-down on a guy who tried to get too close to Mark Hamill. Feo even let me get in a few kicks to the guy's gut. (Okay, that's a lie: Feo was tough but fair, and unfailingly courteous to all, and Mark Hamill is a wonderful man who actually got down on his hands and knees on the floor to sign the fan's movie poster. But it sounds better the other way, doesn't it?)
Anyway, Feo and I hatched new and fiendish plans to further our goal of having feoamante.com take over the entire known world. The first step is a totally redesigned Comics section with a brand new logo - check it out at the top of the Fanboy Comics page! That's what Feo looked like by the end of the con on Sunday! (Whose blood is that? Let's just say Todd McFarlane may not be back next year!) And, off to your right, Feo (totally on his own - honest!) has provided a link so that those inclined can purchase the new DVD of my movie TEENAGE CAVEMAN. I appreciate this because I know Feo hates that movie every bit as much as he loves my other one, THE BREED (A terribly under-rated film that excells over 99% of all other vampire movies -feo). Although I must report that TEENAGE CAVEMAN got an excellent review at theonion.com, and has been selected to be shown at the prestigious Berlin Film Festival! (So everyone can hate it as much as me - feo) Okay, enough with the shameless self promotion, or that'll be my blood on Feo's hands.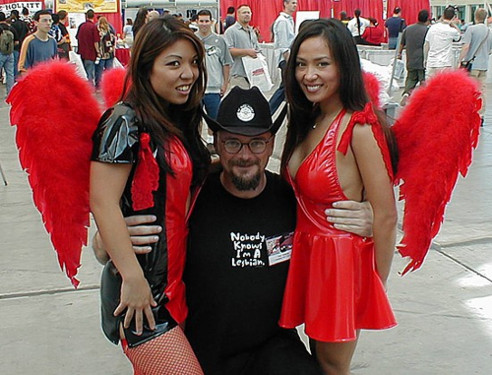 IF FEO BELIEVED IN ANGELS...
These are exactly the kind of angels that I would believe in. The angel in black is top erotic model Dawn Asumura. The angel in red is Kimmie Allen.
These two were working a booth downstairs that belonged to Viz Comics, or Wiz comics, or Wizard or Blizzard, Lizard, Gizzard, Grizzled something.
Who gives a shit what booth they worked for?*
The point is, red is a stimulating color, and don't these gals look hot? I mean, come on Het Guys & Lez Gals alike: Don't these angels look H-O-T HOT?
As for news from Comic-Con (Feo smacked me around over my failure to contribute news to this space, so I'm going to try to do better in the future - the guy packs a mean right cross!), I didn't get anything earth-shattering, but I did hear the following tidbits from the presentation by my old boss, special effects maestro Stan Winston.

Stan is hard at work on T3: RISE OF THE MACHINES, the third installment in the TERMINATOR franchise, which features the debut of a Lady Terminator. At the same time, his production company is in the Great White North shooting WRONG TURN, a thriller about travelers in an isolated area who run afoul of not-quite-human tormentors: think THE HILLS HAVE EYES, or DELIVERANCE with mutants instead of hillbillies (I'd make a joke about there not being much difference in some parts of the Deep South, but my Confederate wife would kick my Yankee ass).
*UPDATE JAN. 11, 2003: Actually, they were working for artist Dave Nestler owner of wickedcitystudios.com

| | | |
| --- | --- | --- |
| | And from the Miramax/Dimension booth, it sounds like the HELLBOY movie is coming along great, with Guillermo Del Toro devoting all his energies to it and creator Mike Mignola still very much involved. If they can do justice to the comic, folks (and it sounds like they plan to try their damnedest), this is going to be one hell of a flick. And if they fail, it won't be for lack of trying. | |
| | |
| --- | --- |
| A new horror comic coming your way is CRYPTOPIA (see my review of the first issue) from writer Ben Raab and artist Pat Quinn. This series is about Cryptozoology, the study of life forms that have been reported, but not proved to exist, like the Loch Ness Monster and the Thunderbird (lest we forget, the gorilla was once in the same category). This is a real-life field of scientific study that I became interested in after seeing the MOTHMAN PROPHECIES movie, and I'm pleased to say that Raab has done his homework. Check out the review for more details. | |

FEO GETS POINTERS FROM THE TALL MAN
Well, okay, so I'm tall too. But its hard not to laugh (nervously) when Angus Scrimm of PHANTASM fame gets into character.

Anyway, that's it for now. I know, woefully weak considering the cornucopia of news available at the Con: it's all Feo's fault, he didn't show up until Friday because he was playing the rock star, meeting with publishers about his burgeoning literary career, so I was without guidance and direction for one whole day. A taste of fame and he turns into a prima donna!

-Chris Gage

THE FOLLOWING IS FROM FEO

A SCIENCE MOMENT WITH KEN FOREE

Everybody knows that Kelly Parks is our resident scientist at Horror Movies, and DAWN OF THE DEAD is one of the best S.F./Horror movies EVER! Ken Foree is the man!


SHE CAME. SHE SIGNED. I FLIPPED!

The incredibly lovely Marina Sirtis of STAR TREK: First Contact, was happy to sign for eveyone. I was happy to see that she wore NO BRA and a VERY sheer see-through blouse! YOW!

REGGIE IS SO COOL ITS SCARY

Reggie Bannister of the PHANTASM films exudes cool. George Jones and Johnny Paycheck once said "When you're as ugly as us, you just naturally gotta be cool!" So I guess we're the two coolest guys at the con.


"WHOA! You're right! She's hot too!

The Devil Child of KISS, Gene Simmons, is an unrepetent fanboy where comics are concerned. Its easy to get his autograph, but hard to keep up as he goes running all over the con gawking at the treasure trove of graphic literature.
And er...people watching.

LOVELY LUCY LUI

Meeting the celebrities at the San Diego ComicCon can be a mixed bag. Whether its ego or they are just jerks (or perhaps because they are jerks they can't get a job no more) who knows? But Lucy Lui was nothing less than class and sweetness. Her handlers, however, were jerks.


PAGET BREWSTER AND KELLY

Hey! Where was Access Hollywood when THIS photo was taken? Why is Kelly Parks of the Internet's feoamante.com fame hanging out with this actress? How did she capture his heart?

FOR YOU FANS OF PLAYBOY

Yes, Playboy models are there too. And this time, my brother Sean wasn't there to ignore them! So here is a photo of me and the delectable Playmate of the month (Feb. 1995),
Lisa Marie Scott.
When you're beautiful, smart, and sweet, women like Lisa Marie will pose with you too!


GREAT PLACE TO BE

Being between artist model NuTOPIA and artist ARANKA ISRANI made me think: You know all those newspaper and magazine columns you always read, about males who read comic books? How they are social misfits who can't connect with the opposite sex? Yeah, me too. But let me tell you something, I've been to one HELL of a lot of conventions and you will never see a better population of the world's finest looking gals than you will see - just walking around - at a ComicCon!

AT LAST! ITS OVER!

Katherin Forster, Supervisor of the Autograph area, and Byron Gray, Big Chief of the Elite III Security folks on the Sail Pavilion, enjoy an exhausted collapse. Their hard work over the 4 day convention paid off, everyone went home reasonably happy, and if past years are any indication, the 2003 ComicCon will be even bigger than the 2002.
This pictorial hasn't even scratched the surface of what goes on at the San Diego ComicCon. So for more info, go to comiccon.org.
PHOTO BY HART


BEST PLACE TO BE

As for me, my baby was busy elsewhere during the con, but the one gal I enjoy holding the most is my sweet wife, Luz.