Thrillerfest, the International Thriller Writers' first-ever annual conference, brought together some of the world's biggest authors for a long weekend in Phoenix.
Technothriller author Gary Braver was more blunt: "Many thriller writers have been marginalized by the MWA (

Mystery Writers of America

) and we're no longer disenfranchised," he said, adding that the difference was a thriller is where "something bad is going to happen," while in a mystery, "something bad happens, then you figure it out." He said thrillers often are more concerned with the psychological aspects of a threat rather than the solving of a crime.

Lee Goldberg, producer and writer for "Diagnosis Murder" and "Monk," among others, is also a novelist, what his wife calls his "badly paying hobby." "Thriller writers often get lost in the mix," he said. "These people are not considered for Edgars (awards given by MWA). I think it's great they've carved out their own niche, and it's great to see them get the recognition they deserve. I'm 70 percent fan and 30 percent professional author."

Scott Beggs, who attended as a fan and aspiring writer, said thrillers are the perfect books for long plane flights. "A thriller is the best way to pass the time and lose yourself in the plot," he said. "There's certainly a constellation of talent here that's hard to match anywhere else."

Blake Crouch said he was able to meet some idols like David Morrell and Lee Child. His agent, Linda Allen, was also on hand, but she crossed out the "agent" on her name badge so she wouldn't be deluged with manuscript pitches.

Alexandra Sokoloff said Thrillerfest was the most organized conference she had ever attended. Sokoloff, a successful screenwriter who has turned her hand to novels, said, "I'm used to going to Hollywood premieres, but the people in these rooms are gods and goddesses."

Jeffrey Anderson, whose novel SLEEPER CELL was a nominee for best paperback original, said, "I just like meeting interesting people." He describes his work as straddling science fiction and science thrillers, but says ITW is a better fit for him than the Science Fiction and Fantasy Writers of America (SFWA).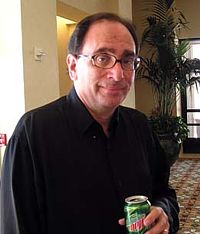 R. L. Stine
R.L. Stine, who was a speaker at a luncheon, gave a warm and humorous interview, saying his early love of scary comics led to his interest in combining horror and humor. He said his "Goosebumps" series was the first to appeal widely to both girls and boys. "I found something kids like," he said in a bit of an understatement. He also said he'd been described as "a literary training bra for Stephen King."
The highlight of the event was the first-ever ITW awards ceremony, with Clive Cussler given a Lifetime Achievement Award for his more than 20 bestselling novels. Other award winners included:
Best Novel: THE PATRIOTS CLUB, by Christopher Reich (Delacorte Press)
Best First Novel: IMPROBABLE, by Adam Fawer (William Morrow)
Best Paperback Original: PRIDE RUNS DEEP, by R. Cameron Cooke (Jove)
Best Screenplay: CACHE (Hidden), screenplay by Michael Haneke.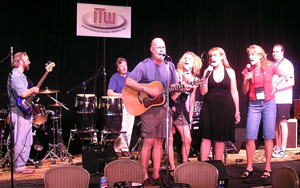 KILLER THRILLER BAND REHEARSAL
LEFT TO RIGHT
Scott Nicholson, F. Paul Wilson, John Lescroart, Alexandra Sokoloff, Heather Graham, Harley Jane Kozak, David Simms
The "Killer Thriller band" closed out the event with a rocking set from a line-up that included the Killerettes: Heather Graham, Alexandra Sokoloff, and Harley Jane Kozak on vocals; Michael Palmer on vocals, congas, and harmonica; Daniel Palmer on vocals and harmonica; John Lescroart on acoustic guitar and vocals; David Morrell on keyboards; F. Paul Wilson and Blake Crouch on drums; David Simms and Nathan Walpow on guitar, and yours truly on bass.
J.A. Konrath, author of the "Jack" Daniels series and an original ITW member, said it was good to hang out with old friends and added, "This conference conclusively proves that thriller authors can drink just as much as horror writers."
ITW was founded two years ago largely on the efforts of co-presidents Morrell and Gayle Lynds. More information on the organization is at thrillerwriters.org.
Bio: Scott Nicholson is the author of five Appalachian Gothic thrillers, including THE FARM. His stories have appeared in Cemetery Dance, Corpse Blossoms, Writers of the Future, Poe's Lighthouse, and more. Writing advice and more articles can be found at hauntedcomputer.com.