SAN DIEGO COMIC CON
aka
I SUCK!
Every fan knows the feeling. You may be a huge fan of some artist or writer, but despite your years of buying every book or issue or what-have-you, you know very little about the physical appearance of said icon. You may have never even heard someone even pronounce their name correctly.
For example, I recently attended a casting call for the voice of Marvel Comics Namor. He's the Imperium Rex of the oceans you know. Anyway, I've always pronounced his name, "Nah-more".
Yet the guy in front of me in line pronounced his name Nay-more! Clearly one of us was wrong and a Geekwar broke out between us. Don't worry, it was a small skirmish with no civilian casualties.
We finally decided to let the woman who was calling us into the recording booth be the final arbiter.
When we were next in line, we asked her how to pronounce Namor's name.
"Isn't it 'Nee-Morr'?" she queried.
Nee-Morr?
NEEMORR?
Why you ain't nothing but a hired temp!
Why the HELL did those words come outta my mouf?
Why?
"Well, I don't really read comic books," she sniffed with a smile. A smile that clearly implied, 'I'm the only one among you who has a job with this company.'
A number of us standing in line (many had waited for over an hour), forgot why we were there (and so remember to keep our cool - difficult for geeks even under the best circumstances) to bellow in unison, "YOU DON'T READ COMIC BOOKS???"
And then we all turned into The Hulk and beat each other up in a Geekpage - which is very much like a rampage - only more pathetic.
Sadly, whoever gets the part is probably the one who didn't lose their composure at that crucial moment. Then again, that person probably doesn't know how to properly pronounce Namor either (that's Nah-more!).
Which leads me to the title of this blog and why I suck!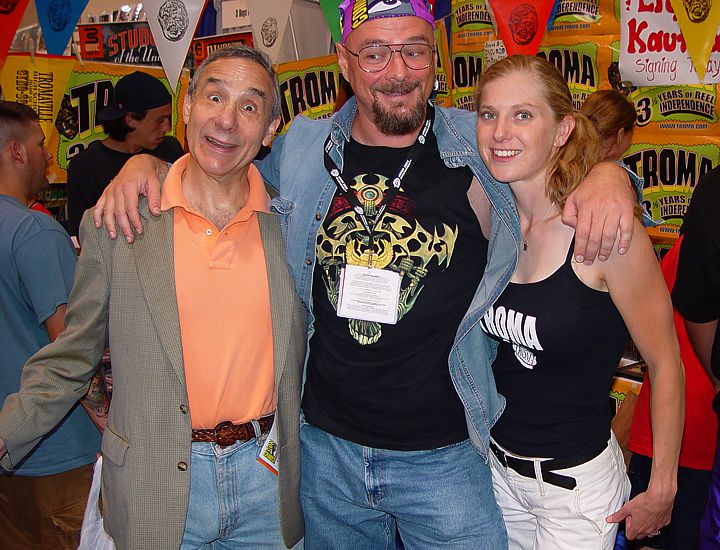 Lloyd Kaufman, Feo, & Troma Booth Babe
SAN DIEGO COMIC-CON BLUNDER PART I
I hadn't seen updated photos of Simon Bisely or Kevin Eastman in years. So I mistook Kevin Eastman FOR Simon Bisely and spoke to him thusly,
"Hi Mr. Bisely! It's really cool to finally meet you!"
I'm a moron.
On the other hand, Kevin has really lost weight!
SAN DIEGO COMIC-CON BLUNDER PART II
Though we often talk on the phone until my cell battery goes dead, I hadn't seen my bud, Bob Burden (FLAMING CARROT, MYSTERY MEN), since 2002 and I accidentally mistook another guy in his booth for him.
In my defense (grabbing for straws here), both wore the same type of glasses (the kind with frame around the glass); have mops of straight brown hair turning grey fading into very short back and sides; both are caucasian. But Bob doesn't have a beard or mustache (like pseudo-Bob). Hey, he COULD have grown one after all of this time!
But no, I suck. And it's doubly embarrassing when you can't even tell members of your OWN race apart (yeah, all us white people look the same to each other too!)!
But I can take comfort in the fact that author Tom Piccirilli had to tell folks on a Shocklines message board the difference - in physical appearance - between Horror writer Brian Keene and myself. According to Tom, I'm the one who smiles more.
I probably smile more because I'm a blinkered idiot.
So the next time you are watching some horrific tragedy on the news, and among the crying, shell-shocked and devastated people you see some dimwit smiling like its his birthday, check for a 'stache & goat and a black cowboy hat. If these are his accoutrements, then it's probably me, clueless as to what the hell just happened.
SAN DIEGO COMIC-CON BLUNDER PART III
Someone said that Kevin Eastman's wife (Julie Strain, unless there's been other changes I'm unaware of) had a baby and that he'd left for Los Angeles (on Saturday) to be there for the birth. For some reason, I thought that person said Kevin SMITH.
So when I got to talking with Kevin Eastman (and after he assured me - despite my protests - that he was, indeed, Kevin Eastman and not Simon Bisely trying to pull my leg - "No way, man! Yer Simon Bisely! Kevin Eastman is FAT! ... or am I thinking of Kevin Smith?") and he told me that his son was born the day before, I said, "Whoa! What a coincidence! Kevin Smith's wife had a baby yesterday too! And it was a son (at this point it dawns on me that I may have made a mistake)... And he flew up to L.A. too ... oo!"
Eastman was visibly amazed, then doubt passed over his face. Because, after all, he had already discovered that I'm an idiot.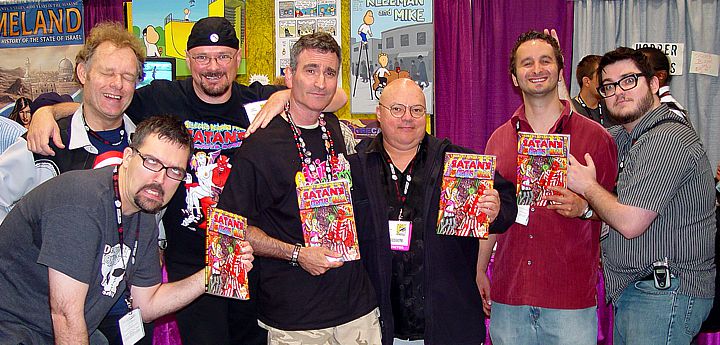 Jim, Feo, and the SATAN'S 3-RING CIRCUS CROWD at the 2005 SAN DIEGO COMIC-CON.
Front L to R
David Hartman, Robert S. Rhine, Tim Vigil, Frank Forte, Kevin Colden.
SAN DIEGO COMIC-CON BLUNDER PART IV

I'm eating ribs in a Kansas City BBQ place near the Comic-Con with my bud, Jim Smith (ribs were good enough for Kansas City, I guess. Or at least San Diego. But they sure as hell wouldn't pass muster in Louisiana or Texas). The restaurant was celebrating their 20th anniversary since the movie TOP GUN had been filmed there (part of it - though not the flight deck part). We were there to talk about our upcoming plans for Jim's cartoon creation, CHESTACLESE (he's the artist/creator and I'm the writer - one of the writers anyway.).
Anyway, some guy comes up to us (...the writer that matters, anyway), seemingly friendly at first, and suggests the onion rings. Yet within 60 seconds (no stopwatch, I'm just guessing) his friendly manner becomes overbearing and soon he's raving about his wife who had him put away in a mental ward, then divorced him when he got out.
It's all the fault of the doctor who prescribed drugs to calm him!
That and the conspiracy against him by the Eisner Awards!
And THIS was all brought about because he wrote an otherwise fascinating book about the history of comics (one of many fascinating books about the history of comics, all from various authors - but I digress). Then he starts raving like a Jehovah Witness for Scientology of all things. First time a Scientologist ever preached to me (they usually spot the tentacles).
The food comes and I'm there trying to enjoy my lackluster spareribs and the onion rings (which I must admit, were first rate!). The guy was growing ever louder, crass, and foul-mouthed (in front of young children - which always bugs me). He stood in the aisle, standing over us, next to our table, despite the fact that the waitress repeatedly asked him to move so other people could pass (the onion rings were first rate, not the ribs). Then he asked us if we had any drugs he could buy and made some scurrilous comments about Jim Steranko!
Now Jim Steranko is a legend in comics and among fans. Steranko is also as nice to the fans as you could possibly hope for, so I'd had enough.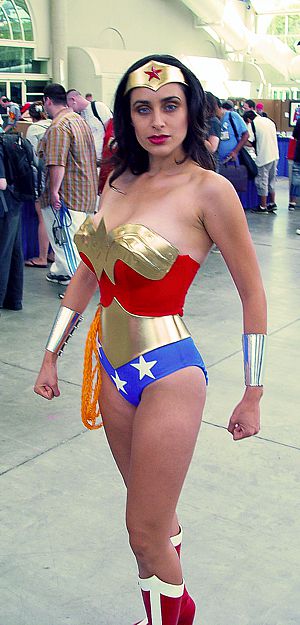 VALERIE PEREZ as WONDER WOMAN. She's physically perfect, she knows it, and she knows YOU know it!
- PAUSE FOR SCENARIO QUESTION -
Before I continue, check out Wonder Woman there. - >
Okay, now before I continue: Have you ever pounded a table with your fist?
Well you know what? You can be as calm, relaxed, happy, jolly, and cheerful as can be when you pound the table, just one time, with your fist.
(DON'T do this to a TV tray!)
You can be the most passive, generous, rational, reasonable, fully-in-control-of-your faculties, Quaker that ever walked the earth. Hell, you can be Mother freaking Theresa on a popsicle stick when you pound the table - just one time - with your fist.
And you know what will happen?
Pounding that dinner table (just one time) - especially in a crowded lunch time restaurant - is the most awe-inspiring best attention getter (and intimidator) you can possibly achieve, with the least amount of effort: short of firing a gun.
- END SCENARIO QUESTION -
POUND!
(1 time)
"What do you MEAN I don't look like I smoke marijuana?" I demanded of the Steranko slammer. "What the hell are you talking about?!?"
I raged in a loud manner that was equal (in my judgement) to the raving nut's own aggression. I also made my face do a bunch of things to register outraged anger. Everyone in the restaurant looked at us, I noticed, and then everyone started looking everywhere BUT us. The loud mouth reverted to cool and collected SO abruptly I could swear I heard the air around him go
*pop!*.
Table pounding apparently works better than mind-altering medication!
At that moment, Jim Smith felt that explanations were in order.
"Ahem! Er, uh ... Feo's from Texas and don't like it when folks interrupt his eating," he cautioned.
I thought (wrongly) that Jim (fellow Texan) understood where I was going and was in on the gag, and so I ramped my rhetoric.
"Especially when I'm (Chomp! Chomp!) eating barbeque! (Chomp! Tear! Chomp!) I'm not Buying Drugs or going Nowhere 'til I'm done! (Chew! Gristle! Chomp!)"
(still thinking Jim "gets the gag", you see, I savor the moment)
The jerk looked at his cell phone and made some excuse about the time and having to get back to the convention.
One jerk gone.
Unfortunately, I soon realized that I'd played my role too well as Jim, sitting across the table from me, was leaning back in his chair, wide-eyed and nervous as hell, as if I might literally explode.
Me! His friend! Of all people!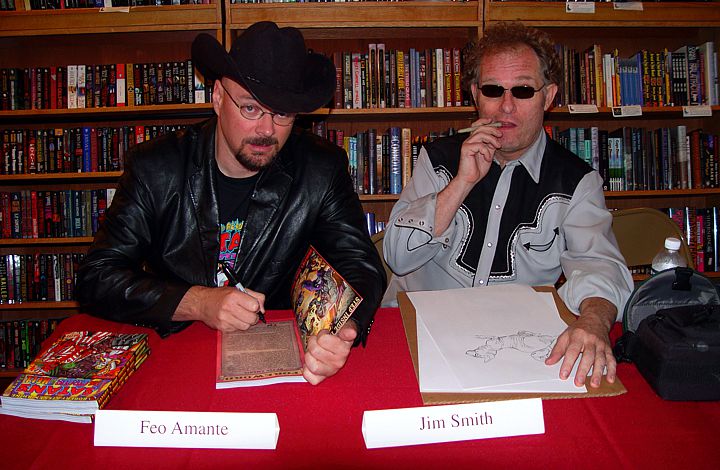 ME and JIM at a BORDERLANDS book signing in San Francisco.
Jim: (surprised) "Damn, Feo! Don't get angry with me man!"
Me: (surprised at his surprise) "What? No dude! I was trying to get rid of that guy. I thought you knew!"
Jim: "But you were saying 'XYZ'!" (XYZ = personal talk)
Me: "No, no dude! I was just doing that until the guy got out of here. I was trying to be all direct, like. To the point."
Jim: Well, damn, man! Yuh don't have to get mad!"
Argh! It was hopeless.
Explanations didn't work, and my getting more Excited as I tried to explain myself, didn't soothe Jim's trepidation that I might have just gone off the rails. Well, at least he paid for lunch.
Jim got so stressed that he had to go to his hotel room to lie down for a moment. I went with him (probably not a good idea in retrospect), and while he was resting, I nabbed the hotel soaps and shampoo stuff (my wife loves it when I bring these things home and, besides, I asked Jim if it was okay and he said "Fuck, Feo! Take them all dude! Whatever!"). Today he called to tell me that he has a hernia or something and had to return early to Los Angeles (hernias, as far as I know, are NOT caused by stress). So now Jim is in the hospital for his hernia operation.
Let's all wish ol' Jim well!
You can visit my amigo at JimSmithCartoons.com.


END