This month I attended the Southeast's largest Juried Horror film festival: FRIGHT NIGHT FILM FESTIVAL, in Louisville, Kentucky. I had a film accepted and shown at this years festival, called VERGEL'S DREAM, a B&W short. I was honored that it got selected to be shown especially after I found out how many films were submitted that didn't make it.
A first class event all the way, Ken Daniels, the founder and all around film lover, put on an excellent show for the fans and Independent filmmakers. This is only the second year and the turn out was huge; screening rooms were full; seminars were packed. and the vendor hall had great items for sale and even more interesting people to see. I even picked up an uncut fully restored copy of CANNIBAL HOLOCAUST and MEET THE FEEBLES for my own collection.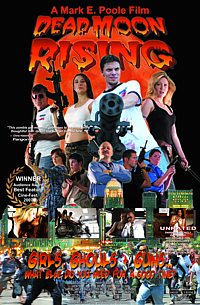 There was a totally local (Louisville) zombie flick, DEAD MOON RISING. They had a special screening Saturday @ 6:30 and the place was packed. A lot of the celebrities chose to check out this screening as well. The movie is a combination of zombie flicks we've all seen before but Director Mark Poole did a really great job of never letting the film take itself too seriously. It's a very fun movie with exactly what the poster says; Girls, Ghouls, and Guns! what else do you need for a good time? Mark Poole, I believe has pulled off with one of the largest independent zombie battles in history. He had 1000 extras cast as bikers and Zombies and let them fight it out in Downtown Louisville. If the crowd reaction is any indication on whether Mark pulled it off or not, this guy has got the goods folks.

In between flicks I got to meet Michael Berryman (DEADLY BLESSING, THE DEVIL'S REJECTS, PENNY DREADFUL), Tony Moran (HALLOWEEN, HALLOWEEN II), and Gunner Hansen (THE TEXAS CHAINSAW MASSACRE). What a bunch of super nice top shelf fellas. It didn't hurt that Michael Berryman wanted a copy of Vergel's Dream!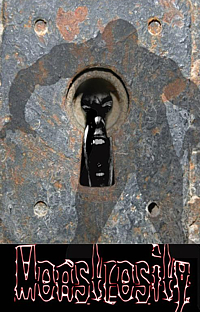 The next flick I got to see was MONSTROSITY.
MONSTROSITY is the fifth feature film from George Bonilla and ZP International, and stars John Dugan of "Texas Chainsaw Massacre" fame. I enjoyed the film. My wife liked it even more to the point were we will be owning a copy for our dvd shelf. It's apparent George knows what he is doing and has a solid foundation in filmmaking. He's secured distribution for his other features and I feel its just a matter of time before his company ZP International make it big time so keep on the lookout for this and his earlier works like 'Edison Death Machine"available on Netflixs.

I also saw alot of shorts - a lot of shorts - most borderline entertainment at best (some would say mine included) but others were outstanding like RECENTLY DECEASED, by Chris McInroy and WOMAN'S INSTITUTION, by Patrick Rea, The latter won Best Short and overall Audience Choice award for the whole festival. It looked outstanding. I heard he rented a $90,000 camera to do the shoot. So I guess it had better look good

At the awards banquet we were treated with Tony Moran receiving an Horror Icon Award and I have to say he was touched and you could tell. He started his speech with "I'm a Lucky Motherfucker!" how else do you start an acceptance speech? Classic!
Here is a list of the Features that played:

MONSTROSITY, George Bonilla 90 min. Solid Independent movie worth everyone checking out
THE THIRD FLOOR, Steve Hudgins - Tom Dolan - Adam Gilliam, 103 minutes. I had a hard time with this flick: I left the screening 'nuff said
CHASING DARKNESS, Jason Hull, 1hr 40 min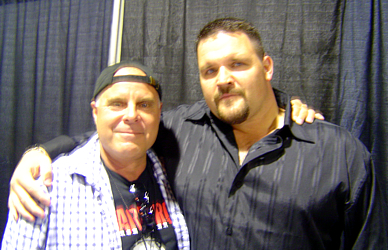 TONY MORAN (Michael from HALLOWEEN & HALLOWEEN II) and TROY
SCRAP BOOK, Eric Stanze, 95 minutes. I didn't get to see this but it won Best Feature and I heard it was a brutal film.
DEAD MOON RISING, Mark E. Poole, 92 minutes-Crazy fun ride with just about the right combo of cheese, guts and glory. Oh and a full on Girl on Girl make out session just to break from the witty dialogue and action - because we all know there's nothing that calms us down most during a horrifying situation than chicks doin it!
THE DIARY KILLINGS, Richard Collins, 92 minutes
9 LIVES OF MARA, Balaji K. Kumar, 90 minutes. I heard great things but didn't get a chance to check it out.
HORRORS OF WAR, Peter John Ross & John Whitney, 90 minutes
ZOMBIE CULT MASSACRE, Jeff Dunn, 90 minutes
SALVATION, J. A. Steel, 86 minutes. The director talked a lot of smack at the seminars and if you saw how many people walked out of her screening - it was poetic to say the least.
COONS! NIGHT OF THE BANDITS OF THE NIGHT, Travis Irvine, 82 minutes. These guys just got picked up by TROMA which was great for them and while watching you can tell why: It was like I time warped back to USAs "Up All Night." Funny stuff! I'll be buying this movie.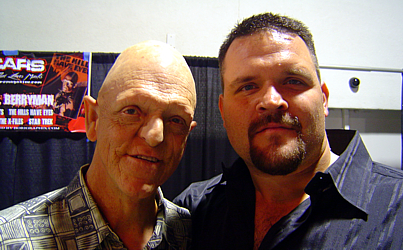 MICHAEL BERRYMAN AND TROY
HELL'S BLANKET, Tony Wilson, 71 minutes
SONS OF PERDITION, Richard Chandler, 67 minutes
LAMB TO THE SLAUGHTER, Jake Topkis, 31 minutes
THONG GIRL 3: Revenge of the Dark Widow, Glen Wiess, 73 min
BACKWOODS 2: The Revenge of Caleb, Robert Elkins, 1 hr, 20 min
THE PARCHENE CONSPIRACY, David Daring, 1 hr, 43 min
MISADVENTURES IN SPACE, Jerry Williams, 1 hr, 14 min
DORK OF THE RINGS, Timothy Allan Richardson, 1 hr, 40 min
SEE YOU IN HELL, Documentary, Kaptil Gahdhi, 1hr, 55 min
SUPERHELL 2, John Walker
INTRUSION, Craig Earl Everett, 1 hr 14 min

I didn't get to see everything but it was a great time to indulge in Independent Horror. Ken Daniels has a monster on his hands with this festival. With this being just the second year I can't imagine whats planned in the future. Next year should be incredible!