OR
The Sordid Story of how I Ruined Miss Cleo for Other Men
It's too funny, mon! I an I got a vital spam this morning from none other than Miss Cleo, the trash-talkin'-'bout-yer-sweetie-pseudo-Jamaican-dial-a-psychic, mon!
I got this? Me of all people? Why doesn't Miss Cleo just e-mail Michael Shermer? If, Miss Cleo, is so psychic, why doesn't, Miss Cleo, realize that, Miss Cleo's, shit don't fly with me? Bloodseed!
Read this tripe of advertising that, Miss Cleo, sent me and count the number of times, Miss Cleo, addresses me by my real name - Edward.
But please, do not share the special private number that, Miss Cleo, gave to me with anyone else!
From The Desk Of Miss Cleo
From The Desk Of Miss Cleo

Dear Edward,

We must speak with you. I don't usually take the time out to write a personal note, Edward, but your name was provided by someone you had recently spoken to. We believe your vibrations to be so strong that I've endorsed a free Tarot reading with one of our elite psychics! It's urgent, however, that you call immediately;I can only reserve this number for a limited time. Call toll-free 1-800-799-7479, now!

Edward, we sensed that your connection is likely to be unusually strong, especially in the very near future. It is vital that you call us right away to optimize the results of your reading. There's not much time! Call toll-free 1-800-799-7479 as soon as you receive this letter!

With love and prayers,

Miss Cleo

P.S. Please do not share this number with anyone;it is meant only for you, Edward. However, you must call soon;we can only reserve this number for a short time. Call toll-free 1-800-799-7479 right now!

Must be 18+. For entertainment purposes only.

If you do not wish to receive email from MeMailDirect, please click or copy and paste the following address into your browser:
http://nexus.etracks.com/cgi-bin/apt?9XoXXXfSq8QMLfjp8BiKXrb0Xqj7
For those of you who may be unaware, my potential girlfriend, Miss Cleo, is a very popular Psychic here in the U.S.A.! Just check out the following links:
OFFICE OF MISSOURI ATTORNEY GENERAL, Aug. 8, 2001
CNN.COM: LAW CENTER, July 26, 2001
You'll notice that at the bottom of all of Miss Cleo's ads, there is the motto:
For Entertainment Purposes Only.
It's a catchy turn of phrase! It really rolls right off the tongue.
Well, Miss Cleo, and/or Miss Cleo's cohorts, and or this mystery person of no name who allegedly recommended me to Miss Cleo, came to the right site. Because Feo Amante's Horror Home Page at feoamante.com is all about Horror, Thriller, Mystery, and Suspense - IN FICTION! So this is all for entertainment purposes only!
VISITOR AND REVIEWER BRIAN KNIGHT POSTS A MESSAGE ON MISS CLEO'S MSSG. BOARD!
livejournal.com/talkread.bml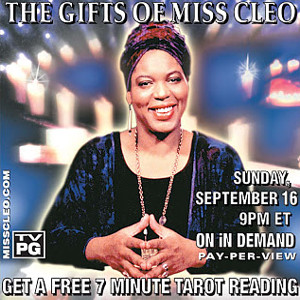 LIVE THE DREAM!
Go to Page 2
MISS CLEO DREAMS OF FEO!
Miss Cleo has felt my Vibrations 2 times since October 10.
Oct. 10, Oct. 19
Go to Page 3
MISS CLEO SPAMS FEO - REDUX!
Miss Cleo has spammed me 6 times in October. Oct. 10, Oct. 15, Oct. 17, Oct. 23, Oct. 25
Go to Page 4
MISS CLEO DUMPS FEO!
Miss Cleo is trying to make me jealous by seducing my friend, Brian Knight.
Ain't that just like a woman?
Go to Page 5
MISS CLEO RETURNS!
B.K. wouldn't give Miss C. no lovin' so she comes crawling back to me.
Too bad she forgot my name.
Go to Page 6
MISS CLEO IS DEAD!
The case has now been finalized by the FCC against the woman who cyber stalked me back in 2001. Yep, I'm talking about the phony-psychic phony-Jamaican telling-lies-about-yer-sweetie, Miss Cleo.