WHAT'S IN THE BOX?

WHAT'S IN THE BOX?

- 2008
By Tim Smit and Steven Roeters

What's In The Box? official website

Tim Smit official website
A guy makes a video of his girlfriend, a dead bird falls out of the sky. A radio tower or something explodes, and all hell breaks out.
You might be talking about What's In The Box.
WHAT'S IN THE BOX?
Created quite a stir among gamers when it was released. With so many references to Valve games like Half-Life and Portal, the board were abuzz with the idea that this was all part of a viral scheme by Valve to launch a new game. But what?
Then it turned out to be nothing from Valve at all, but a very cool film from some Half-Life & Portal fans. Welcome creative gamers Tim Smit and Steven Roeters.
Interview with Tim Smit
UPDATES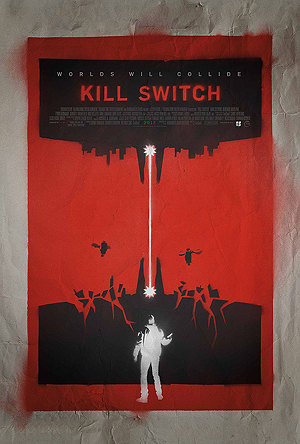 June 27, 2017
KILL SWITCH
REDIVIDER was renamed to the oft used title for cheap action movies, KILL SWITCH.
Audiences who saw it gave it a poor rating and they all basically said the same thing. Great visuals, really bad script.
Best of fortune on the future, Tim.
KILL SWITCH at IMDb.
Exclusive Interview with Tim Smit on His Directorial Debut, 'Kill Switch'
by The Ultimate Rabbit
Acclaimed writer, director and visual effects artist Tim Smit makes his feature film directorial debut with "Kill Switch." Based on his short film "What's in The Box?" which gathered a large audience on YouTube, it stars Dan Stevens as physicist and NASA pilot Will Porter who is recruited by Alterplex, a power company which has built an enormous tower designed to harness unlimited quantum energy.
Continued at The Ultimate Rabbit.
March 1, 2017
REDIVIDER
A subtle page on IMDb reveals that director Tim Smits is working on a Science Fiction movie called REDIVIDER. The plotline appears related to WHAT'S IN THE BOX?
"A pilot battles to save his family and the planet after an experiment for unlimited energy goes wrong."
Is this the full length feature film version that Tim promised?
REDIVIDER at IMDb.
April 4, 2010
Exclusive: "What's In The Box?" Director Confirms Feature Film Still Happening
About one year ago a mysterious short film called "What's In the Box?" by Tim Smit was posted on YouTube that impressed millions with it's convincing (but unofficial) connection to LOST, Half Life, Portal, and Samsung, along with great VFX mystery and action.
Continued at MovieViral.
Apr 22, 2009
'Lost': Untangling the mystery of viral video sensation 'What's in the Box?'
Do filmmakers really need hundreds of millions of dollars and the resources of a major movie studio to make a super-cool science fiction movie? The answer is…well, yes. But maybe not for long, judging from the quality of "What's in the Box?," a viral video currently lighting up the web that many admirers suspect may have a connection to the TV series Lost. (It doesn't — but more on that in a second.)
Continued at EW.
March 23, 2009
What's in the Box? Director Tim Smit interview in De Wereld Draait Door [English Subtitled]

Remember to turn on captions in the CC icon box at the bottom of the play screen.
Continued at Interview.
Enter the Universe of Valve fan films -
There are more movies at the Feo Amante Theater. Go to NOW SHOWING!
Page copyright 2011 E.C.McMullen Jr.