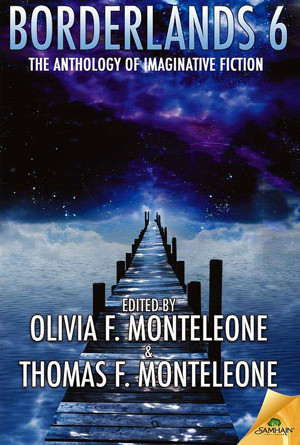 HEY, IT'S MY BIRTHDAY!
I'm sure some terrible stuff happened today, but screw focusing on that!
This is all of the Great stuff that happened today!
FINAL NOMINATIONS FOR THE BRAM STOKER AWARD
At his Facebook page, author Michael Louis Dixon said,
"Borderlands 6 officially nominated for Bram Stoker Award!
I'm so proud to be amongst the talented authors in this anthology. Congratulations to Tom Monteleone and Olivia Monteleone on the nomination!
Congratulations to all the other authors whose work was nominated as well."
BORDERLANDS 6 got the final nom' nod for Superior Achievement in an Anthology.
Dig it! The Bram Stoker Awards made this announcement today!
On! My! Birthday!
Awww... You Guys...!
Bear in mind, we're talking the Bram Stoker Award final ballot, here. None of that Prelim stuff.
AMERICAN NOCTURNE
Speaking of the Stoker Award final ballot, today none other than my bud, Hank Schwaeble, made the final ballot for Superior Achievement in a Fiction Collection. That collection is AMERICAN NOCTURNE.
While we're on the subject of my buds getting final nominations for Stoker awards, I'll add Tim Waggoner, who got the final nom' for Superior Achievement in Long Fiction to his ebook, THE WINTER BOX.
Also getting the Stoker Final nom' nod for Superior Achievement in a Fiction Collection, my bud Richard Chizmar for his book, A LONG DECEMBER.
PLUS
HOLY CRAP PEOPLE ARE STUPID.
- Actor Jeffrey Dean Morgan
Primark, the U.K. department store chain, caught a lot of guff for selling a THE WALKING DEAD T-Shirt.
WTH? You might very well ask.
TWD fans may remember how Jeffrey Dean Morgan's character, Negan, selected his victims by reciting, "Eeny meeny miny moe, catch a tiger by the toe..."
That's the phrase on the shirt and that's what's causing the trouble.
WTF? You might ask.
Well it seems some people ran to their Wikipedia or whatever and found out that, back around a century ago, people didn't say "Tiger", they said the N-word.
A small number of SJW snowflakes, from the safely anonymous comfort of their cushy chairs and bag of cheezy poofs, went on a slovenly flame war and Primark, still having no clue about the workings of this whole Internet thing, immediately bent over, and presented like the loser in a dog fight.
Seeing as how Jeffrey Dean Morgan actually uttered those words and he's proud of his work on TWD, he wasn't about to let a bucket of soft, slimey Social Jelly Wussies blither their hateful bullshit unchallenged.
The original full story that got under Jeffrey's skin is at The Wrap.
ALSO
ALIEN: COVENANT
So yeah. Here's the latest trailer.

See our reviews of: ALIEN, ALIENS, ALIEN3, ALIEN: RESURRECTION, ALIEN vs PREDATOR, ALIEN vs PREDATOR: REQUIEM, PROMETHEUS.
WASSMOR
GET OUT
Opens tomorrow