Review by
Kelly Parks

SHOULD YOU?


TIP JAR




I, ROBOT

- 2004
Columbia Pictures
Rated: N/R
THE THREE LAWS OF ROBOTICS
1. A ROBOT MAY NOT HARM A HUMAN BEING OR, THROUGH INACTION, ALLOW A HUMAN BEING TO COME TO HARM.
2. A ROBOT MUST OBEY THE ORDERS OF A HUMAN BEING EXCEPT WHERE THOSE ORDERS CONFLICT WITH THE FIRST LAW.
3. A ROBOT MUST PROTECT ITS OWN EXISTENCE EXCEPT WHERE THAT WOULD CONFLICT WITH THE FIRST AND SECOND LAW.
Have you seen the trailer for I, ROBOT? It looks pretty cool and normally that would be enough for me to look forward to seeing a movie. But Isaac Asimov's robot stories are classics of science fiction. Classics. If you're going to make a classic into a movie I've got to hold you to a higher standard and with that in mind I saw the trailer differently. It looked like a formula bad sci-fi plot, which would be an insult to Asimov's memory (plus, I'm still a little sensitive about the last classic science fiction story made into a movie: STARSHIP TROOPERS). So when I walked into the theatre to actually see I, ROBOT… Well, let's just say I had a bit of an attitude.
I, ROBOT
was directed by Alex Proyas (DARK CITY, THE CROW) and written by Jeff Vintar (FINAL FANTASY) and Akiva Goldsman (
LOST IN SPACE, BATMAN & ROBIN, BATMAN FOREVER
). Asimov is given a "suggested by" credit (
i.e., "Suggested By the stories of Isaac Asimov"
), which tells you the movie is loosely based on Asimov's material.
And three ideas central to Asimov's robots are displayed in the opening credits: the three laws of robotics.
This is Chicago in the year 2035. Detective Del Spooner (Will Smith: MEN IN BLACK) wakes from a bad dream. He heads in to work and all around him we see robots performing every menial task. Along the way Spooner spots what he thinks is a robot thief. This turns out not to be the case, much to his embarrassment. Spooner gets a good talking to at the station from his boss, Lt. Bergin (Chi McBride: THE FRIGHTENERS, GOTHIKA), showing that this isn't the first time something like this has happened.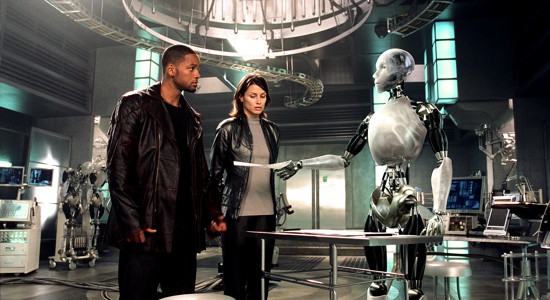 AND HERE IS YOUR LIMITED EULA. PLEASE READ THIS CAREFULLY AS NO WARRANTY IS EXPRESSED OR IMPLIED. ALSO, YOU DON'T OWN YOUR ROBOT BUT YOU ARE 100% RESPONSIBLE FOR IT.
The fact is Spooner just doesn't like robots. He doesn't trust them and doesn't want anything to do with them for reasons we find out later. Hence the irony when he is called to the towering U.S. Robotics skyscraper to investigate the death of Dr. Alfred Lanning (James Cromwell: THE SUM OF ALL FEARS, THE GREEN MILE, SPECIES II, STAR TREK: FIRST CONTACT), robotics scientist and inventor of the Three Laws of Robotics.
Everyone is assuming Lanning's death is a suicide but Spooner quickly uncovers a series of inconsistencies. He points this out to Lawrence Robertson (Bruce Greenwood: THE CORE, BELOW), owner and CEO of U.S. Robotics and the world's richest man. Robertson is cooperative but mostly interested in keeping this whole thing quiet. His company is about to launch a new product: the NS-5 robot.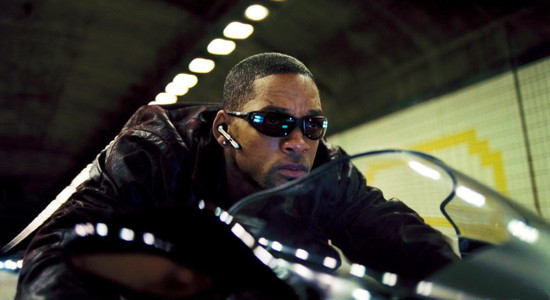 WILL SMITH STRIKES THIS POSE A FEW TIMES IN THE MOVIE FOR NO REAL OTHER REASON THAN THE FACT IT LOOKS PRETTY COOL!
Robertson directs robotics scientist Susan Calvin (Bridget Moynahan: THE SUM OF ALL FEARS) to help Spooner with the investigation and the first thing they discover is a robot hiding in Lanning's lab. Much to Susan's amazement this robot refuses to obey her orders, something everyone in this era takes for granted. Sonny (voiced by Alan Tudyk: FIREFLY [TV]) the robot makes a run for it. He sure makes a good prime suspect. Did he kill Lanning?
This is a great movie! Funny, action packed and pretty smart. The fear I had about the plot being formula proved unfounded and the story moves fast. I'm not sure Asimov would have liked it but maybe he would. I'm pretty sure he wouldn't hate it.
"Never, never, was one of my robots to turn stupidly on his creator for no purpose but to demonstrate, for one more weary time, the crime and punishment of Faust".
- Isaac Asimov, Eight Stories from the Rest of the Robots
I also like to think that he wouldn't hate my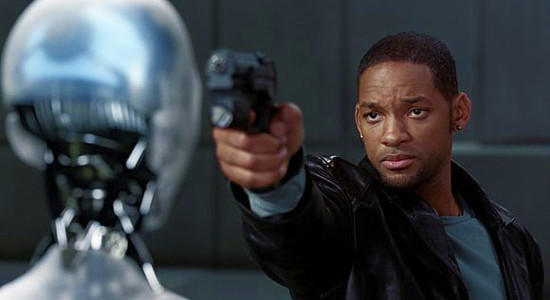 I'M ENDING MY EULA AGREEMENT.

WITH EXTREME PREJUDICE!
!!!SCIENCE MOMENT!!!:
My only complaint is that the movie doesn't really make clear what a different world it would be if intelligent robots were everywhere. There is brief mention of people losing their jobs to robots, which would certainly happen. But think about the effect on the economy if the cost of labor was effectively zero. Every product imaginable would become dirt cheap, effectively making us all millionaires. And the fast pace of scientific discovery we have now would seem glacial compared to an era when smart machines are designing even smarter machines. Some people call this rapidly approaching moment The Singularity, because once it happens knowledge expands so fast that it's impossible for us to imagine what it would be like.
But I digress. The point is that I, ROBOT rocks! Four shriek girls!

This review copyright 2004 E.C.McMullen Jr.
| | |
| --- | --- |
| | |
Though the movie claims to be "suggested" by the work of Isaac Asimov, it adheres closer to, and shares many plot points, with the best selling graphic novel, RONIN, by the legendary comic artist & writer, Frank Miller (

MAGNUS: ROBOT FIGHTER, RUSTY BOY ROBOT

)
Before Isaac Asimov wrote the book, I, ROBOT, Eando Binder wrote a popular short story of the same name, which was later made into episodes in both the old and new OUTER LIMITS.
This movie spent decades in development hell, and included a complete illustrated screenplay for an entirely different version of the final I, ROBOT movie, written by Asimov's friend, Harlan Ellison (A BOY AND HIS DOG, TERMINATOR)
The more you know about science, the weirder it gets. And the weirder it gets, the more poetic it becomes, and the more poetic it becomes, the more it makes sense.
Jason Christie is decidedly weird.
Sometimes a book is so amazingly good that it randomly spawns its own soundtrack.

Sometimes that album is so good it becomes a runaway bestseller and classic.

ALAN PARSON'S PROJECT: I, ROBOT, did both.
BLU-RAY


TRIVIA
Chris Suellentrop makes the point, at Slate.com, that this movie is in exact opposition to Isaac Asimov's
I, ROBOT.
SOUNDTRACK




BOOKS
Visit the official website
I, ROBOT

Visit
the official
ASIMOV ONLINE
FROM


E.C. McMullen Jr.




WILLOW BLUE




KINDLE



"'Willow Blue' will burrow under your skin and stay there long after you've put the book down."
- Jeffrey Reddick, Creator of FINAL DESTINATION

PERPETUAL BULLET
PAPERBACK

"'Some People' ... may be the standout story in the book."
- John Grant, 2 time Hugo Winner and creator of Infinityplus

ALSO

E.C. McMullen Jr.'s
short story
CEDO LOOKED LIKE PEOPLE
in the anthology


FEAR THE REAPER




PAPERBACK


"This Ray Bradbury-esque is one of the most memorable and one of the more original stories I've read in a long time."
- Reviewer, Amazon

HORROR 201: The Silver Scream
PAPERBACK
A tome of interviews and essays of
RAY BRADBURY,
JOHN CARPENTER,
WES CRAVEN,
TOM HOLLAND,
E.C. McMULLEN Jr., GEORGE A. ROMERO, and many more.