News by
E.C.McMullen Jr.

SHOULD YOU?


TIP JAR



John Carpenter's
THE THING
MOVIE REVIEW
Howard Hawk &
Christian Nyby's
THE THING
MOVIE REVIEW
Marc Abraham
& Eric Newman's
THE THING
MOVIE REVIEW

THE THING NEWS

- 2011
Morgan Creek Productions, Strike Entertainment, Universal Pictures
Rated: USA: R
NEWS
By E.C. McMullen Jr.
THE THING prequel begins shooting in March of this year up near Toronto, Canada, Anthropogenic Global Warming, permitting! (LOL! But seriously!)
What gives studios fan approved license to keep churning out Horror Thriller remakes?
Even the bad ones usually make money.
Despite fan written and vocal disapproval toward a studio, we vote with our money, gang, not what we write on a freaking message board (get that through your thick skulls, now please! I'll wait. Okay). And the reason for shooting a prequel to John Carpenter's THE THING from wa-ay back in 1982, is the unexpected success of it in the home video market.
1982 and John Carpenter's THE THING was an unmitigated flop in its theatrical release. That time is historically known as the summer of Stephen Spielberg's One-Two Punch, POLTERGIEST (released June 4, 1982 by MGM) and E.T. (released June 11, 1982 by Universal). But despite Universal Pictures poorly advertised, marketed, and timed the release of it, J.C.'s THE THING found legs on the burgeoning home video market (which didn't get on its feet until 1984) and has never been out of retail circulation since.* THE THING has gone on to have a successful comic book series at Dark Horse (before Dark Horse butchered it with a mini-series that turned THE THING into space vampires! E-freaking-GAD!), toys and a popular video game that still sells at full retail price five years after release.
In the book, John Carpenter: The Prince of Darkness, John tells how the first Dark Horse mini-series convinced him that he wanted to do sequels. However, by the late 1990s while Carpenter was considering it, his star Kurt Russell was too old to reprise his role. Carpenter realized that the only way he could do it was by remaking THE THING. And if he was going to do that, he might as well start with the first story. Back in the 1980s, Carpenter decided to make his movie a sequel to the original story, Who Goes There, by John W. Campbell. Screenwriter, Bill Lancaster's script is the aftermath for Campbell's Norwegians that begin the Carpenter's movie. Now Carpenter wants to start with the original short story, go through Lancaster's version, and on to the first Dark Horse mini-series.
I own that first four issue mini-series and I can tell you that it is excellent!
TRIVIA
*

In 1982, Universal Pictures actually pitted their higher budget R rated THE THING ($15 million, opened on 840 screens) against their lower budget PG rated E.T. ($10.5 million, opened on 1,107 screens), releasing John Carpenter's movie just 2 weeks after E.T. and 3 weeks after MGM's POLTERGEIST.
Universal's E.T. had a massive advertising campaign (it was rumored that advertising / marketing alone doubled the budget of the movie), and brought in $349.6 million in 1982 dollars.
---
Did you know that John W. Campbell Jr., being the editor of Astounding Science Fiction magazine, would write under the psuedonym, "Don A. Stuart"? That changes everything, doesn't it?
Read the Novella
WHO GOES THERE?
by
John W. Campbell Jr.

---
Cyriak Harris has created something that looks THING inspired. Judge for yourself when you watch
Beast-Enders
Of course, by the late 1990s there were several other factors in play. Nobody knew if there was still enough audience appeal to risk the millions on a prequel. Or if the fans would be willing to accept someone other than the original stars. Did the fans even care after Dark Horse slaughtered the franchise with their final mini-series? And finally was the issue of John Carpenter himself.
John's last theatrical hit was in 1988 with THEY LIVE. Everything else, IN THE MOUTH OF MADNESS, VILLAGE OF THE DAMNED, THE GHOSTS OF MARS, regardless of whether you personally like them or not, they weren't just flops, but HUGE flops. And none of them have done well in the home video market, which is historically Carpenter's ace (remember again gang, you can talk all you want on social media, but we vote with our money!).
When THE THING got a re-release on DVD in 1998, part of that question was answered. The DVD sold remarkably well. So much that Universal decided to spend a ton of money on making THE THING video game. The Playstation 2 game was released in 2002 and was also a hit. And as with Carpenter's movie, it had legs! It still sells, 8 years later, for around $30 retail.
Work began on the script. Now that work is complete, pre-production is nearly over, and production begins in March of this year near Toronto.
Now there is a lot of chatter on the Internet, the usual booing and hissing over remakes. Some of the folks behind this chatter forget that John Carpenter's THE THING was a remake of Director Christian Nyby and Howard Hawk's THE THING From Another World (that's not precisely how Carpenter looks at it, but that's how he sold it to Universal). Carpenter also wanted to be a part of the new THE THING, but so far the studio is cagey on what role if any he is playing behind the scenes. What rumor I've got so far is that he's there in a Producer capacity.
This page will keep you informed over the coming months until the release of the new THE THING 2011.
Originally posted in January, 2010
---
External THE THING News -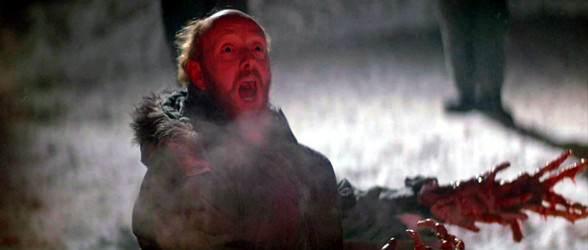 Actor Peter Maloney as Bennings
April 2, 2020
Life In The COVID-19 Era
By E.C. McMullen Jr.
Of all movies he could choose from, Writer K. Austin Collins draws comparison's between John Carpenter's THE THING, and his current fear of infection.
At the time of its 1982 release, John Carpenter's THE THING bombed at the box office and was roundly trounced by the leading critics of its day. The hideous reception of Carpenter's beloved opus broke both his heart and the heart of practical SFX artist, Rob Bottin.
Yet here we are, nearly 40 years later, and the movie still resonates powerfully with people whose own parents weren't alive or old enough to watch it in theaters.
Read the article at VF: Watching The Thing at the End of the World.
March 19, 2020
How The Thing Did The Spider-Head (Without Any CGI)
By Padraig Cotter
Here's how The Thing pulled off that incredible Spider-Head effect in an era before CGI. The Thing is a remake of the 1951 Howard Hawks' production The Thing From Another World. This b-movie classic was an adaptation of the 1930s novella Who Goes There?, which featured a team of scientists trapped in an Antarctic research base with an alien creature that can perfectly imitate any living being.
Continued at ScreenRant.
Jan 9. 2020
John Carpenter's Sci-Fi Horror Film 'The Thing' Was Ahead Of Its Time
By Sean Burns
Some movies are products of their time while others arrive distinctly ahead of it. It's tough to imagine a worse moment for John Carpenter's "The Thing" to have opened than in June of 1982 when audiences en masse had fallen madly in love with a cuddly intergalactic castaway by the name of E.T. Carpenter's film featured an alien as well, one that on the PBS show "Sneak Previews" Roger Ebert described as "the most nauseating thing I've ever seen on a movie screen." Clammy, paranoid and relentlessly downbeat, "The Thing" was incongruously grim and grotesque for a summer entertainment.
Continued at WBUR/ARTery.
---
NEWS: 2019
John Carpenter: Nobody would hire me after 'The Thing' debacle
By PTI
Horror master John Carpenter said after the box office failure of 'The Thing' in 1982, things were so grim that no one wanted to take chances on him.
Starring Kurt Russell, the horror film shocked audiences with repulsive special effects used for the titular, shape-shifting monster and opened to negative reviews.
Continued at Times of India.
August 22, 2011
Interview: Kim Bubbs Talks The Thing
Read our exclusive interview with actress Kim Bubbs, who plays geologist Juliette in the upcoming sci-fi horror movie 'The Thing,' which is set to hit theaters on October 14, 2011. The film follows an investigative team as it discovers and studies an alien craft that lands at its research site in Antarctica. The film, which was directed by Matthijs van Heijningen, Jr., serves as the prequel to helmer John Carpenter's 1982 movie of the same name. The actress, who has made a name for herself appearing on such television movies as 'A Near Death Experience' and 'Her Only Child,' discusses with us, among other things, why she was attracted to the role of Juliette, and how the prequel is different than the original film.
Continued at Shockya.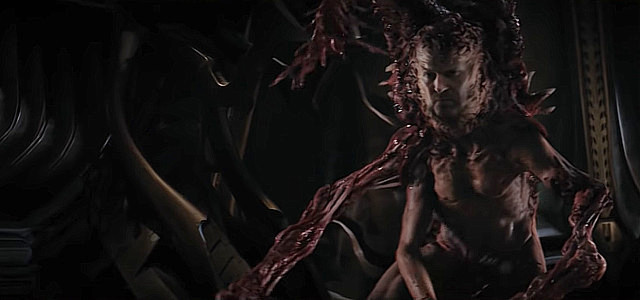 Actor Ulrich Thomsen as Sander
---
August 15, 2011
'The Thing' Trailer and Poster
Seemingly dormant since appearing at the New York Comic Con last year, Universal's prequel to John Carpenter's The Thing has started to show signs of life this week. A teaser poster arrived and now there is a trailer.
The movie tells the tale of an ill-fated Norwegian research camp that dug up a shapeshifting alien something in the permafrost of Antarctica, as seen in the early scenes of John Carpenter's movie.
Continued at Slash Film.
---
October 28, 2010
All the John Carpenter Easter Eggs in The Thing's prequel
By Meredith Woerner
The Thing prequel's cast and crew reveal their favorite nods to the John Carpenter classic in the new film, in our exclusive video round-up. Find out what this origin story recreates from the the 1982 movie.
Continued at io9.
---
October 25, 2010
'The Thing' Stars Joel Edgerton And Eric Christian Olsen Say Prequel Won't Be 'Spring Break Version'
by Tom DiChiara
Let's clear a couple things up about the upcoming horror flick "The Thing." Firstly, it is NOT a remake of John Carpenter's 1982 sci-fi horror classic; in fact, it's a prequel that follows an international group of scientists who, while at a Norwegian outpost in Antarctica, discover an alien that is able to assume the physical identity of anything it touches.
Continued at MTV.
---
October 20, 2010
New York Comic Con: Adewale Akinnuoye-Agbaje Talks 'The Thing' and 'Lost'
By Jack Giroux
Adewale Akinnuoye-Agbaje is the only African-American in the prequel to The Thing, something Agbaje jokes about himself. Generally, you'd get the overwhelming suspicion that he's got no chance of survival here, considering this is a horror film.
Continued at FilmSchoolRejects.
---
January 4, 2010
The Thing Returns!
By Alex Wagner
If there is one exception to the whole 'remakes are bad' rule it has to be John Carpenter's version of The Thing. His 1982 version is awesome! It really doesn't get much better than that for sci-fi horror, delivering better shocks than pretty much any horror film that came after it.
Continued at Filmshaft.
Universal making prequel to John Carpenter's 'The Thing'
By Jim Dixon
Universal continues to search for ways to breathe new life into old monsters. This time they're going a little more recent. Production Weekly reports that the studio is scheduled to commence principal photography on a prequel to John Carpenter's "The Thing" in Toronto in March, and continue through June.
Continued at Examiner.
'The Thing' Prequel Gets A Shooting Start Date
By Ross Miller
We've known for almost a year now that a prequel to the classic John Carpenter sci-fi/horror, The Thing is on its way. Battlestar Galactica's Ronald D. Moore wrote a draft of the script, which was then rewritten by Eric Heisserer (who also penned the upcoming A Nightmare on Elm Street remake).
Continued at ScreenRant.
The Thing's Prequel Lurches Towards Production
By Meredith Woerner
Sounds like The Thing prequel is moving out of development purgatory, and into actual production. Filming will begin this March. But with Ronald D. Moore script thrown out, is this something we want?
Continued at io9.
This page copyright 2010 E.C.McMullen Jr.
PERIODIC UPDATES: 2010 - 2020