Review by
E.C.McMullen Jr.

SHOULD YOU?


TIP JAR




THE MATTHEW WARNER INTERVIEW: 15 YEARS OF THE ORGAN DONOR
This is not fantasy. It has been going on in China for over twenty years and is a major revenue source for hospitals.
In 2003 I reviewed the eBook, THE ORGAN DONOR. It was a novel about Falun Gong, and the money grubbing business of harvesting of organs from prisoners to grow an "organ trade" in China.
It was also a Horror story and that's where I came in.
I'd been aware of author Matthew Warner from various message boards (what we had before Social Media, shut yer cake hole!), but until his first novel, had never read his work.
I thoroughly enjoyed it, but what was even more surprising to me, was the effect my good review had on the author.
It's now 15 years after the 2002 release of THE ORGAN DONOR, and a new publisher has the novel in an all new reprint.
So it's time to revisit THE ORGAN DONOR and Matthew Warner.
ECM: Let's look at the history of THE ORGAN DONOR from the perspective of a mystery. We already have the body. How did it get there? Why did Bloodshot Books want to do this?
MATT: The Organ Donor came out in 2002 from Double Dragon Press in Canada. It did well for around five years before going out of print. So a guy named Pete Kahle wrote to me in late 2016 saying that he had this new publishing company that was reprinting books that he liked, that he felt never got enough attention, and did I still have the rights to THE ORGAN DONOR?
ECM: Tell me what was happening during those out of print years.
MATT: As far as the commercial life of the book itself, there were people who would write to me and say, "Hey, I'd love to sell the movie rights to this," but nothing ever came of it.
Then in late 2016, when Pete Kahle of Bloodshot Books contacted me and wanted to do the reprint, I was like, "That's great! . . . Uh, who the hell are you?"
So, after checking him out with a few friends who did business with him, we negotiated a contract for a 15th anniversary edition. I told him I wanted to do something special for the book this time, though, and wound up writing a 7,000-word afterword. Turns out I had a lot to say, and only now, after all these years, do I really understand what I was trying to do with the book.
It's interesting that all this happened just through email and Facebook. You'd be surprised at how few of my publishers I've actually met face-to-face or on the phone. It's like they're actually phantoms of the Internet.
ECM: Or Angels in this case. What did you think you were going for with the book when you first wrote it, and what have you discovered about your motivation since?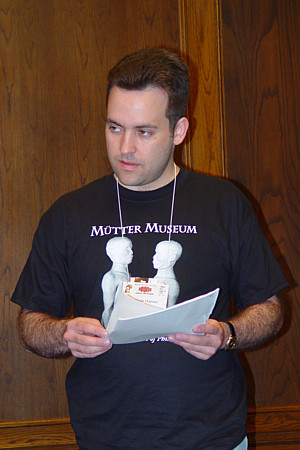 MATT: At the time I was dreaming it up, in 2001, I was dealing with the emotional fallout of my parents' divorce. The short story there is that my father cheated on my mother after a 30-year marriage and left her. I lived with Mom in the immediate aftermath. My big fear was that one day I would turn out like him.
You know, you look in the mirror and see his eyes, or you see his jawline. Would I one day discover that deep down I was a philanderer like him?
How much of our personalities and character come from our parents? Is it like the physical traits we inherit from them? Who really owns those traits? So I was fascinated with this idea on a subconscious level, and I started thinking about body parts.
ECM: I know the feeling and wonder how many sons feel that way. How many of us fight to not be like our fathers?
MATT: Yeah, no kidding. But none of it really jelled until I read about this Chinese doctor who had recently defected to the United States and testified before Congress. His name was Dr. Guoqi Wang, and he was a burn surgeon in Tianjin. His job was to tissue-match his patients, often wealthy "organ tourist" foreigners, who needed new kidneys and skin, with deathrow prisoners in China. When a match was made, he or one of his colleagues would pay off the courts to speed up the adjudication of these prisoners' appeals so that the government could execute them earlier.
Then, when the day came for the prisoners to be killed, Dr. Wang would follow them in an ambulance out to the execution grounds. He would wait while gunmen lined up the prisoners, one by one, and shot them in the back of the head. Then Dr. Wang and his colleagues would cart the prisoners into the ambulance to strip off their skin and carve out their kidneys. Whatever was left would be wheeled across the lot into the crematorium.
This is not fantasy. It has been going on in China for over twenty years and is a major revenue source for hospitals.
So I read about all this, and suddenly I knew how I would write the story. What if the bad guy in my novel were a figure from a Chinese mythology, and what if he were executed and his organs were sold to a visiting American (my protagonist)? And what if that Chinese guy then came back to life and wanted his organs back? And off I went.
ECM: So despite all of the exposure over the decades, it continues.
MATT: There has been a ton of attention paid to China's human rights abuses of their prisoners over the years. Dr. Wang's testimony before Congress was a big headline-getter, but it didn't put an end to anything. In fact, China called him a liar and tried to get the State Department to deport him back to them.
China currently denies that this is going on, claiming they have laws against it and that their prisoners are voluntary donors. But the fact remains that the number of organ transplants happening there, at least what researchers can determine, far exceeds the number of transplants available on a voluntary basis.
It bears mentioning that many of the thousands of people being executed in China every year — and having their organs harvested — are Falun Gong practitioners.
ECM: Was Wang a one off for you? His words inciting the moment that ignites your obsession to write the novel?
MATT: Yes, it got me onto the topic of Chinese mythology, and I think the novel came out well. But here's the most interesting part of the story: I eventually got to meet Dr. Wang.
ECM: DAMN!
MATT: When the book first came out in October 2002, I was like a proud first-time daddy, doing everything I could to promote it: some good ideas, and some over the line. The over the line ideas included sending letters to people like the Chinese ambassador and the United Network for Organ Sharing, trying to get them to react. It was kind of like kicking hornets' nests. One of the people I wrote to was Harry Wu of the Laogai Research Foundation in Washington, DC. Mr. Wu had been Dr. Wang's host and translator during his Congressional testimony.
ECM: And then the black SUVs pulled up to your house.
MATT: Ha! Wouldn't have that been something. But what happened was nearly as scary, at first. You see, the phone rang.
E.C. McMullen Jr. is a participant in the Amazon Services LLC Associates Program, an affiliate advertising program designed to provide a means for sites to earn advertising fees by advertising and linking to amazon.com.