Review by
E.C.McMullen Jr.

SHOULD YOU?


TIP JAR




THE MATTHEW WARNER INTERVIEW: 15 YEARS OF THE ORGAN DONOR

Page 2
... the moment that really sticks out in my memory about all this is the day I met Dr. Wang.
I was at my desk in DC, working as a legal secretary, in a job much like my main character Paul Taylor in The Organ Donor. I answered it, and it was Harry Wu himself. "Matthew. . . . I'm shocked."
I kind of had an OH SHIT moment until he told me why he was calling.
He said Dr. Wang's petition for political asylum wasn't going well. Despite the fact that he had defected and testified before Congress to expose China's abuses of its prisoners, he was in danger of being deported.
That posed an obvious danger to Dr. Wang. If he were deported, he would almost certainly be imprisoned — and most likely end up on one of his colleague's carving blocks.
ECM: He'd become "The Organ Donor" himself.
MATT: You got it.
So I hung up the phone and walked across my office to the pro-bono wing of the law firm where I worked. It was precisely the kind of place he needed to connect with, because they were experienced with representing high-profile political figures in these kinds of cases.
The firm comped him about $11,000 in legal fees in those first few months and prevented him from being deported right away.
His quest for political asylum, however, dragged on for many more years, and, as it turns out, through more than one lawyer. He eventually succeeded in not being deported — not because of U.S. immigration law but because of a clause in a U.N. treaty, the Convention Against Torture, to which the United States and China are both signatories.
Anyway, the moment that really sticks out in my memory about all this is the day I met Dr. Wang.
He was sitting in the conference room there, just sitting down with his lawyers. Harry Wu was seated next to him, acting as his translator. And I walked in and gave him a bound printout of THE ORGAN DONOR. Not that he could read it yet. He was just an ordinary looking, 39-year-old Chinese man, frightened for his life, and I'm the dumb ass standing there giving him a strange horror novel in a language he couldn't read. I never saw him again.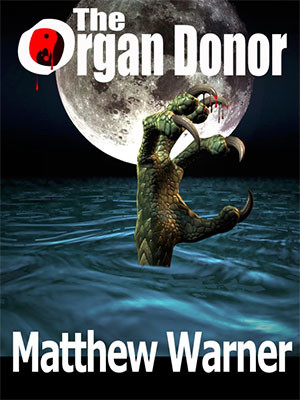 ECM: Not the book with the Creature from the Black Lagoon claw?
MATT: Oh, you mean that awful first cover for the eBook? Yes, I think the printout included that. Being a horror writer is all about horrifying people, but I don't think I was going about it in quite the right way, y'know?
ECM: Egad. With all he was going through, I wonder what went through his mind when he saw that?
MATT: No kidding. This was the guy who had just given an interview in which he said he was worried about Chinese assassins pursuing him to the U.S. Anyway, I've learned a lot since then, and I doubt I'll cross that particular line again in my career. I'll find all new lines to cross!
ECM: Wait! Wait! What finally happened with Dr. Wang?
MATT: As far as I know, he's still in the United States. The last I heard, he was working as a sushi chef. I tried to reach him last year, but apparently he doesn't want to be found. The only thing I don't know is whether he succeeded in bringing over his wife and child.
That was the problem, as I understand it, with the immigration courts here not giving him the political asylum status he wanted.
ECM: The nightmare that never ends.
MATT: Under our law, we cannot allow in immigrants who have participated in the act of torture. The problem is that he said more than once that he may have extracted organs from prisoners who were not yet dead.
ECM: Based on that, some would say his hands were stained. How do you see it?
MATT: The event I'm referring to happened in 1995 in Hebei Province. A man named Mr. Qi was sentenced to die for murder. Dr. Wang prepped Qi for post-mortem surgery by injecting his buttock with ten milligrams of heparin to prevent blood clotting. Somebody lied to the prisoner, telling him it was a tranquilizer to prevent unnecessary suffering during the execution.
Wang later testified that the executioner intentionally misfired in order to "keep the organs intact." Wang and another doctor took Qi's kidneys out anyway and packed them off in a cooler for later transplantation.
So, that was the problem. Was Mr. Qi dead before his organs were extracted? If yes, then that qualified as torture.
But this episode also spurred Wang to grow a conscience. Soon after that, he tried to resign his job. His superiors refused.
This went on for quite a long time until he finally defected to the United States under a false name, with a group of Chinese tourists visiting Disney. Once he got here, he hooked up with Harry Wu and testified before Congress.
So, my opinion is that he, by God, should have been given political asylum. All this legal wrangling was unnecessary. Further, it clouds the real issue, which is China's continued abuse of its prisoners. I hope anyone reading The Organ Donor will read more about this topic and pressure their lawmakers to keep the topic in mind when dealing with China.
ECM: Knowing how this fueled your first novel, do you ever see Dr. Wang moving through your subsequent novels?
MATT: The topics I've explored in subsequent novels have varied. I tackled schizophrenia in Eyes Everywhere (that novel, incidentally, reuses the setting of the same law firm in THE ORGAN DONOR.) And I dealt with worries about babies in Blood Born (also a DC story, and which brings back Det. Randall from THE ORGAN DONOR). Other books have ranged from a movie novelization (Plan 9, which remade Plan 9 From Outer Space) to post-apocalyptic society (Meatcow Maker).
I've written about the emotional fallout of my parents' divorce many times, as well. Dominoes in Time, my last short story collection, is premised on the theory that a story should always seek out the keystone event — the key "domino" — in a character's life, the event that changed him or her forever. My parents' divorce was certainly one of mine.
ECM: You've revisited your own characters and the locales of your home, but Dr. Wang remains with THE ORGAN DONOR.
MATT: Yes. There's a character in The Organ Donor, Dr. Li Jun, who is based on him.
The characters I remain the most interested in from The Organ Donor are Paul (the main character) and Det. Randall. Randall took a hell of a beating in Blood Born.
ECM: When I reviewed THE ORGAN DONOR back in 2003, I wrote, "Matthew Warner has created an entirely new species of monster that breathes the possibility of endless creations and variations. The blood of Matt's novel is fresh and capable of running through many veins." After 15 years have you ever considered a sequel? Has anyone ever asked to use that specific world?
MATT: I've thought about sequel possibilities — and when I write, I always keep notes on those ideas as they occur to me — but I haven't pursued it seriously yet. I'm kind of worried I wouldn't be able to top the first novel as it was so infused with Chinese mythology.
And no, no one has asked to write anything in my story's particular universe.
I kind of hope however, as you did, that other writers will one day pick up the gauntlet. It is possible, after all, to write about vampires without specifically referencing Dracula. Likewise, there's nothing to prevent people from Americanizing some juicy Chinese myths like I did.
ECM: Looking toward the possible future, if we assumed that someone seriously wanted to pursue this as a movie or series, and knowing in advance that there will be changes, is there anything you'd like to see changed?
Also, what do you feel must remain the same no matter what? What would be the dealbreaker if anyone wanted to remove it?
MATT: A year or two after The Organ Donor came out, a screen writer I won't name convinced me to begin collaborating with him on a screenplay adaptation. We would write it together on spec and then try to sell it.
Big mistake.
ECM: Why? Where did it derail?
MATT: He right away started trying to turn it into The Karate Kid or something. He homed in on an obscure passage in the early chapters where Paul's bodyguard passes some time with him (while they're waiting for a suitable kidney donor for Paul's brother) teaching him some martial arts.
Like that was the focus of the story.
We're like 30 screen minutes into this movie, I said, and Paul and Tim still haven't received their transplants. This movie isn't about Kung Fu, goddammit.
I wound up having to pull the plug on the project.
ECM: This is a great story, Matt! The Godzilla you have in there and everything. All the chop socky! I'm having orgasms just looking at the title. Seriously! Ask any of my interns! Orgasms! But how about we make it more, Karate Kid-ish? Imagine it! That would move a lot of units!
MATT: And, wouldn't it be cool if there were ALIENS? I think there should be aliens.
Always beware of the phrase "wouldn't it be cool if".
This conversation makes me want whiskey.
ECM: That would be every conversation with me.
Okay, so after all of these years, is there anything there you now wish would be different? Or expounded upon? I'm resisting my impulse to use a Star Trek reference for illustrative purposes here.
MATT: You mean, are there parts of the novel I wished I'd written differently? Not really. I'm not the same person I was 15 years ago — I mean, who is — and the story is what it is. I think my technique has tightened up — not as many passive sentences — but I think The Organ Donor has held up pretty well. However, there was the big temptation with this new edition to go all George Lucas on it. I'm glad I didn't.
ECM: Not that you wish you'd written anything differently, only when you imagine it as a movie or series. That's the reference point I'm pursuing.
MATT: All I know is that if The Organ Donor were adapted, then I shouldn't be the one to do it. That's not because I think I can't do it — I'm also a produced screenwriter — but because I'm worried that Mr. Karate Kid would come back and allege I stole his work or something.
ECM: Out of all of the screenwriters out there, is there anyone you feel you could trust to do it justice?
MATT: I admire the work of Darren Aronofsky and Guillermo del Toro. They have a more surrealistic approach to horror, and that appeals to me. I'm not so much about the boobs-and-blood approach, although I have nothing whatsoever against boobs and blood per se.
ECM: What's the last note you'd like to add to this?
MATT: Many of the victims of China's organ trade are Falun Gong practitioners. Persecuting people for practicing Falun Gong makes about as much sense as persecuting people for practicing cross-country jogging. But China outlawed the practice in 1999 because the millions of people practicing it represented a grassroots political threat to their Communist Party.
The next time you see people protesting in front of the Chinese embassy about the torture and persecution of Falun Gong, it's worth your while to take one of their flyers and read more.
And as a final note, I just want to thank you for this great interview, Eddie. You have good taste in books!

END
E.C. McMullen Jr. is a participant in the Amazon Services LLC Associates Program, an affiliate advertising program designed to provide a means for sites to earn advertising fees by advertising and linking to amazon.com.