LURKING IN PENNSYLVANIA
by William P. Robertson
Infinity Publishing 2004
TPB 134 pages, $13.95
ISBN 0-7414-2150-X
Three decades is a long time to wait for a book, but Bill Robertson has finally collected all his stories together, added some poems and decorated it all with his own photographs. The result is LURKING IN PENNSYLVANIA. Something Bill should know about. He's from there. In his introduction he writes: "I've lived most of my life amidst the wild beauty of rural northwest Pennsylvania where hillsides choked with oak and hemlock create bleak tableaux that adversely affect one's psyche". Spoken like a true horror writer. Which this book proves he is.
The seventeen short stories in this book were written in a horror tradition that has almost disappeared these days. These aren't gore-filled, four-letter word smeared rants. These are "stories" with actual creepy endings, in the tradition of the old folktales that chilled our ancestors as they gathered together, whether at Halloween or Christmas. This book is the perfect companion for the autumnal season, the eight weeks between All Saint's Day and the Winter Solstice.
Favorites in this collection include "The Weight", a tale of man who is saddled by an evil imp. The story shows Robertson's own background. The author tells us: "My grandmother, Bernadine Johnson, came from Sweden around the turn of the 20th Century and brought with her folktales of ghosts and trolls that I found fascinating as a child." This explains much of the Old World charm of this book.
Another high spot is "The One and Only Price Vincent" which reflects Robertson's rock'n roll influences, primarily, the Doors. "It was … the lyrics of Jim Morrison that started my love affair with words," Robertson says in his Author's Note. In this tale a deranged roadie murders the star guitarist. Only in the gruesome final sentence do you find out how he almost got away with it. The guitarist's name is a welcome nod to a great horror film actor.
"Mary and Emmet" is a wonderfully understated tale about an elderly woman forced to nurse her ailing husband. The struggles of Mary to deal with Emmett's dementia are realistic and heartbreaking, based on Robertson's Uncle Frances' bout with Alzheimer's. Mary's final solution, only hinted at, not gruesomely over-described, is chilling. The author has taken the time to make you feel about these characters so the pay-off is that much harder hitting.
Robertson talks about his influences at the beginning of the book, naming Edgar Allan Poe and H. P. Lovecraft. "The Goldenrod" is certainly in the same vein as these two masters. Jacob Martin is a homeowner who is fighting with the weeds in his backyard. You know it's going to end badly but Robertson leads you on just the same. Gardeners will find this one particularly frightening.
But not all these stories are downers. Many of them are flavored with a nice dollop of humor. In "The Revenge of Old Man Mooney" and "Luke the Spook" Robertson tells scary stories that make you laugh rather than shiver. In "The Brown-Streaked Sidewalk" a young man is trying to impress his friends but ends up becoming so scared he literally paints the sidewalk brown.
A final word about the poems and photos in LURKING IN PENNSYLVANIA. The author has used his gift of verse to introduce many of these tales, giving them a kind of kick-start. The photos are chosen carefully to illustrate ideas in the stories and poems. Some are personal, like two boys obviously many decades ago, playing at hunters. Others are from Robertson's collection of creepy Pennsylvaniana, a snow covered grave angel, forgotten farming vehicles and ancient building. The cover is a color photo of two deer with menacing looking eyes. An appropriate opener to a book filled with rural good-humor, horror and soul.
Four BookWyrms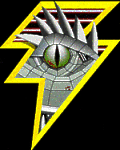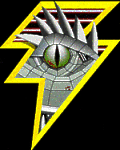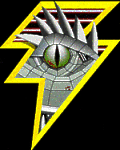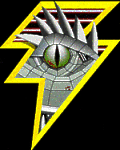 This review copyright 2003 E.C.McMullen Jr.