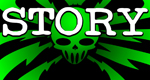 You Support This Site
When You Buy My Books
E.C. McMullen Jr.
PERPETUAL
BULLET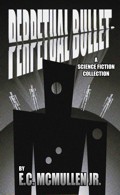 "'Some People' ... may be the standout story in the book."
-

John Grant

, Infinityplus

E.C. McMullen Jr.
WILLOW BLUE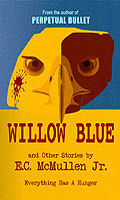 "'Willow Blue' will burrow under your skin and stay there long after you've put the book down."
- Jeffrey Reddick, Creator of
FINAL DESTINATION

IN OTHER BOOKS
E.C. McMullen Jr.'s
short story
CEDO LOOKED LIKE PEOPLE
in the anthology
FEAR THE REAPER

"This Ray Bradbury-esque is one of the most memorable and one of the more original stories I've read in a long time."
- Steve Isaak,
Goodreads

HORROR 201:
The Silver Scream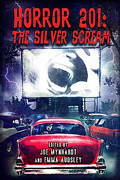 Filmmaker's Guidebook
featuring
RAY BRADBURY,
JOHN CARPENTER,
WES CRAVEN,
TOM HOLLAND,
E.C. McMULLEN Jr.,
GEORGE A. ROMERO,
and many more.

And
IN CINEMA


E.C. McMullen Jr.


Head Production Designer

MINE GAMES


(Starring:
JOSEPH CROSS, BRIANA EVIGAN,
ALEX MERAZ)

Production Designer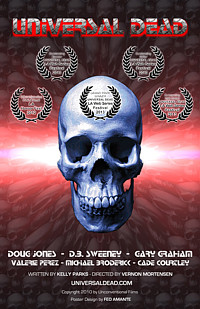 UNIVERSAL DEAD
(DOUG JONES,
D.B. SWEENEY,
GARY GRAHAM)
Review by
Regina Mitchell

BLOOD CRAZY

- 1995
by Simon Clark
Hodder & Stoughton
UK
ISBN 0-340-62574-0 HC
ISBN 0-340-62575-9 PB
I'm not a fan of end-of-the-world fiction, but I am a fan of Simon Clark. After JUDAS TREE, however, I was reluctant to read anything else by him. JUDAS TREE was an incredible story and I was afraid Clark's other books would not live up to it. So it was with trepidation that I picked up BLOOD CRAZY.
And found I couldn't put it down.
I carried that book around with me for three days. I breathed, ate, slept and went to the bathroom with it. The only place I couldn't get away with reading it was in the car and at work. Instead it sat, invading my thoughts. I found myself thinking about events in the story that had happened and wondering what would happen next.
So, I'll tell you a bit about the book. Nick Aten is nobody's definition of a hero, but he's not a completely bad guy. One day he wakes up to a world gone mad. Parents murder their children for no apparent reason, and somehow Nick stays alive. His adventure begins.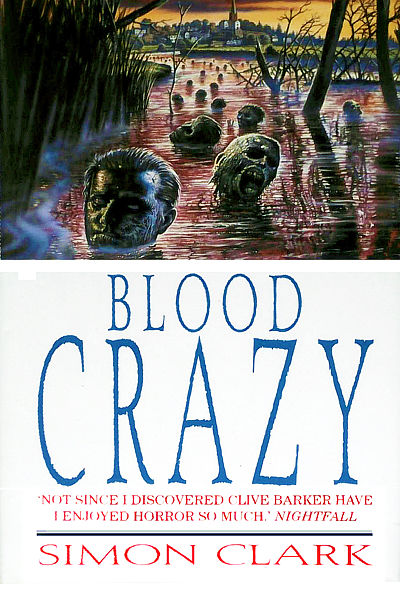 This is a story about survival and the effects it has on those who persevere through the puzzling events that take place. There are some incredible action sequences and the gore that accompanies them is perfect - it was enough to make me squeamish but never so much that I had to look away. But the thing that really grabbed me were the characters; they were all incredibly real. We were shown changes in their attitudes after civilization fell, but unlike most novels of this sort, we were shown how they might go back to their normal selves, as much as possible, once the shock wore off. This, for me, made it real.
To tell anymore about the book would give away the pleasure of experiencing it for the first time. I went into this book blind, without even reading the back cover, and I'm glad I did. It's always a treat to get sucked into a book unexpectedly.
Do I sound like I'm gushing? That's because I am. When I finished this book I literally put it down and said, "Wow." My husband asked me how it was and I couldn't answer him. That was the most surprising thing - I thought about this book for days afterward, contemplating what events had happened and imagining what might have happened afterward.
I cared about the characters and lived their lives for those few days. I was drawn in and had no desire to claw my way out.
This is horror at its finest. Steal a copy if you have to, but read BLOOD CRAZY. You'll be happy you did. An undeniable 5 Bookwyrms.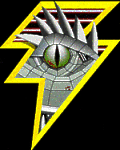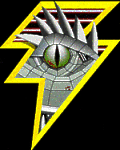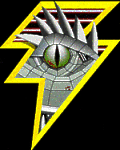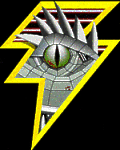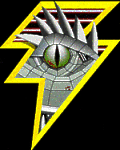 This review copyright 2001 E.C.McMullen Jr.