Review by
Diane Matson

NEW MOON

- 2008
by Stephenie Meyer
Barclay Books, LLC
ISBN 0-31602496-1
Although you can read NEW MOON without reading TWILIGHT, it won't be nearly as impactful or interesting without the back-story and previous connection with the characters. The books are all one grand adventure. It would be like starting with The Two Towers - the second book in Tolken's The Lord of the Ring series. If you'd like to know more, read my review of TWILIGHT.
The Twilight series is delightful largely because Stephenie has a way of completely taking the reader by surprise through dialogue, character reactions, and plot points. My jaw literally sagged when the book begins by Edward telling Bella, quite firmly, that he's through with her, forever. And then he and the rest of his vampire family left.
Wait! What?! But… but…
Although Bella's life has been destroyed, her body lives on, as does daily, intense pain. Losing a limb would have been easier. What do you do when your soul-mate simply cuts you out of his life?
Bella finds herself turning toward her childhood friend, Jacob Black. Jacob's a lot more relaxed, smiling, and easy-going than Edward. However, he does tend to get more intense when it comes to Bella's safety and his romantic feelings for her. As their relationship develops, Bella discovers Jacob's tribe is made up of werewolves. This doesn't faze her any more than meeting vampires did in Twilight. It bothers everyone else, once they figure out she's in on the secret. This is another great thing about Stephanie's writing. Although the supernatural is an element, it's the human emotions, errors, and reactions that makes everything feel so real.
To escape the horrible dead feeling inside, the accident-prone Bella purposefully puts her life in danger. Thanks to Jacob, she takes up a few new hobbies, such as motorcycle riding (behind her father's back), and cliff diving (which involves leaping off a very tall cliff and into the ocean). Bella also confronts "non-vegetarian" vampires.
And all the while, Jacob is there. Edward is not. In the real world, teenagers fall in love, break up, and move on. TWILIGHT and NEW MOON are written in the first person. They clearly demonstrate that Bella is more mature than either of her parents, so it makes sense that she had no "without Edward" plan for her life. They are soul-mates, and their relationship is almost supernatural. They are A Unit. Or so I thought until Edward left her (be honest. Every once in a while, teenagers fall in love, marry and actually do live Happily Ever After.)
Jacob is kind, caring, and he loves her. Would it really be so bad to spend the rest of her life with him? While this might sound flaky and immature, keep in mind that, for the most part, Bella acts 17 going on 30, and werewolves and vampires tend to mate for life. This makes complete sense in Stephanie's books. Her characters are powerful, which is why her books are so wildly popular.
I love the complicated characters. I rooted for the flawed protagonists, and loathed the intelligent antagonists. The plot moves right along. As I whipped through the pages, intellectually, I appreciated that all the characters introduced in TWILIGHT become further developed in NEW MOON. In addition, Stephenie delves deeper into the lore she created, revealing more about vampires, the Cullens and the society they live in. Plus, a large portion of the book dwells on the newest addition - the werewolves.
Although this is the darkest book of the series, it's the only one I read in one night (started at 9 p.m. and finished sometime around 4 a.m.). The next night, as I did with TWILIGHT, I immediately reread all my favorite parts.
5 Bookwyrms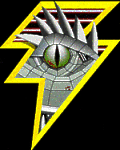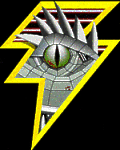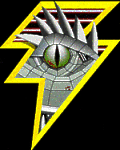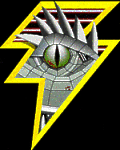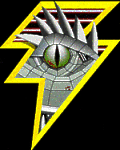 This review copyright 2009 E.C.McMullen Jr.
E.C. McMullen Jr. is a participant in the Amazon Services LLC Associates Program, an affiliate advertising program designed to provide a means for sites to earn advertising fees by advertising and linking to amazon.com.
FROM
E.C. McMullen Jr.
WILLOW BLUE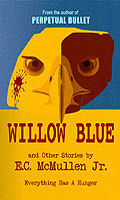 "'Willow Blue' will burrow under your skin and stay there long after you've put the book down."
- Jeffrey Reddick, Creator of FINAL DESTINATION

PERPETUAL BULLET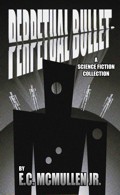 "'Some People' ... may be the standout story in the book."
- John Grant, Infinityplus

ALSO
E.C. McMullen Jr.'s
short story
CEDO LOOKED LIKE PEOPLE
in the anthology
FEAR THE REAPER


"This Ray Bradbury-esque is one of the most memorable and one of the more original stories I've read in a long time."
- Amazon Review
HORROR 201: The Silver Scream
PAPERBACK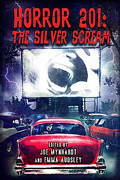 A tome of interviews and essays by
RAY BRADBURY,
JOHN CARPENTER,
WES CRAVEN,
TOM HOLLAND,
E.C. McMULLEN Jr., GEORGE A. ROMERO, and many more.

Robert S. Rhine's
SATAN'S 3-RING CIRCUS OF HELL


Forward by
GAHAN WILSON,
FEO AMANTE.
Featuring comics by
WILLIAM STOUT,
HILARY BARTA,
STEVE BISSETTE,
SPAIN RODRIGUEZ,
FRANK DIETZ,
JIM SMITH,
TONE RODRIGUEZ,
FRANK FORTE,
ERIC PIGORS,
ALEX PARDEE,
MIKE SOSNOWSKI,
OMAHA PEREZ,
DAVID HARTMAN,
D.W. FRYDENDALL,
SHANNON WHEELER,
VINCENT WALLER,
JACOB HAIR,
NENAD GUCUNJA,
STEVEN MANNION,
NORMAN CABRERA,
and more!