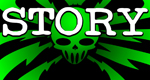 You Support This Site
When You Buy My Books
E.C. McMullen Jr.
PERPETUAL
BULLET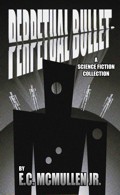 "'Some People' ... may be the standout story in the book."
-

John Grant

, Infinityplus

E.C. McMullen Jr.
WILLOW BLUE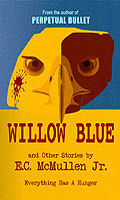 "'Willow Blue' will burrow under your skin and stay there long after you've put the book down."
- Jeffrey Reddick, Creator of
FINAL DESTINATION

IN OTHER BOOKS
E.C. McMullen Jr.'s
short story
CEDO LOOKED LIKE PEOPLE
in the anthology
FEAR THE REAPER

"This Ray Bradbury-esque is one of the most memorable and one of the more original stories I've read in a long time."
- Steve Isaak,
Goodreads

HORROR 201:
The Silver Scream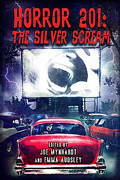 Filmmaker's Guidebook
featuring
RAY BRADBURY,
JOHN CARPENTER,
WES CRAVEN,
TOM HOLLAND,
E.C. McMULLEN Jr.,
GEORGE A. ROMERO,
and many more.

And
IN CINEMA


E.C. McMullen Jr.


Head Production Designer

MINE GAMES


(Starring:
JOSEPH CROSS, BRIANA EVIGAN,
ALEX MERAZ)

Production Designer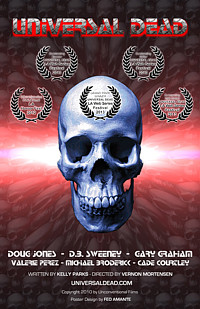 UNIVERSAL DEAD
(DOUG JONES,
D.B. SWEENEY,
GARY GRAHAM)

ART DIRECTOR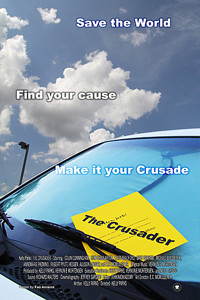 THE CRUSADER
(COLIN CUNNINGHAM,
GARY GRAHAM)
Review by
Kelly Parks

BATTLESTAR GALACTICA: RAZOR

- 2007
USA Release Nov. 24, 2007
USA Cable Entertainment LLC
Rated: USA: N/A
I have to be careful here. I want to tell you about something that depends on something that I don't want to tell you about if you don't already know. Wait, let me start over.
BATTLESTAR GALACTICA: RAZOR is a two hour BG movie meant to both give some history about a major story arc from season three and to bridge the very freaky events of the season three finale with season four, aka the Final Season. RAZOR was broadcast on the Sci-Fi channel but this is a review of the Extended Edition DVD.
I'm mostly going to assume that you're a fan of Battlestar Galactica (and therefore not a loser) which means I'm not going to spend a lot of time on explaining the series to you, other than to say that it's the most adult science fiction series that's ever been on TV. And yes, I mean adult as in grown up and complicated like real life.
RAZOR was directed by Felix Enriquez Alcala (BATTLESTAR GALACTICA [TV], BLADE: THE SERIES [TV], THRESHOLD [TV]) and Wayne Rose (BATTLESTAR GALACTICA [TV]) and was written by Michael Taylor (BATTLESTAR GALACTICA [TV], THE DEAD ZONE [TV]) and series creator Ronald D. Moore (BATTLESTAR GALACTICA[TV], ROSWELL [TV]).
This is actually the story of the Battlestar Pegasus, the only other Battlestar (aside from Galactica) to survive the genocidal Cylon attack. The story is told largely through new character Kendra Shaw (Stephanie Jacobsen: LIFE ON MARS [TV]), an officer on the Pegasus newly promoted to XO by Captain Lee Adama (Jamie Bamber: BATTLESTAR GALACTICA [TV], THE GHOST WHISPERER [TV]).
Kendra served under the late Admiral Helena Cain (Michelle Forbes: ESCAPE FROM L.A., BATTLESTAR GALACTICA [TV], ALIAS [TV], 24 [TV], ) and we find out all about that in a series of flash backs that intertwine with the main story.
There are lots of emotionally crippled people in what remains of the fleet but Kendra tops even the ever angst-ridden Kara "Starbuck" Thrace (Katee Sackoff: BATTLESTAR GALACTICA [TV], WHITE NOISE 2). Admiral Cain had to do some pretty severe things to keep her crew alive and Kendra may have participated in an atrocity.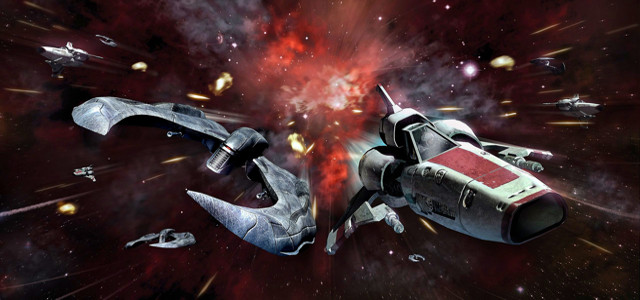 We learn many fascinating story details through her flashbacks as well as through flashbacks from Admiral Cain and Admiral William Adama (Edward James Olmos: BLADE RUNNER, WOLFEN, BATTLESTAR GALACTICA [TV]), including exactly how Pegasus survived the Cylon computer sabotage just before their attack, how the crew of the Pegasus learned that Admiral Cain's lesbian lover Gina (Tricia Helfer: BATTLESTAR GALACTICA[TV], MEMORY), aka "Six", was a Cylon, and all about early Cylon-Human hybrids that are related to the season three finale.
In case my enthusiasm hasn't given me away let me be explicit: I love this show. Episodes of BG really stay with you, often because there is no "TV morality" here. The lives of these characters are messy and the morality of their decisions far from clear cut. Sometimes they do terrible things because they feel like they must. And always, they suffer endless guilt.
BATTLESTAR GALATICA: RAZOR is a stand-out example of the emotional and moral complexity that this series brings to TV. I give it four shriek girls.





This review copyright 2007 E.C.McMullen Jr.