Review by
Kelly Parks

ON THE BEACH

- 1959
USA Release: Dec. 17, 1959
Stanley Kramer Productions, United Artists
Rating: No Rating
We see many shots of empty streets visible through the sub's periscope. The crew speculates that the lack of visible corpses is because people sickened by radiation would have mostly died at home, in bed.
Is this what the aftermath of WWIII would really be like? The only way to answer that is with a...
!!!SCIENCE MOMENT!!!:

The short answer is no. Even if WWIII had happened in the 80's (before the Soviet attempt to match our Star Wars spending caused their collapse), the resulting fallout from a massive exchange (with thousands more nukes than they had in the 60's) would not have rendered the entire world uninhabitable as portrayed in the movie.
Fallout is radioactive dust created from debris sucked up into the mushroom cloud of a nuclear explosion that gradually "falls out" of the atmosphere, covering the ground like deadly snow. Airbursts (nukes detonated in the air above their targets) produce almost no fallout. And just how deadly fallout is depends on the radioactive isotopes they contain are. Even for an all out nuclear exchange, it would be possible to survive in a basement shelter as long as you had 3 or 4 months of supplies (that sounds like a lot but if it was mostly dehydrated food it really wouldn't take up much room*). After that the fallout would have decayed enough that it'd be safe to go outside again. So given that people in Australia had 5 months or more to prepare it would have been perfectly possible to survive.
But there is one other scenario.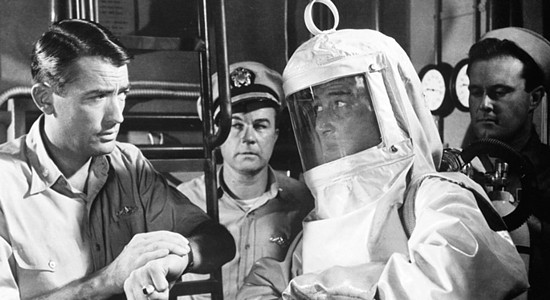 There is only ONE other scenario? You're sure?
"PRETTY SURE!"
In 1950 physicist Leo Szilard pointed out that the technology existed to build a doomsday bomb. This would be an ordinary hydrogen bomb built with an outer layer of cobalt. This cobalt bomb wouldn't produce a bigger explosion, but it would produce much nastier fallout. The cobalt-60 isotopes give off hard gamma rays and are much longer lived than the fallout from ordinary nukes (this is the doomsday device in the movie DR. STRANGELOVE). Detonate a bunch of cobalt bombs and over the next few months this deadly fallout would gradually settle over the entire Earth, killing all mammalian life (reptiles and insects are hardier). There would be no defense since the bombs don't have to be delivered to a specific target; they can be detonated anywhere. Shelters become much more impractical because you'd need to stay underground for many years instead of a few months.
If you assume one or both sides used cobalt bombs then the events in ON THE BEACH are believable.
---
*Three to four months of potable water, on the other hand, would take up an enormous amount of room.
If you had the money and foresight, you could have a water recycling system, but that too takes up a lot of room and energy.
You'll also still need a massive water storage tank area for plenty of spare water as such a recycling system still obeys the law of diminishing returns.
This review copyright 2003 E.C.McMullen Jr.