Review by
Kelly Parks

RETURNER

- 2002
USA Release: Oct. 17, 2003
Imagica Corp. / Robot / Shirogumi / Toho / Destination Films / Samuel Goldwyn Films
Ratings: USA: R
RETURNER is a Japanese movie (the DVD allows you to watch it in Japanese, dubbed English or Japanese with English sub-titles) co-wrote and directed by Takashi Yamazaki (also visual effects artist). The movie opens with a battle taking place eighty years in the future. Ragtag humans are being attacked by aliens and losing badly but a young girl manages to dive into some kind of energy vortex. Good opening! Always start in the middle of the action because it draws you into the story.
Meanwhile, back in the present, a Yakuza business deal is taking place on a docked cargo ship. The commodity in question is a cargo container full of frightened children and the buyer, a very bad guy named Mizoguchi (Goro Kishitani: GRAVEYARD OF HONOR), thinks nothing of shooting a child because he's making too much noise. These kids aren't being sold for child slave labor. They're being sold for their organs.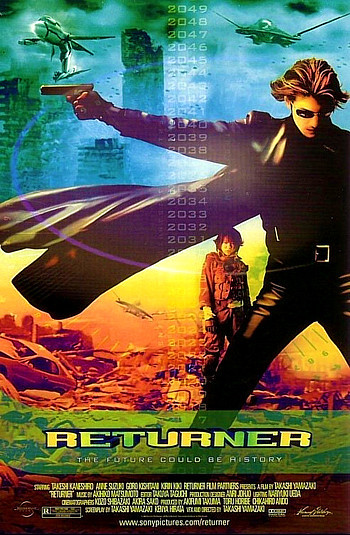 The grisly deal is interrupted by a very capable young man named Miyamoto (Takeshi Kaneshiro: HEROIC TRIO 2). Miyamoto is amazingly skilled at martial arts (Matrix effects level) and even better with a gun. He dispatches Mizoguchi's henchmen but Mizoguchi himself eludes capture. Miyamoto is not a cop. His motivation is revenge (not surprising that a lot of people don't like Mizoguchi).
Miyamoto is a good guy but just barely. He starts to leave but then, as an afterthought, he unlocks the cargo container with the kidnapped children inside. Then an energy vortex appears…
The girl from the future is Miri (Ann Suzuki: POCKET MONSTERS). She sees enough of the fight to know that Miyamoto is a useful guy to have around. Their relationship is rocky at first (he shoots her) but he eventually agrees to help her in her mission (because she glues a bomb to his neck and threatens to literally blow his head off). Hey, no relationship is perfect.
Her mission is to stop a war with an alien race that she knows will start in two days. Eighty years later (I guess we hold out pretty well for quite a while) we lose and humanity is destroyed. The war starts because an alien recovered from a crashed space ship is mistreated at a government lab.
Miyamoto doesn't believe a word of it, of course, until he's presented with undeniable evidence. And it works out to his advantage because his archenemy Mizoguchi is involved in the cruelty-to-aliens situation.
Revenge! Aliens! Time travel! Cool fight scenes! What does it all mean?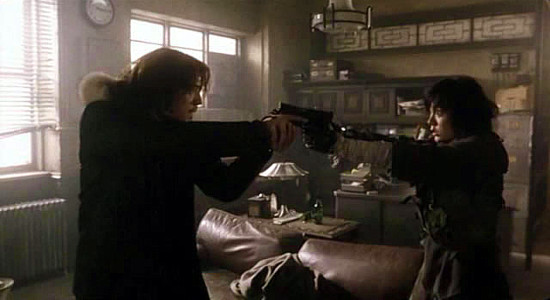 Before I will answer that I feel the need for a
!!!SCIENCE MOMENT!!!:
There's a little bit of scientific basis in the concept of time travel (in other words, it just might be physically possible). But even that bare possibility states that you could never go back to a time before your time machine was built.
Visit THE SCIENCE MOMENT for more Science Moments.
Temporal violations aside, this is actually a pretty cool movie. Mizoguchi is a bad guy worthy of your hatred, Miyamoto and Miri eventually make a good team and have some funny back and forth and the alien effects are well done (though sparse because of the low budget). There's even an interesting time travel twist that caught me by surprise. I give it three shriek girls.




This review copyright 2004 E.C.McMullen Jr.
E.C. McMullen Jr. is a participant in the Amazon Services LLC Associates Program, an affiliate advertising program designed to provide a means for sites to earn advertising fees by advertising and linking to amazon.com.