Review by
E.C.McMullen Jr.

YOU KNOW WHAT YOU HAVE TO DO


TIP JAR




AN AMERICAN WEREWOLF IN LONDON

- 1981
USA Release: Aug! 21, 1981
Universal
Rated: USA: R
Over an evening shot of pastoral hills comes the music of Bobby Vinton singing Blue Moon. In the theaters, the audience knew that they were watching a Horror Thriller about an American Werewolf, in London of all places. So what the hell was going on with such calm, benign even, relaxing music? It had just the opposite effect. It was disconcerting.
A truck full of sheep pulls up and two guys with backpacks get out. The truck driver kindly advises the boys to stick to the roads, stay off the moors. The guys are David Kessler (David Naughton: BRUTAL MASSACRE) and Jack Goodman (Griffin Dunne) and they begin a long trek to the nearest English village. When they arrive, the only pub in town is called The Slaughtered Lamb. Both their presence and their talk leaves a bad impression among the locals and they wind up getting kicked out to much controversy.
"You can't let them go! Not tonight!"
Jack and David, sensing a serious tension and not wanting an ass-whupping, leave as the barmaid says, "Stick to the roads, stay away from the moors."
But as Jack and David walk through the night, back at the pub there is much conflict. The two Americans should not be allowed to go out on this night.
Then a strange howl cuts through the night, causing everyone to freeze.
Jack and David, walking through a downpour, also hear the howl echo through the night.
The rain clouds part and Jack notices that the moon is full.
Beneath the moonlight, the two men also notice that, somewhere, they left the road behind and are walking through the moors. They convince each other that, whatever is waiting for them back at the pub, its gotta be better than this.
Something very animal and very deep, growls in the dark, scaring the two men.
Something approaches with heavy foot steps.
Something horrible attacks Jack, tearing him apart. Then it goes after David.
When David awakes, he's in a London hospital, far from the scene of the attack.
So begins one of the most awesome werewolf movies ever made. At turns funny, horrifying, genuinely scary, and sexy, John Landis' AN AMERICAN WEREWOLF IN LONDON remains a milestone achievement in werewolf movies. The only other one that comes close is THE HOWLING, and both were made in the early 1980s. No one else has even come close to making any Werewolf movie this amazing and startling.
David was unconscious in the hospital for three weeks, healing. He is told that he and his friend, Jack, were attacked by a homicidal lunatic. Jack is dead. David's physician, Dr. Hirsch (John Woodvine: THE DEVILS) is disbelieving when David tells him that they weren't attacked by a lunatic, but by a wolf: A monster.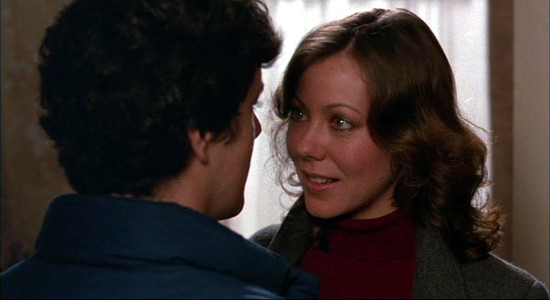 Alex wants David out of those clothes and into someone more comfortable.
Landis followed the old Hammer Films formula of pacing a story and it works marvelously here.
As David tries to come to terms with his friend's death, an affectionate relationship begins between him and his nurse, Alex Price (Jenny Agutter: EQUUS, LOGAN'S RUN, DOMINIQUE).
As the relationship slowly blooms, disturbing evidence of the attack comes to light for Scotland Yard and David's doctor, and David keeps having nightmares.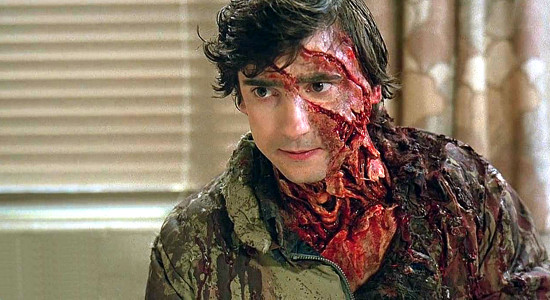 Jack doesn't like giving David bad news. In fact, he's all torn up about it.
Then David has nightmares while he's awake. His friend Jack comes to visit but worse, Jack is torn up and rotting. Jack is dead but he can't rest until the bloodline of the werewolf is broken, and David is now that bloodline.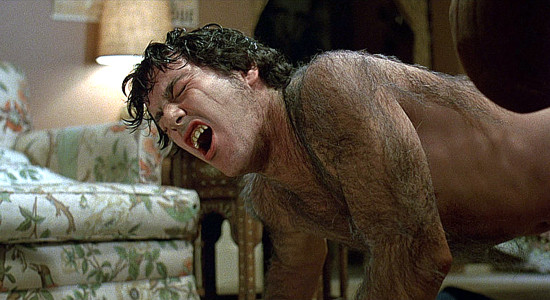 When David learns he's a werewolf, he takes it real hard.
What else happens?
A lot of fun, funny, sexy, and downright scary stuff, with a sex scene that actually works within the framework of a scary movie instead of distracting from it or stopping it dead.
And the transition from human to werewolf?
Rick Baker (KING KONG [1976], THE HOWLING, VIDEODROME, THE FRIGHTENERS, MEN IN BLACK, PLANET OF THE APES [2001], THE RING, HELLBOY, THE RING 2, X-MEN: THE LAST STAND) created or co-created the werewolf transition effects for the two best werewolf movies ever made, and though these effects were created over 25 years ago, they remain stunning and unmatched by anything that has come since, including cgi.
Writer and Director John Landis created his masterpiece of Horror Thriller here and if you've never seen AN AMERICAN WEREWOLF IN LONDON, you are going to love it.
All 5 Shriek Girls!






This review copyright 2008 E.C.McMullen Jr.
YOU MIGHT ALSO ENJOY


(Sub-Section: SHAPESHIFTERS [Therianthropy])
THE HOWLING
MOVIE REVIEW
THE WOLF MAN
MOVIE REVIEW
GINGER SNAPS
MOVIE REVIEW