Review by
E.C. McMullen Jr.

BARON BLOOD

- 1972
Dieter Geissler Filmproduktion (co-production) / Euro America Produzioni Cinematografiche
Rated: Argentina: 18 / Australia: M / Germany, Netherlands: 16 / Italy: VM14 / Norway: 16 (

CENSORED

) / UK: 15 / USA: Unrated (uncut video) - PG (Theaters)
Once upon a time,
one of the worst decades ever inflicted came to pass upon the United States and it was called "The 1960s".
From the start, a Media popular, though mediocre performing President was assassinated.
The unpopular and horribly mismanaged "police action" he started spent the lives of about 7,000 soldiers every year.
Two great leaders of a struggling minority were assassinated in the same year.
A draconian fascist was in charge of the FBI and sought to topple the U.S. government from within.
Radical College students were being slaughtered by draft dodging weekend warriors on campus.
There were riots, the most notorious serial killers the country had ever seen before or since (so far), and the radio was filled to the top with mewling folk-songs from a bunch of preachy, pompous, drug-addled buffoons who nearly all imploded on their own hubris. It was an awful time, though aging hippies today look back and romanticize it ... because they are a bunch of brain damaged drug-addled idiots.
The awfulness of the 1960s can be seen in both its music and its ideals, as exemplified by hilariously trashy satire movies such as Austin Powers. If there was ever a time when the world started hating us, it had to be when this trivial pastel and earth tone colored dreck began seeping across our neighbor's borders and washing up on their shores.
The 1970s, dubbed "The Me" Generation by the slightly-older-but-still-hip hipsters from the sixties, begat awful music in many movies, TV shows, and commercials. Drowsy bands like Lawrence Welk and/or the Mitch Miller Orchestra, were inexplicably popular at this time and Christmas Albums pretty much outsold every other album the rest of the year. Singers like Perry Como, Andy Williams, and even Burl Ives, for pity's sake, were hot sellers.
I'm not talking albums that had a collection of different songs by different singers/bands. I mean they had the whole album to themselves and they were outselling even KISS and Led Zeppelin! You think Britney Spears is awful? In the 1970s they'd be releasing the Spears Family Album and her grandfather would be the popular one!
Think I'm exaggerating?
Television assembled bands like The Monkees, The Partridge Family, and even - Great Cthulhu - a animated cartoon band like the Archies Went! On! Tour!
Yes, the 1970s were the afterbirth of the 1960s and it's no wonder that the last U.S. President of the decade, Jimmy Carter, felt such a deep malaise.
If that feels like a wasted trip down a TV Land memory lane you could not care less about, then you probably won't enjoy, BARON BLOOD (actual title: THE TORTURE CHAMBER OF BARON BLOOD).
The movie starts off with a shot of a 747 flying and the kind of ugly music that they make fun of in Austin Powers movies - and even old Benny Hill shows! The music was by Stelvio Cipriani and it is awful! American distributor, Samuel Z. Arkoff, hated it and back in 1972, had legendary experimental jazz musician, Les Baxter, completely re-score the film.
Now Les Baxter was a wild man. He scored most of Roger Corman's early Horror movies with the likes of Boris Karloff and Vincent Price and created what was called the "Exotica Movement" because there was just no other word to describe the dude's sound! Check out his albums that still exist today. Unfortunately, modern BARON BLOOD DVDs return the Stelvio score and that is what we have to hear.
Ol' Sam was on the right track.
My God but Stelvio's score is hideously cloy! Particularly for a Horror movie. What in the hell was Mario Bava and Alfredo Leone thinking?
I ask because, seriously, it is NOT a fine line between a HORROR movie and a HORRIBLE movie.
Of course, I already know what Bava and Leone were thinking. That bit of music trivia I started with?
Oh Yeah.
Les Baxter was 50s - 60s cool, but Stelvio was 1960s - 1970s Italian cool. And Italy then was so god damn cool that jet-setting hipsters needed a word beyond cool and that word was "elan". Italians had "elan", a French word that, by the 1960s was just too damn Cool to describe the French, so hipsters gave it to the Most Interesting People on earth:
TRIVIA
"Hey!", one of you might shout. "If Mario Bava and Quentin Tarantino loves Stelvio Cipriani , who are you to speak ill?"
Yeah? Do YOU like the same amount of mozzarella cheese on your spaghetti as me? Do we like the same flavor of ice cream?
Taste is subjective! Haven't you figured that out?
---
If you listen to the DVD commentary, done by Tim Lucas, author of the book, MARIO BAVA: All The Colors Of The Dark, you get to hear some pretty odd stuff.
For example, in the opening credits, Tim Lucas informs us that BARON BLOOD was the very first film ever shot aboard a TWA 747 jet. Well, if you say so Tim, but the film clearly shows a PAN AM jet. We can SEE that, AND for extended periods of time: the plane's logo is on the body, the tail fin, everywhere. And I can read well enough to tell the difference between three italicized Helvetica bold red TWA letters and the blue globe of PAN AM.
1970s Italians.
This might be why Quentin Tarantino, who grew up in that era, loves it, loves Stelvio, and features something from the man in nearly every movie he makes.
So keep that in mind as Bava and Leone were dead-set on making a movie that was a product of its time.
The BARON BLOOD opening credits, which seem to drag on forever, are really one very long product placement shot for Pan Am Airlines (bleeding edge 1970s hipster cool! OMG!) and their 747.
The plane lands and Peter (Antonio Cantafora: DEMONI 2, THE CARD PLAYER) steps off the PAN AM jet. He's returned to Europe from his American college, dressed as painfully mod as possible. Picture black stripes on a white suit. Now picture those black stripes in a plaid pattern.
Gahhh!
A lot of these little things happen. Any one or even two of which could be endured. After all, I've learned to tolerate the score of THE WICKERMAN (the original and, in case you were unaware, corn rigs are bonny.) because the movie is otherwise so damn good.
Anyway, Peter has returned because he wants to get back to his family roots. Specifically a cruel maniac known as Baron Blood because he tortured and killed so many people. Peter is so fascinated that he decides to call his long dead relative back from the grave. His Uncle Karl (Massimo Girotti) thinks that's an unwise decision.
As a man of science, Uncle Karl is completely skeptical, but even assuming, for the sake of argument, that young Peter could really pull it off, one has to ask,
"Are you out of your F*cking MIND?"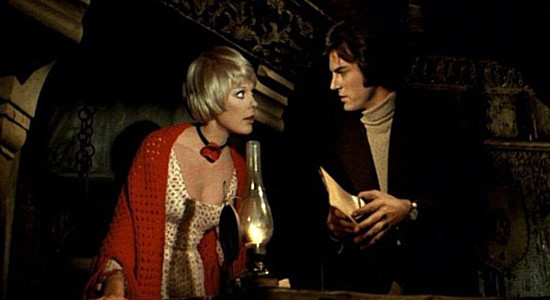 Peter: "What I want to do, Eva, may frighten you. CHILL you to the bone. I plan to -"
Eva: "I'll do it!"
Peter: "But I haven't said what I -"
Eva: "WHATEVER! I'LL DO IT! GOD You're so Hot!"
Peter charms Eva (Elke Sommer: LISA AND THE DEVIL), who is in charge of restoring the old castle, and she assists him in bringing the dead back to life: Eva doesn't think it will work, she just wants Peter in her pants.
Peter raises the dead and goes on to become the hero of this flick.
Mind-boggling weird considering that Peter knowingly and with full intent brought his bloodthirsty uncle back from the grave.
Not that Uncle appreciates it.
The re-animated corpse wastes no time in slaughtering everyone around him and is fortunate enough to have a wide variety of olde implements of torture at his disposal in his old stomping grounds, The Castle. We don't actually see the slaughter. Somebody is alone, the Baron steps out of the shadows, and all is implied. What's more, Baron Blood even wants to kill Peter.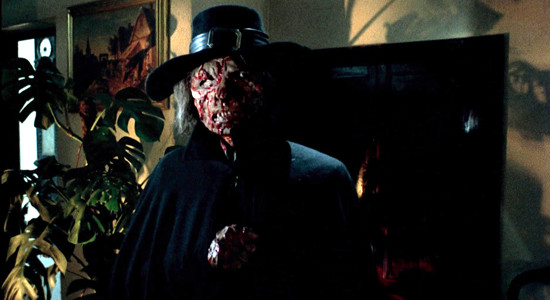 Hi, I'm Baron Blood. I kill and torture without point or context and
BLAH, BLAH, BLAH, Let's get on with it!
The next thing we know, the Castle is up for auction and a creepy giggling goof of an American, Alfred Becker (Joseph Cotton: THE ABOMINABLE DR. PHIBES, SOYLENT GREEN), buys the castle for a ridiculously low price. The fact is, nobody wants the decrepit old place, even with the restoration. After all, one hell of lot of people were tortured and murdered here. Who wants to live inside a giant crypt?
Well, besides you that is.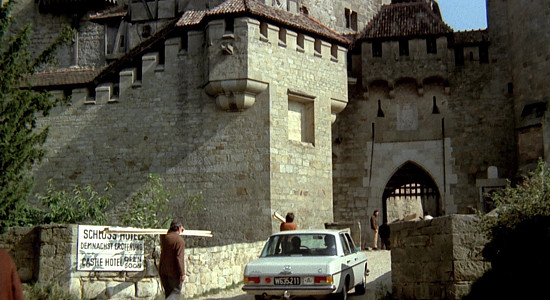 Eva: "Over here will be the gift shop where we'll sell Baron Blood action figures,
T-Shirts, and beer steins. For the cheap tourists, we'll have cloisonné pins,
posters, postcards, and magnets."
Alfred: "Nice! So we'll make a lot of money, eh?"
Eva: "No, we'll lose a fortune. Everybody hates the son of a bitch."
For a movie that, for all intents and purposes, promised to be gory and scary, BARON BLOOD is neither. It promises a lot and delivers next to nothing. On the other hand, director Mario Bava (A BAY OF BLOOD, LISA AND THE DEVIL) didn't like Vincent Fortre's script and didn't want to do this movie. He was goaded into directing this with Alfredo Leone's promise that if he did, Mario would get to direct his dream picture, LISA AND THE DEVIL.
Still, I'd have probably liked BARON BLOOD better without that awful mod 1970s music sappily sluicing through the scenery.
Two Shriek Girls.



This review copyright 2007 E.C.McMullen Jr.