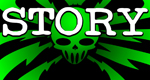 You Support This Site
When You Buy My Books
E.C. McMullen Jr.
PERPETUAL
BULLET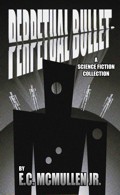 "'Some People' ... may be the standout story in the book."
-

John Grant

, Infinityplus

E.C. McMullen Jr.
WILLOW BLUE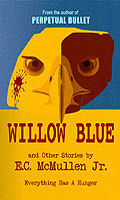 "'Willow Blue' will burrow under your skin and stay there long after you've put the book down."
- Jeffrey Reddick, Creator of
FINAL DESTINATION

IN OTHER BOOKS
E.C. McMullen Jr.'s
short story
CEDO LOOKED LIKE PEOPLE
in the anthology
FEAR THE REAPER

"This Ray Bradbury-esque is one of the most memorable and one of the more original stories I've read in a long time."
- Steve Isaak,
Goodreads

HORROR 201:
The Silver Scream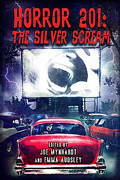 Filmmaker's Guidebook
featuring
RAY BRADBURY,
JOHN CARPENTER,
WES CRAVEN,
TOM HOLLAND,
E.C. McMULLEN Jr.,
GEORGE A. ROMERO,
and many more.



Extensively quoted in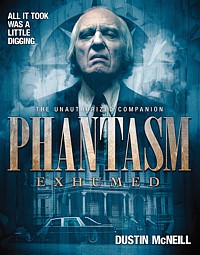 PHANTASM
EXHUMED
The Unauthorized Companion

Robert S. Rhine's
SATAN'S 3-RING
CIRCUS OF HELL

Forward by
GAHAN WILSON &
FEO AMANTE.
Featuring comics by
ALEX PARDEE,
WILLIAM STOUT,
STEVE BISSETTE,
FRANK DIETZ,
JIM SMITH,
FRANK FORTE,
ERIC PIGORS,
MIKE SOSNOWSKI,
OMAHA PEREZ,
DAVID HARTMAN,
STEVEN MANNION,
and more!

And
IN CINEMA


E.C. McMullen Jr.


Head Production Designer

MINE GAMES


(Starring:
JOSEPH CROSS, BRIANA EVIGAN,
ALEX MERAZ)

Dept. head
Special Effects Make-Up
(SFX MUA)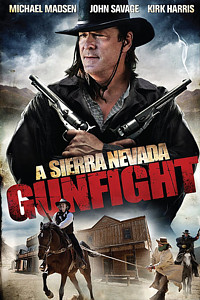 A SIERRA NEVADA
GUNFIGHT
(MICHAEL MADSEN & JOHN SAVAGE).

Production Designer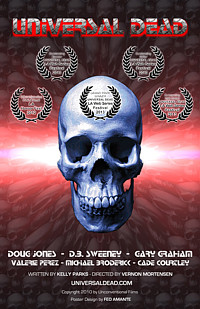 UNIVERSAL DEAD
(DOUG JONES,
D.B. SWEENEY,
GARY GRAHAM)

ART DIRECTOR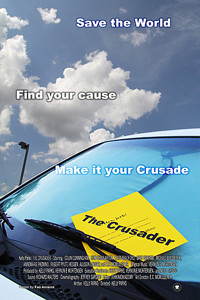 THE CRUSADER
(COLIN CUNNINGHAM,
GARY GRAHAM)
Review by
E.C. McMullen Jr.

THE BOOK OF ELI

- 2010
USA Release: Jan. 15, 2010
Alcon Entertainment, Silver Pictures, Warner Bros.
Rated: USA: PG-13
Something happened, I don't know what, the movie doesn't say. But SOMETHING happened because the earth is a bleached out place with little color and harsh shadows: Truly devastated as far as the eye can see.
There is a nameless man we will come to know as Eli (Denzel Washington: VIRTUOSITY, FALLEN, THE BONE COLLECTOR, THE MANCHURIAN CANDIDATE [2004], THE INSIDE MAN), walking through this world, picking through the debris of it and getting by. He listens to music on an old iPod and reads a huge book. Sometimes he gets into fights with raiders, marauders, and the general parasites still alive in a stricken, beaten world. He's a damn good fighter, better than anyone who crosses his path and doesn't heed his warnings. But he also chooses his fights carefully. He can't afford to lose his focus and stray. After all, he's on a mission.
Eventually he winds up in a weathered town full of weathered people and it is here, while he is just trying to pass through, that trouble tests him and tries to buy him off.
While finding a junkman (Tom Waits: DRACULA [1992]) who can recharge his iPod and buying clean water for himself, Eli enters the sphere of a raider who he witnessed hijack, rape, and murder two innocent travelers. Trying to remain on his path and not be distracted - especially in a place where many would witness - Eli attempts to be a passive peacemaker. Naturally, this only emboldens the Hijacker (Chris Browning: TERMINATOR: SALVATION).
*
TRIVIA
This is Denzel Washington and Jennifer Beals' second movie together. The first was DEVIL IN A BLUE DRESS.
This is also Gary Oldman and Tom Waits' second movie together, the first was DRACULA (1992).
One less Hijacker later, Eli finds himself before the tinpot ruler of this town, Carnegie (Gary Oldman: DRACULA [1992], HANNIBAL, HARRY POTTER AND THE PRISONER OF AZKABAN, BATMAN BEGINS, HARRY POTTER AND THE GOBLET OF FIRE, HARRY POTTER AND THE ORDER OF THE PHOENIX, THE DARK KNIGHT, THE UNBORN). Carnegie loves to read books, but there is a particular one he is looking for. Can you guess which one that could possibly be? Pretty stunning coincidence that Eli just happened to walk through THAT town, wouldn't you say? Then again, if people didn't believe in coincidence, we wouldn't have a word for it.
Carnegie is trying to recreate civilization in the wasteland and he could use Mad Max... I mean, Eli's help. Eli appreciates the offer but must continue his journey. Accepting an offer to spend the night in Carnegie's relatively luxurious hotel (relative luxury to sleeping in the blasted out skeleton of an abandoned car), Eli first finds himself locked in his room with a full meal, and then treated to a young girl named Solara (Mila Kunis: AMERICAN PSYCHO II, MAX PAYNE). This severely displeases both Solara's mother Claudia (Jennifer Beals: THE BRIDE, VAMPIRE'S KISS, DR. M, DEAD ON SIGHT, THE PROPHECY II, THE GRUDGE 2) and Redridge (Ray Stevenson: OUTPOST, PUNISHER: WARZONE, CIRQUE DU FREAK: THE VAMPIRE'S ASSISTANT). You would think this was incredibly bad planning on the part of Boss Carnegie since he is personally screwing over the people he trusts the most: his lover, by fobbing off her underage daughter as a whore, and his majordomo, who is all heartaching to have Solara for himself.
So with all of these opposing forces set in motion, we now have a story. But haven't we seen it all before?
Only if you've seen DEATH RACE 2000, MAD MAX: BEYOND THUNDERDOME, EQUILIBRIUM, DISTRICT 13, V FOR VENDETTA, CHILDREN OF MEN, BABYLON A.D., or pretty much every other post apocalyptic movie ever shot or story ever written. That's the sub-division of the Dystopian, Post Apocalyptic thriller: the transplanted cowboy western of a self-sacrificing lone hero or anti-hero saving something, someone, or someones from a corrupt End Boss / group for the greater good of all. It's also been replayed for war movies and even King and Knightly tales. Clint Eastwood built his career on such movies.
Malcolm McDowell has played in many such movies (THE PASSAGE, TANK GIRL, DOOMSDAY). He's in THIS movie.
So it's way formulaic and that makes it bad, right?
Not always. I don't have to have an entirely new dish recipe every time I eat. And even when I pony up the bucks to eat at a nice restaurant, I can enjoy, say a lasagna properly prepared even though I've had that before. In this case, the formula is played with fresh characters, actions, and motivations. In a formula flick like this, its not so much what is happening to the hero / anti-hero - that's a given - but "Okay, so what's HIS story?" What kills a formulaic movie is when the writer and director stuff it full of cliches and nothing happens until the movie lurches or drags to the next trope. Here at Feo Amante's Horror Thriller, we've loved us some formulaic movies like Sam Raimi's THE EVIL DEAD, Robert Rodriguez' THE FACULTY and the over-the-top self-referential formula Horror Thriller, Wes Craven's SCREAM.
Comic book writer, Gary Whitta (DEATH JR.) wrote the formula in a whole new wrapper, and the Director duo of Albert & Allen, the Hughes Bros. (FROM HELL), told the story in a whole new way.
However, just because you are a minority film maker doesn't mean your movie automatically escapes the
!!!UNFAIR RACIAL CLICHÉ ALERT!!!
What is the UNFAIR RACIAL CLICHE ALERT (URCA)? Check out the

URCA

page, and then go to URCA/The Book Of Eli to see why this movie gets one. BEWARE! The URCA contains SPOILERS!
THE BOOK OF ELI is entertaining, interesting, and stimulating for all the right reasons, even though I had a pretty good idea as to where it would go and how it would get there. It's a common tale told uncommonly well.
I still don't see where its $80 million budget went, though. On the screen, I'm not even seeing half that. Visually and audibly it looks like a low budget $20 million movie, tops.
Three shriek Girls.




This review copyright 2010 E.C.McMullen Jr.