THE BOURNE IDENTITY
- 2002
Hypnotic / Kalima Productions GmbH & Co. KG / Stillking Films / The Kennedy/Marshall Company
Rating: USA: PG-13
A body floats in the nighttime waters just off the coast of Marseilles.
On a fishing boat, a group of men play a lively game of cards. One goes out and notices the light flashing in the night. He shouts "Man Overboard!" and the rest of the crew come running. But this isn't a movie about fishermen.
The onboard medic cuts the divers suit off of the man on his table, discovering bullet wounds in the man's back. The next thing he knows he is being strangled by the man he's trying to help. But this movie isn't about the doctor.
This movie is about the nameless man, who has no occupation or name. He has no identity at all, but soon he will have a name. In fact, he will have a large number of names to choose from.
The fishermen stay out at sea and do their job. The nameless man works with them as the doctor on the ship is optimistic that, with time, "It will all come back."
But it doesn't. Worse, there are mysteries about the man that even the other fishermen and the doctor cannot explain. tings that don't make sense for anyone.
The doctor found a tiny metal cylinder just under the stranger's skin. When he removed it, the thing emitted a beam of light that spelled out an address, a bank, and a safety deposit box.
The stranger makes his way to the bank and, in private, discovers that he might be a man named Jason Bourne (Matt Damon: DOGMA, THE TALENTED MR. RIPLEY, THE BROTHERS GRIMM). The moment he walks out of his private booth, everything changes for the possible Jason Bourne. From that moment on the entire power of the U.S. Central Intelligence Agency is brought to bear in watching, tracking down, apprehending, and killing Jason Bourne.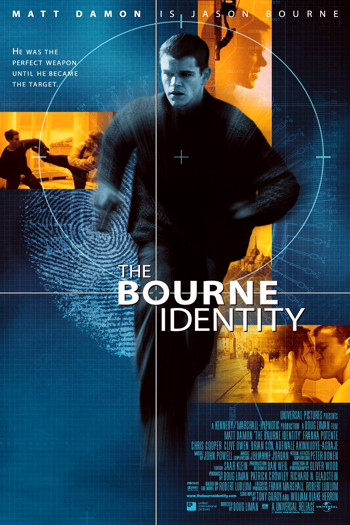 But what if he isn't the real Jason Bourne? In that case, just who IS this bad mofo?

I ask because he can kick ass like it's nobody's business, speak a bunch of languages, find clues his old self left which leads him to various disguises, money, passports, whatever he needs to bust something wide open. Whoever Jason Bourne was, he was one paranoid son of a bitch! - though obviously for good reason or we wouldn't have a movie. With such an infrastructure to support him, he also hires Marie (Franka Potente: RUN, LOLA, RUN), an employee out of thin air (he paid her $10,000 on the spot. Do that with me and I'll gladly tear ass to wherever the hell you wanna go.), who soon becomes his lover (I'm going to need considerably more than $10,000 for that. I don't care if you DO look like Matt Damon), and she assists him in overthrowing the intricate machinations of the CIA. Grant you Jason planned it all and Marie just followed orders, but holy crap, what a great little sidekick! All that AND she gives leg!

All along the way, Jason is repeatedly given the bad biz by bad guys who are actually the same guys from his office. He slaughters them handily, and as they die, they ask for forgiveness or give him clues or like the Professor (Clive Owen: SIN CITY, THE INSIDE MAN, CHILDREN OF MEN) just wax philosophical. Man, killing off your co-workers has got to make for awkward after work chat by the lockers. I know they tried to kill him first, but you know, they got the memo.

The memo was apparently sent out by Jason's former boss, Conklin (Chris Cooper), who may or may not be pulling a fast one behind the back of his own boss, Abbott (Brian Cox: MANHUNTER, THE RING, XMEN 2). Conklin is lying to Abbott, but Abbott may have a few tricks of his own. Based on little more than direction, acting, and editing, multiple layers of suspicion and counter-intelligence are hinted at in mere body language and facial expressions. Whatever is the secret behind the mystery that is Jason Bourne, it could be deeper and more complex than any one player in the whole scheme realizes. Incredibly, the movie doesn't stop or even pause to consider the potential ramifications of it all. The action is swift and stunning without ever being preposterous like a James Bond movie.

There were stories and novels and even movies before Robert Ludlum's BOURNE, about people who lost their memories, forgot who they were, and so on. None were so tight as Ludlum's in finely balancing the ambiguous "Who is Jason Bourne?" with the unambiguous "This is who he is right now" though even the novel got a bit convoluted at times.

Screenwriters Tony Gilroy (DOLORES CLAIRBORNE, EXTREME MEASURES, THE DEVIL'S ADVOCATE) and William Blake Herron re-wrote Ludlum's sometimes wandering convolutions into logically arrived at twists. Together they turned out a well tuned script, arguably making a better adaptation than had ever been seen.

Kudos must also go to editor Saar Klein. In film, pace and timing are two different things. We've all seen movies where the action gets ahead of the character development or the story gets ahead of the plot, giving it away. Saar kept the pace and timing razor sharp.

I gotta give major kudos to Director and Producer Doug Limon for pulling this off. THE BOURNE IDENTITY kept me guessing with its "wheels within wheels" of conspiracy, counter-conspiracy, and multi-levels of subterfuge. Such fast paced, high tension complexity can't be easy and the word is, Limon would stop dead in the middle of a shoot and just sit there thinking while everybody waited, or would go to his trailer, trying to get it all right in his head, before continuing. This drove everybody on the crew and in the studio nuts and Doug nearly went over the edge himself.

Sometimes great movies are born from such hells. THE BOURNE IDENTITY isn't a classic, but it is great, thrilling cinema. Matt Damon gave the action performance of his career in a career filled with many great performances. 4 shriek Girls





This review copyright 2002 E.C.McMullen Jr.

DVD


BLU-RAY


THE ORIGINAL DVD MINISERIES


BOOK