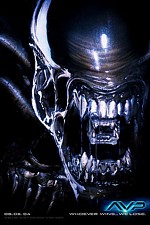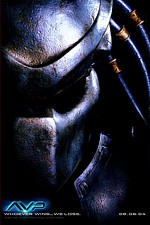 AN ALIEN SCIENCE
ALWAYS BET ON THE SCIENCE GEEK!
The Alien Universe and the Predator Universe are about to be united!
...or collide, depending on your point of view.
The long discussed ALIEN VS. PREDATOR movie was made and released. Many will point out that Aliens and Predators have been verses (versusing?) each other for years, in books, comic books, and video games, but it's the movies that are the true form for these stories so I'm basing my comments only on information from that source.
Of the six films (ALIEN, ALIENS, ALIEN³ , ALIEN: Resurrection, PREDATOR, and PREDATOR 2) some can be labeled action and some horror, but all are definitely science fiction and "science" fiction carries with it a responsibility (second only to telling a good story) to follow at least the rough outline of real science. With that in mind I want to delve into the scientific clues, implications and speculations these tales offer. Before I can do that I have to make sure we're on the same page so, as briefly as possible, I'll need to discuss the real science that applies here.
Assumptions
Alien life and extraterrestrial civilizations are fields of study that, so far, consist of 100% speculation. Until we actually have something to put under the microscope all we can do is make educated guesses based on the one data point we have: Earth. And as is the case in areas as speculative as this, there have come to be certain "schools of thought" about what alien life will be like, where it will be found and how common it is. So for purposes of full disclosure let me say that I lean toward the ideas put forth by Ward and Brownlee in their book, Rare Earth. The gist of it is that while microbial, single-celled life is probably common and will be found on many worlds, multi-cellular life (plants, animals, us) requires much more specialized living conditions and are probably quite rare. Maybe so rare that we actually are alone.
Evidence
Going back to our single data point, consider Earth's own history. There is fossil evidence that single-celled life appeared on Earth very early, perhaps within a few hundred million years of the end of the period of intense bombardment that followed the formation of the planets. Earth is 4.6 billion years old and single-celled life has existed for most of that time.
Multi-cellular life, however, is much more recent. The oldest fossils of animal life are from about 700 million years ago. That's an inconceivably long time on a human scale, but compared to the age of the Earth, it's only 15% of the total.
Put another way, if we call 100 million years a mega-year, that means the Earth is 46 mega-years old. Single-celled life has been here since the Earth was 2 but animals didn't appear until the Earth was 39. Dinosaurs appeared when the Earth was 43 and disappeared when it was 45. Part of the reason why animal life may have taken so long is that Earth didn't have any oxygen in its atmosphere until about a billion years ago, when photosynthesizing single-celled ocean life began producing enough to change the environment. But maybe the transition from single-celled to multi-cellular life is just very difficult (and thus very improbable).
The "lifespan" of the Earth is a function of the life cycle of the sun. When a type G2 yellow dwarf star like our sun uses up enough of its hydrogen it will go through a phase transition that will result in it becoming a red giant star. When this happens the sun will expand dramatically and the Earth will at best be baked to a cinder and at worst be swallowed up, depending on how big the sun gets. This event is 7 billion years in our future, but that doesn't mean animal life on Earth has another 7 billion years of evolving to do.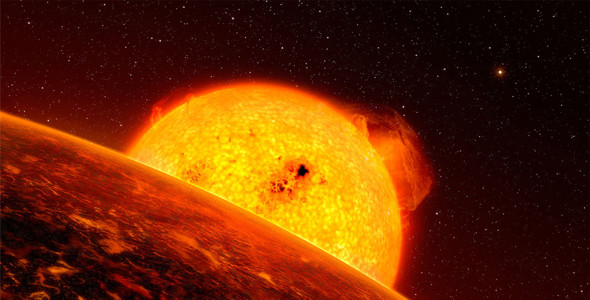 An artist's conception of star scorching its nearby exoplanet.
Another part of the life cycle of a star like our sun is to gradually get hotter and more luminous as it gets older. Right now it's about 30% brighter than when it first formed. This means that the Earth will gradually get warmer (which has nothing to do with current media hype about "global warming" - that's a different issue). Eventually, as the sun gets brighter, more and more water vapor will end up in the atmosphere and finally a critical threshold will be reached. Water vapor, like carbon dioxide, is a greenhouse gas (meaning it's transparent to visible light but opaque to infrared so it traps heat). Once enough water vapor is in the atmosphere you get a positive feedback loop (where each cycle increases the effect instead of decreasing it). More water vapor makes Earth hotter, which causes more evaporation, which puts more water vapor in the air, which makes the Earth hotter, etc. The oceans boil away. This is a runaway greenhouse and is what happened to Venus billions of years ago. When will this happen to Earth? In a billion years or so. Single-celled life will probably survive this event, but animal life will not.
So think about this. Of the Earth's 12 billion year lifespan, animal life will only exist (and the Earth will only be what we consider "earthlike" in terms of atmosphere and temperature) for about 1.7 billion years. That's 14% of Earth's lifespan. So that means, if other solar systems have planets similar to Earth and given that the ages of these other solar systems are random, the odds that you'll find these planets in the "animal life" window is only 14%. You're much more likely to find them either with bacteria filled oceans and no oxygen in the atmosphere or hellish infernos like Venus.
And with all that in mind, consider this: our species has existed for only 120,000 years or so (less than .003% of the age of the Earth), and human civilization has existed for much less, maybe 10,000 years (.0002% of the age of the Earth). I'll skip over the long list of reasons to believe that even if animal life appears, intelligent life is not guaranteed and is probably very unlikely (consider that among all the millions of species that have lived on Earth, intelligence has appeared only once) and just ask you to imagine the odds of coming across another civilization that just happened to be even remotely close to our level of technology, either above or below. If we ever encounter another intelligent species the odds are they'll either be very primitive or vastly more advanced.
Continued on Page 2
1
2
3
4