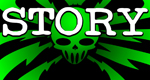 You Support This Site
When You Buy My Books
E.C. McMullen Jr.
PERPETUAL
BULLET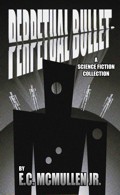 "'Some People' ... may be the standout story in the book."
-

John Grant

, Infinityplus

E.C. McMullen Jr.
WILLOW BLUE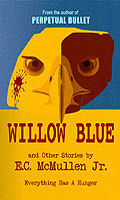 "'Willow Blue' will burrow under your skin and stay there long after you've put the book down."
- Jeffrey Reddick, Creator of
FINAL DESTINATION

IN OTHER BOOKS
E.C. McMullen Jr.'s
short story
CEDO LOOKED LIKE PEOPLE
in the anthology
FEAR THE REAPER

"This Ray Bradbury-esque is one of the most memorable and one of the more original stories I've read in a long time."
- Steve Isaak,
Goodreads

HORROR 201:
The Silver Scream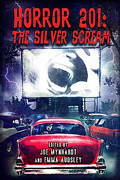 Filmmaker's Guidebook
featuring
RAY BRADBURY,
JOHN CARPENTER,
WES CRAVEN,
TOM HOLLAND,
E.C. McMULLEN Jr.,
GEORGE A. ROMERO,
and many more.

And In
CINEMA


E.C. McMullen Jr.


Head Production Designer

MINE GAMES


(Starring:
JOSEPH CROSS, BRIANA EVIGAN,
ALEX MERAZ)

Production Designer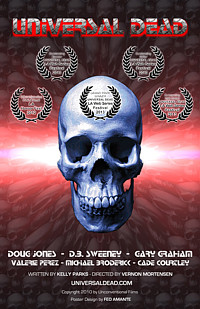 UNIVERSAL DEAD
(DOUG JONES,
D.B. SWEENEY,
GARY GRAHAM)
Science Moment by
E.C.McMullen Jr.

THE MONSTER THAT CHALLENGED THE WORLD

- 1957
USA Release: June 1, 1957
Gramercy Pictures / United Artists
Rated: N/A
EUREKA!
The explanation given for the monstrous varmints is that they are an unknown branch of the mollusk family.
Now THAT'S how you do science in a movie!
Why?
Because when you don't know something, "We Don't Know." is one of the best scientific explanations there is. It's used as a plausible scientific answer more than anything else. An honest "I don't know." is always better than leaping to a conclusion of "It's radiation!" "It's nanobots!" "It's GMO-O-O-OOOzzz!"
Where did these giant snails come from? According to this movie's Head Scientist Dr. Rogers, We don't know!
They MAY have been in dried out eggs from prehistoric times (we don't know) that MIGHT have been buried / preserved by a mud slide brought on by volcanic activity some time in the prehistoric past (we don't know). Dr. Rogers admits that he can only guess as he has no way to be sure.
Rogers thinks that a recent earthquake MIGHT have broke the mud covering of the dry and ancient eggs, exposing them to the water of the Salton Sea (no evil atomic bombs!). The east side of the Salton Sea has an active area of seismic activity even now, where bubbling volcanic mud-pots fart carbon dioxide and methane day and night.
It is also known that some snail eggs, buried by nothing more than sand, can remain dry (I'm talking completely dried out - dessicated) and dormant for centuries, then hatch into living, breathing, eating, multiplying creatures when exposed to enough moisture. THE MONSTER THAT CHALLENGED THE WORLD, stretches those many centuries into a mess o' millennia for the monster's eggs. Quite a stretch of belief, but not to the breaking point.
And the radiation? The level is unusually high for a human, but not fatal. For the mollusk monster, the level is a natural part of its metabolism. Dr. Rogers radiation experiments may have warmed an area of water, providing some manner of incubation, but the radiation itself didn't create the varmints.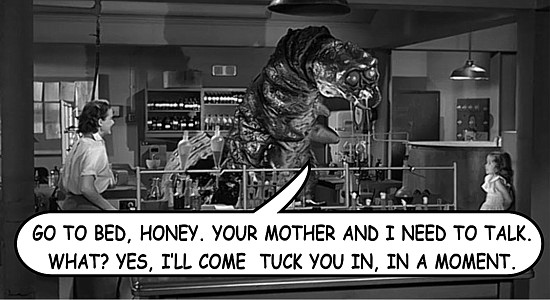 What's more, the monsters aren't growing into giants because of radiation, they're just natural giant mollusks. And they're not really out to challenge the world. Explainable circumstances injected them into a period where their own natural predators are extinct, leaving their potential population explosion unchecked - so long as they have food.
This review copyright 2007 E.C.McMullen Jr.