Review by
E.C.McMullen Jr.

THE MONSTER THAT CHALLENGED THE WORLD

- 1957
USA Release: June 1, 1957
Gramercy Pictures / United Artists
Rated: N/A
Like many megamonster movies of its time, THE MONSTER THAT CHALLENGED THE WORLD just has to open with a ton of narrative exposition, this one droning on and on about the Salton Sea.
Now some - SOME - of this information has a passing interest, but I'm watching a monster movie and not a documentary. The opening narration does nothing to lend an air of realism to the film, it just wastes time. I guess in the 1950s it may have worked for those people in line at the popcorn stand who were still sitting down when the movie started. Then again, if this was the kind of drivel they had to put up with at the start of every monster movie, maybe there was a reason everyone took so long to sit down.
Now I gotta say that any Monster that would Challenge the Whole Freaking World has got to be respected just for balls alone (or whatever they use to procreate)!
I mean, KING KONG just wanted his little blonde pet back. GODZILLA just wanted Tokyo to shut the hell up and turn off their damn lights. KING GHIDORAH challenged the world, but hell, he was a three headed winged dragon! Each head could shoot fire or lightening or some shit! He could fly through space and was challenging a few planets! With his wings and three blaster beam spitting heads he could even kick Godzilla's ass and did every time!
But this movie, about a giant mollusk, which is not much bigger than a human (pretty damn big for a snail, though) features a creature with no super powers. The best it can do is sneak up behind you - very slowly. Yet it still wants to challenge the whole damn world!


Okay, so what do all of these posters have in common? A damsel in distress, in a bathing suit, getting grabbed by the monster.
Well, that's just a title really.
The monsters in this movie never challenge anything or anyone - they simply are. . . hungry!
What makes this little flick work so well is the way it went against all convention.
It's an actual Science Fiction movie!
No really! I mean a REAL Science Fiction movie: Not merely fantasy masquerading SciFi. Which is to say, the filmmakers actually wanted to scare people by telling a story based on real science!
There are a lot of other nice touches as well. The hero of the story, Lt. Cmdr. John 'Twill' Twillinger (Tim Holt: TREASURE OF THE SIERRA MADRE) isn't your average big horror monster hero. He isn't dashing or charming. He isn't tall, handsome, or well built. In fact, he's a charmless, short, dumpy guy who kind of waddles when he walks fast and he has a soft double chin. His character in fact, makes no friends on the base when he becomes the new Commander (and he must not have been all that well-liked in the first place to be made Naval Commander at a tiny landlocked lake! Why it's called a sea is beyond me).
The Salton Sea has several small towns spotting its shores and a meager tourist trade. The Naval base is there mainly to test new parachutes and a few other secret things. As planes gave way to jets and jets got faster, pilots had to bail out at greater speeds, so better parachutes were needed. Still, it's not much of a command.
Then one day a routine parachute experiment goes wrong when a couple of sailors on a rescue boat find the parachute but no Lt. Hollister; the parachutist.
Where'd he go?
One of the sailors dives into the water thinking the guy might be sinking to his death. Then he doesn't come back, making the last sailor on board, Sanders (William Swan), rather nervous. Then a massive shape rises from the water, casting its shadow on Sanders. Sanders stops being nervous and goes full bore into terrified screaming hysterics.
The missing sailors and test parachutist present a problem for the new dapper by-the-book base Commander. He just freakin' got there and already a problem. He orders everyone about and threatens punishments for those who don't follow regulations. Generally he makes himself unliked at a time of tragedy. He's not a bad guy, just a social misfit.
Well okay, he's a jerk!
Commander Twillinger commandeers another boat and crew and off they go in search of the first rescue boat. They find it and a dead Sanders too. Then there is a "Ew! What the hell is THIS?" moment when Twillinger accidentally smears his hand in some kind of odd disgusting goo on the boat. They take a sample to send to the lab. Then there is a "EW! What the hell is THAT?" moment when the horribly shriveled body of Hollister surfaces.
Back on shore, Twillinger takes his slimy sample to the Navy head scientist, Dr. Jess Rogers (Hans Conried: And seeing how Conried was the voice of Snidely Whiplash in the Dudley Doo-Right cartoons, there are some unintentionally funny moments when Dr. Rogers is supposed to be excited/scared and that Snidely voice comes right out).
Twillinger gets pushy with the good doctor and Rogers pushes right back. When Twillinger mentions the shriveled state of Lt. Hollister's body, Rogers (who hasn't seen the corpse) is slightly interested but concedes that salt water can sometimes do strange things to human flesh.
When Twillinger pointedly asks if it could have been caused by radiation (an unsubtle accusation at Dr. Rogers and his experiments), Rogers reminds the Commander that there is a world of difference between Science Fiction and Science Fact, then dismisses the Commander!
Such a very cool scene. It promised that THE MONSTER THAT CHALLENGED THE WORLD, for whatever other faults it might have, would not be some stupid "Radiation Made Them Giant Monsters" kind of deal. In fact, there is a scene where the commander brings up a few SciFi tropes at the time and Dr. Rogers shoots them all down.
Get serious, Commander, we're talking about the real world here.
Frustrated and powerless, Twillinger cools his heels in the waiting room, observing that the secretary, Gail MacKenzie (Audry Dalton: MR. SARDONICUS), has a daughter but no husband. Eventually he finds out that she's a widow.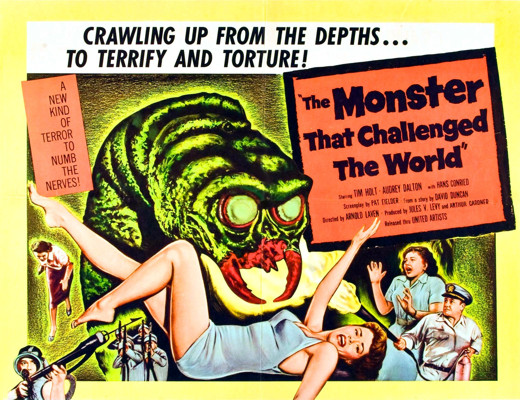 You know what never happens in this movie? Yeah! This!
I'm guessing young Grandpa and his pals were mighty disappointed with
this flick, by cracky!
Gail is still mourning for her slain sailor man, but that doesn't give an easy in for Commander Twillinger because he's such an abrupt jerk; though a jerk with a heart. Twillinger tries to show his gentle side by being nice to Gail's daughter, Sandy (Mimi Gibson). Dr. Rogers tells Twillinger that the goo is just a type of marine secretion, but would like to study it further. Twillinger doesn't bother to ask what type of marine secretion and goes off in search of more information and ladybugs.
Twillinger meets up with the local sheriff at the county morgue and he doesn't like what the county coroner has to tell him. In fact, both the Commander and the Sheriff are so creeped out that they condemn the beaches until further notice, which doesn't make the local yokels and small biz folk - with their meager tourist trade - very happy.
TRIVIA
The real Salton Sea is considered California's worst ecological disaster*: a disaster created not by residents, farmers, or business, but by corrupt and incompetent state politicians and bureaucrats.
Salton Sea: A history of broken promises
*(though far from its only one)
Meanwhile, Dr. Rogers discovers that the goo is indeed more radioactive than normal. Not by a deadly amount, but it's certainly cause for concern.
The movie focuses for a bit on the folks that live around the sea and there is some good human development here, adroitly handled - surprising for a 1950s cheapo monster movie. Kudos must go to director Arnold Laven (WITHOUT WARNING!) and screenwriter Pat Fielder (THE VAMPIRE, THE FLAME BARRIER, THE RETURN OF DRACULA, GOLIATH AWAITS [TV]). Especially Pat since this was his first movie.
When the monster finally appears it is indeed as bug-eyed ugly as you would expect.
Watching it today I can see that it is hampered by the special effects technology of its time. Yet the film makers, no doubt impressed by GODZILLA, were moving away from the time-consuming stop-motion animation that Ray Harryhausen made so popular with his amazing Dynamation technique.
I can imagine audiences cringing at the sight of the monster mollusk, especially as how director Laven got in close and filled the screen with this slime drooling creature staring menacingly right-at-you! In one battle, Twillinger manages to get in a good shot and pops one of its eyes in a goo spewing moment that must have been puke worthy on the giant screen in 1957. Few movies of that time were so gross.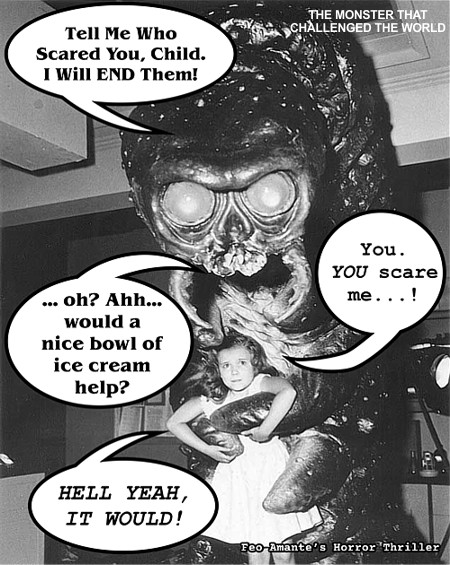 But what about the
!!!SCIENCE MOMENT!!!:
The explanation given for the monstrous varmints is that they are an unknown branch of the mollusk family. They MAY have been dried out eggs from prehistoric times that MIGHT have been buried/preserved by a mud slide brought on by volcanic activity some time in the prehistoric past. Dr. Rogers admits that he can only guess as he has no way to be sure.
Continued at SCIENCE MOMENT/The Monster That Challenged The World.
As the bodies pile up, Commander Twillinger is forced to answer to his superiors, and in his rush to solve the problem, turns into an even bigger, more inconsiderate jerk (around a recent widow no less!), until Gail finally upbraids his ass. The flash of white hot woman temper catches Twillinger off-guard. His surprise bite of humble pie makes him handle everyone he deals with, during this emergency, with a little more consideration. He's still gung-ho, but he's not a gung-ho asshole.
Giant scary imaginative creatures, checked by real world logic (the mollusks are unusually huge but not blue whale, or even sperm whale huge), combined with various characters all with their own unique personalities, make this a fun and enjoyable movie.
While definitely one of the best Big Horror monster movies ever made. I still have to knock a shriek girl off for a ridiculous scene involving a captured and growing monster egg.
Dr. Rogers assures the Navy brass that it is perfectly all right to keep a living giant monster egg in the lab when he says (words to the effect),

"We'll be fine. The egg won't hatch SO LONG as no one moves THIS KNOB HERE (point! point! point!) which would raise the temperature in the room above this level on the meter HERE! (point! point! point!), and release an unholy disaster upon us all!"

With everything else being reasonably intelligent up to this moment, this kind of logic (?) is choke-on-yer-popcorn stupid.
Still, I give THE MONSTER THAT CHALLENGED THE WORLD Four Shriek Girls.





This review copyright 2007 E.C.McMullen Jr.