Review by
Kelly Parks

THE PHANTOM FROM 10,000 LEAGUES

- 1956
USA Release: Dec. 5, 1955
Milner Bros., Astral Films
Rated: N/A
They all look so serious: bad actors in bad sci-fi movies made long ago. I'm sure many of them thought they were on the road to success and were doing their best work ever. What do they think now, as they roast in the fiery pits of hell?
Or maybe that's going too far.
THE PHANTOM FROM 10,000 LEAGUES was directed by Dan Milner (HITLER'S MADMAN) and written by Dorys Lukather and Lou Rusoff (IT CONQUERED THE WORLD, THE SHE-CREATURE). It opens with a hapless fisherman in a lone rowboat not far from shore. He notices a bright light from under the water and the next thing you know his rowboat is capsized and a bad, truly bad, rubber monster gets him. Other than a single scream the fisherman doesn't seem very excited about the situation.
His corpse and his charred (from "radiation") rowboat wash up on shore. A man in a suit and tie happens to amble by (odd beach wear) and starts to examine the body. But just a few steps behind this well dressed curious gentlemen is an equally well-dressed Federal agent (how the first guy didn't notice the second guy until just that moment…).
Agent Garth (Rodney Bell) and the curious Dr. Ted Stevens (Kent Taylor: I SPIT ON YOUR CORPSE, BLOOD OF GHASTLY HORROR, BRAIN OF BLOOD), who introduces himself as Ted Baxter because he's an undercover scientist, have an amiable chat beside the burned remains of the fisherman. I'm not sure what the director was going for here. Maybe something like, "Okay you're the gruff but lovable G-man and you're the mischievous handsome scientist being oh, so mischievous! And… action!"
We learn that this isn't the first radioactive burn victim from the sea. The locals are talking about "The Phantom", a creature that… really hates fisherman. Nothing like this ever happened until that darn Professor up at that college started his crazy experiments, they point out.
The Professor is Professor King (Michael Whalen) and both Agent Garth and Dr. Stevens are very interested in talking to him. King's daughter Lois (Cathy Downs: THE AMAZING COLOSSAL MAN, THE SHE-CREATURE) tries to give Stevens the run around which only piques his romantic interest.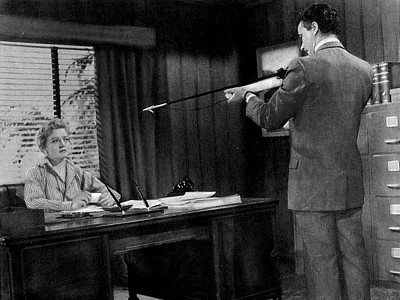 Sorry Ethel, but we need to make a few cutbacks, see?
Yeah. It's not you it's us, see? Yeah.
Also very interested in the professor's work are his sneaky assistant George (Phillip Pine) and his nosy secretary Ethel (Vivi Janiss: THE DEVIL'S CHILDREN). Intrigue! Romance! Monsters! Radiation! What does it all add up to?
Before I tell you that, a quick
!!!SCIENCE MOMENT!!!:
The "Phantom" is only shown in water less than 30 feet deep, not 10,000 leagues. That's a long way, in case you failed seamanship. A league is 3 statute miles so 10,000 leagues equals thirty thousand miles! That's almost four times the diameter of the Earth. Presumably they were thinking of fathoms but a fathom is 6 feet so 10,000 fathoms is just over 11 miles and no part of the ocean is anywhere near that deep.
Check out the SCIENCE MOMENT.
Okay, the verdict. No surprise that this black & white movie is firmly in negative shriek girl territory. How deep depends on whether it's boring/stupid bad or so-bad-it's-funny bad. With scenes like where Agent Garth and Dr. Stevens are in the morgue looking at the fifth victim of the monster, and Agent Garth shakes his head and says, "Somebody should really do something about this." (do ya think?!), we're talking funny-bad.
THE PHANTOM FROM 10,000 LEAGUES gets three negative shriek girls.




This review copyright 2004 E.C.McMullen Jr.