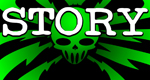 Support This Site

When You Buy My Books
E.C. McMullen Jr.
PERPETUAL
BULLET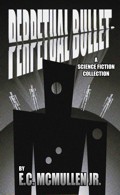 "'Some People' ... may be the standout story in the book."
-

John Grant

, Infinityplus

E.C. McMullen Jr.
WILLOW BLUE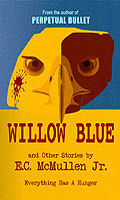 "'Willow Blue' will burrow under your skin and stay there long after you've put the book down."
- Jeffrey Reddick, Creator of
FINAL DESTINATION

IN OTHER BOOKS
E.C. McMullen Jr.'s
short story
CEDO LOOKED LIKE PEOPLE
in the anthology
FEAR THE REAPER

"This Ray Bradbury-esque is one of the most memorable and one of the more original stories I've read in a long time."
- Amazon Review

HORROR 201:
The Silver Scream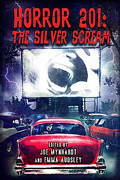 Filmmaker's Guidebook
featuring
RAY BRADBURY,
JOHN CARPENTER,
WES CRAVEN,
TOM HOLLAND,
E.C. McMULLEN Jr.,
GEORGE A. ROMERO,
and many more.



Extensively quoted in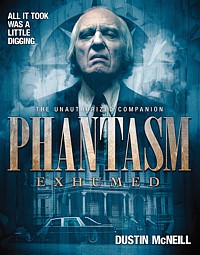 PHANTASM
EXHUMED
The Unauthorized Companion

Robert S. Rhine's
SATAN'S 3-RING
CIRCUS OF HELL

Forward by
GAHAN WILSON &
FEO AMANTE.
Featuring comics by
ALEX PARDEE,
WILLIAM STOUT,
STEVE BISSETTE,
FRANK DIETZ,
JIM SMITH,
FRANK FORTE,
ERIC PIGORS,
MIKE SOSNOWSKI,
OMAHA PEREZ,
DAVID HARTMAN,
STEVEN MANNION,
and more!

Also
IN CINEMA
E.C. McMullen Jr.
Head Production Designer

MINE GAMES


(Starring:
JOSEPH CROSS, BRIANA EVIGAN,
ALEX MERAZ)

Dept. head
Special Effects Make-Up
(SFX MUA)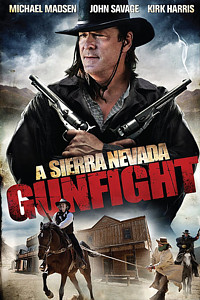 A SIERRA NEVADA
GUNFIGHT
(MICHAEL MADSEN & JOHN SAVAGE).

Production Designer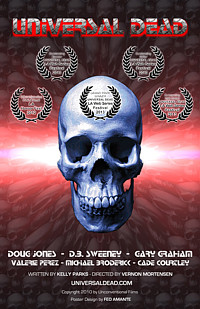 UNIVERSAL DEAD
(DOUG JONES,
D.B. SWEENEY,
GARY GRAHAM)

ART DIRECTOR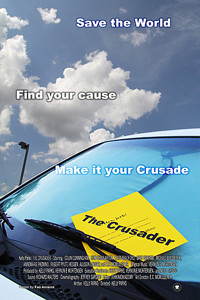 THE CRUSADER
(COLIN CUNNINGHAM,
GARY GRAHAM)
Review by
E.C.McMullen Jr.
Snoop Dogg's HOOD OF HORROR - 2006
USA Release: May 4, 2007
Snoopadelic Films, Inc. / Social Capital / Blood Works / Xenon Pictures
Rating: USA: R
The Crypt Keeper? No, the Crib Keeper.
With an extended animated opening, Snoop Dogg's HOOD OF HORROR continues the comic book tradition of the 1950s E.C. comics. The opening cartoon, and there is nothing funny about this cartoon, features a gang fight between two cars of shooters. The main character and survivor, Devon discovers to his horror that he has accidentally shot and killed his little sister. His mother, in hurt and anguish, damns her son to hell, and hell soon comes for him. He'll never escape the pit, but he can hold off from entering it, by bringing other souls to Satan. It's his choice.
From that opening we come to the live action part of the film and Devon (Snoop Dogg: URBAN MENACE, BONES) is now the Crib Keeper. He tells us about the stories of damnation in the Hood. "It ain't all good in the hood," says he.
The first tale features Posie (Daniella Alonso), a tough street girl without a gang. She gets all up in the face of the dumb thugs who brutalize women in the hood. Posie is fast on her feet, but she ain't gonna survive for long with her antics. Enter The Derelict (Danny Trejo: FROM DUSK TILL DAWN, ANACONDA, FROM DUSK TILL DAWN 2, THE DEVIL'S REJECTS) kidnaps her and tattoos her against her will with a little magic. The next thing she knows, Posie's tattoo gives her a super power ability. Will she use it for good or will power corrupt her?
The next Tale from the Hood revolves around a group of Vietnam Vets led by Roscoe (Ernie Hudson: GHOSTBUSTERS [ALL], LEVIATHAN, THE CROW, THE WATCHER). They've been living in a home in the hood, taken care of by their old commander, Tex Sr. (Chuck Hicks: BEYOND EVIL, SCREEN KILL, ROUTE 666, THE RING).
Why they have to be taken care of in a home and never moved onward with their lives, having families of their own, is never explained. This is the oddest part of the movie and the most over the top.
Tex Sr. is supposed to be the good guy, yet he babysat these four men so that they'd never have to do anything for themselves other than salute the flag on the wall and praise Tex Sr. year after year. Ugh! The next thing they know, Tex Jr. (Anson Mount: URBAN LEGENDS: THE FINAL CUT) enters their lives after his father's death. He inherited their home, but by the will, must continue to take care of the old vets until they die or leave. Tex Jr. plans to make them do one or the other.
The final tale is a modern success story, though it starts with some bad news. Sod (Pooch Hall) is a young man who has pulled himself to success from the wastes of the hood. He is a successful rapper, thanks in part to his best friend Quon (Comic, Aries Spears - who steals the show). Sod has more than a skeleton in his closet, he has demons in his past. A mysterious and scary woman (Lin Shaye: A NIGHTMARE ON ELM STREET, CRITTERS, NEW NIGHTMARE, 2001 MANIACS, SNAKES ON A PLANE and way more) , comes into his life and shows him a TV show, one about the truth of who he is and what he's done.
TRIVIA
Snoop Dogg's HOOD OF HORROR
Was part of the 2006 AfterDark Horrorfest.
---
Storyboard artist and creature creator
Jacob Hair
has designed everything from the varmints in 3D Animated movies to monsters. His Horror movie list of credits include
ROTTWEILER,
2001 MANIACS,
BOO,
CEMETERY GATES,
TRAPPED ASHES,
DRIFTWOOD,
and NIGHT SKIES.
But HoH was Jacob's first theatrical writing gig.
In this exclusive interview, Feo Amante talks to Jacob about what it was like to co-write HOOD OF HORROR with long time friend and collaborator Tim Sullivan.

RESOURCES
As in all of these vignettes, it's up to the protagonists to "Make Their Choice" as the demon at the start tells Devon.
Each one is given the opportunity to choose between right and wrong. What they choose, well, you'll see.
But what you'll also note is the intentional cheapnis of Snoop Dogg's HOOD OF HORROR. The movie not only looks like it was shot digitally, but cheap digital. Yet the comic book colors, mostly of bloody reds, don't burn in like red will do to video. Thanks for that goes to Cinematographer, Claudio Rocha.
Amazingly, the laughs come at you from more than one direction: Seemingly intentional and unintentional. Some of the jokes fall flat as they are obvious and lame, while others are brilliant, flying past nearly too fast to catch.
There are also those where you laugh out loud, wondering if the film makers meant to do that or if it was a mistake. Never far away is the sneering smirk of Snoop Dogg, making you wonder just who is fooling who.
Story and jokes are supplied by Writer / Producer Tim Sullivan (RETURN OF THE ALIENS: A DEADLY SPAWN, 2001 MANIACS), Jacob Hair (ROTTWEILER, 2001 MANIACS, BOO, CEMETERY GATES, TRAPPED ASHES), Chris Kobin (2001 MANIACS), and Jonathan McHugh (2001 MANIACS, SAW II), and yeah, as you may have noticed, these guys all came from the Herschell Gordon Lewis school of Horror.
But the writing can only go so far without the teller of the tale. HOOD OF HORROR has two. The Director (the teller of any tale), Stacy Title (THE LAST SUPPER, LET THE DEVIL WEAR BLACK) has been on my radar ever since THE LAST SUPPER, a truly brilliant and inspired tale of a self rightous group of friends, in this case all liberals (a rarity in itself for Hollywood*.). Stacy captures all the grime and filth of this fictionalized hood to the point you can nearly smell it. Perhaps the hood is truly hell and the only way to go is up.
Stacy also captures the feel of a person who doesn't know what to do with the money they have. In the Sod, episode, Sod is a rich rapper who can afford the best, yet surrounds himself with cheap plastic crap and baubles, pretty much anything that shines or is colorful. Sod, despite his wealth, is unable to rise above the rank of a low class Wal-Mart millionaire. Not because he is holds on to his roots: Sod hates his roots, but he can't escape from who he is: a child in a man's body. You know that he has the devil coming for him even though you don't know why (Myself, I've got the Wal-Mart part down pat. It's the millions that I'm lacking).
This is low brow humor and cheapnis from people who know what they're doing. Yet it's bad. Real bad, an intended bad on a Lloyd Kaufmann, or truly, the H.G. Lewis scale.
Snoop Dogg's HOOD OF HORROR is purposefully so bad it's good and that's why I give it 4 Negative Shriek Girls.





This review copyright 2006 E.C.McMullen Jr.
*On a phone call with a producer in Hollywood, Bill Paxton's name came up. We both liked him and the talk turned to his lesser known films. I said that I really liked Bill Paxton in THE LAST SUPPER. There was a pause. She asked if I liked the movie itself. I enthusiastically said yes - she hung up. I could never get through to her again. The film, written by Dan Rosen, is that powerful.
MORE AFTER DARK FILMS TO DIE FOR

PENNY DREADFUL


MOVIE REVIEW
THE ABANDONED
MOVIE REVIEW
THE GRAVEDANCERS
MOVIE REVIEW