Review by
Kelly Parks

MEN IN BLACK II

- 2002
USA Release: July 3, 2002
Amblin
Entertainment/Columbia Pictures
Ratings: Hong Kong: IIA / Sweden: 11 / USA: PG-13
I got invited to this party and had the best time. Everyone was so funny! And yesterday those same guys called and invited me to another party. All the same people are going to be there. Well, almost all. Some guy named Ed Solomon (I think he's a writer) can't make it but some new guys will be there so I'm sure it'll be just as fun. Right?
MEN IN BLACK II was directed by Barry Sonnenfeld (MEN IN BLACK) and written by Robert Gordon and Barry Fanaro, once again based on the comic book by Lowell Cunningham. Mr. Sonnenfeld also has a brief cameo.
In case you were recently released from prison and never had a chance to see the first movie, the storyline here is that the men in black, a secret government agency that keeps the public from knowing the truth about aliens and JFK and every other damn conspiracy, are in fact good guys protecting us from the scum of the universe. Got it? Okay.
The movie begins with a segment from a very bad TV documentary about flying saucers. The show is hosted by Peter Graves (IT CONQUERED THE WORLD, BEGINNING OF THE END) and talks about an alien artifact hidden from an evil extra-terrestrial queen many years ago. This segment worried me a little because, well, it wasn't very funny. It had lots of comic possibilities and it could have been funny but it wasn't.
Cut to the wonderfully comic Will Smith (I, ROBOT) as agent J, picking up where he left off in the first movie. If you saw the first movie then you'd be expecting his partner to be the equally wonderful (but for different reasons) Linda Fiorentino as agent L. But she's not here. This is explained with a brief mention of how agent L decided she liked it better working in the morgue and thus returned to her original life. Too bad, and not very believable.
Instead, J's partner is agent T (Patrick Warburton: SCREAM 3). It was here, as J and T try to have a conversation with a giant alien worm that lives in the New York subway tunnels, that I started to get worried about this party not being as much fun as the last one. Nothing against Patrick Warburton – he's a great actor and is funny here – but his character didn't fit. In the last movie the MiB was an organization composed of the best of the best and agent T is an incompetent moron. It's meant as comedy relief but like I said, it just doesn't fit.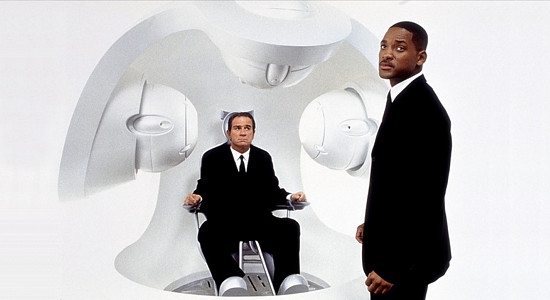 SMITH AND JONES WAIT FOR SOMEONE TO MAKE THIS MOVIE BETTER
But, okay, if you're gonna go that way, fine. Do it. Commit to it. But that's not what happens. Patrick Warburton's role is little more than a cameo. Agent J is fed up with T's poor performance. He uses his neuralizer to erase T's memory and he's gone from MiB and the movie. This whole incident seemed half-hearted, like it was improvised. The party is not off to a good start.
MiB doesn't have a new partner for J at the moment (it's implied that he's been through quite a few) so MiB director Zed (Rip Torn: ROBOCOP 3) temporarily assigns Frank the dog (voiced by Tim Blaney) as J's partner. Again, many comic possibilities ignored. This party is a little stale.
The alien queen hinted at in the beginning of the movie shows up and assumes the human form of Lara Flynn Boyle (THE TEMP, TWIN PEAKS [TV]). This is Serleena, and she's beautiful, evil and in search of a standard issue ancient-artifact-of-power. The light of something or other… I forget. But she wants it so she recruits local alien criminal Charlie (Johnny Knoxville: that idiot from MTV's Jackass). Charlie's alien form includes an extra head on a tentacle kept in his backpack. The effect is very poor.
Hmmmm. What's this formula story missing? A love interest, of course! Serleena attacks an alien in disguise in a pizza parlor, leaving a witness named Laura Vasquez (Rosario Dawson), a beautiful black girl who so intrigues agent J that he decides not to neuralize her.
And, yes, as the commercial implies, agent J is forced to find his former partner, agent K (Tommy Lee Jones: THE FUGITIVE, THE EYES OF LAURA MARS) and re-recruit him into the MiB because … well, I'm sure you can guess why, and I'm sure the rest of the plot is just as obvious. But before I pronounce judgment (and duck out the back before the party gets worse), I must add a quick
!!!SCIENCE MOMENT!!!:
At one point a bad guy ally of Serleena mentions that he was in jail for stealing the Earth's ozone layer. "You know how touchy these humans are about global warming," he tells her, or words to that effect.
This is a common mistake among the science illiterate. The depletion of the ozone layer (which is caused by chemicals called CFC's) and global warming (which people suspect is caused by human industrial carbon dioxide output, though that has NOT been proved by any means) are two entirely separate, unrelated issues.*
*Don't take our word for it - although you should.
nasa.gov
epa.gov
ucar.edu
noaa.gov

As much as it hurts me to say it, this party sucked. I give it two shriek girls.



This review copyright 2002 E.C.McMullen Jr.