Review by
E.C.McMullen Jr.

SHOULD YOU?


TIP JAR




EL ORFANATO

aka

THE ORPHANAGE

- 2008
Esta Vivo! Laboratorio de Nuevos Talentos / Estudios Picasso / Grupo Rodar / Rodar y Rodar Cine y Televisión S.L. / Telecinco / Televisió de Catalunya (TV3) / Warner Bros. Pictures de España / Wild Bunch
Ratings: Canada: 18A / Finland: K-13 / Germany: 12 / Spain: 13 / Singapore: PG / USA: R
Everything that led up to the actual viewing of this movie made me think that it would be another excellent film along the lines of Del Toro's THE DEVIL'S BACKBONE or PAN'S LABYRINTH.
But EL ORFANATO (THE ORPHANAGE) was neither written or directed by Guillermo, who acted only as one of many producers. Direction was handled by Juan Antonio Bayona and the story was written by Sergio G. Sánchez. EL ORFANATO is Sergio's first feature film, but he also wrote a horror short film, 7337. J.A. Bayona, on the other hand, in both his short films and his feature films, has preferred to make comedies, music videos, family films, and Musicals. In his nearly ten years of film making, Director Bayona has never expressed an interest in making even so much as a Mystery.
If you see the movie before you read this review, you will already understand this.
EL ORFANATO, make no mistake, is a lushly shot movie with wonderful cinematography by Óscar Faura (LOS SIN NOMBRE, THE DARKNESS, THE MACHINIST, THE ABANDONED). The camera angles, movement, and lighting within and outside of the Orphanage create a strong sense of depth and dimension. Faura has a true cinematic awareness where a set is concerned and creates a silent palpable world for Sanchez's story and Bayona's storytelling. Greatly adding to the immersment is the sound designed by Oriol Tarraga (THE DEVIL'S BACKBONE, BEYOND RE-ANIMATOR). What's more, these sights and sounds are orchestrated with seamless wonder by editor Elena Ruiz (BEYOND RE-ANIMATOR).
Actor Belen Rueda plays Laura. Together with her husband Carlos (Fernando Cayo: EL LOBO), Laura has returned to the Orphange where she spent part of her childhood growing up. All of the orphans and staff are long gone and Laura seeks to re-open it again. Along with them, but out of step with them, is their young son, Simón (Roger Príncep: THE MONSTER OF THE WELL). As the new family tries to settle in while workers re-build, restore, and bring the old building up to modern standards, creepy little things happen around their lives. A very old woman (Montserrat Carulla) comes and starts inquiring about little Simón. She claims to be with the government and is just doing her job and government business. But something about her, her staring furtive eyes, and her questions, make Laura uncomfortable and she tells the old woman to leave. The old woman however, keeps hanging around, hiding like a rat, vanishing only when Laura's son, Simón, goes missing as well. The rest of the movie is the horror a mother goes through when her only child is desaparecido (disappeared). But there is far more to her Horror: Or, at least there could be if this movie was written and told better.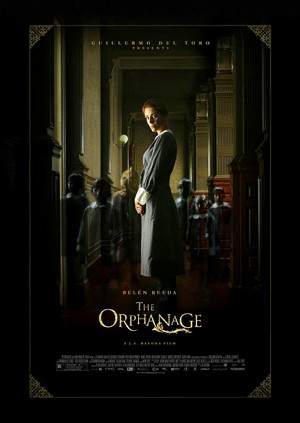 EL ORFANATO, in Spanish with English subtitles, is one suspenseful moment after the next and all without payoff. In place of genuine scares, there are loud slamming noises (the movie gets quiet, quieter, quietest, SLAM! How pitifully cheap) and an overall cut-and-paste pastiche of scenes boldy lifted from other Horror movies of the last ten or so years.
If I was watching this at home, I could have made a Trivia drinking game of it, but I was in the theater cringing everytime I saw them do a THE OTHERS scene, or a THE DARKNESS scene. Oh man, they aren't going to throw in a FINAL DESTINATION scene are... Yep, they did. There is a single scene of gore, possibly because someone said, "WTF? We ARE making a Horror movie, right?" Without that one single scene of gore, this movie is pretty much a family drama, something director Bayona would apparently prefer to do. Then again, they may have needed that gore to stop this movie from getting a "G" rating.
And let me tell you something, any one of these scenes alone, hell, even two, would have been acceptable in and of themselves. But this entire movie is nearly one big freaking collage!
So I sat there, as the minutes stretched and Bayona threw in a THE HAUNTING scene, a DARKWATER scene, a THE SIXTH SENSE scene, and before the middle of the picture, I'd pretty much figured out how the flick was going to end. You noticed the poster, right? Laura dressed in severe old clothes and her hair pulled back tight like she is in charge of the Orphanage: ghostly children all around her? Yeah. You see that poster and you can probably figure out how this flick will end too.
Two Shriek Girls.



This review copyright 2008 E.C.McMullen Jr.
FROM


E.C. McMullen Jr.




WILLOW BLUE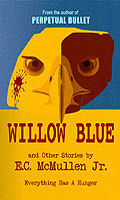 from the author of PERPETUAL BULLET.




PERPETUAL BULLET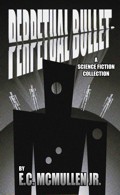 "'Some People' ... may be the standout story in the book."
- John Grant, Infinityplus

ALSO
E.C. McMullen Jr.'s
short story
CEDO LOOKED LIKE PEOPLE
appears in the anthology


FEAR THE REAPER