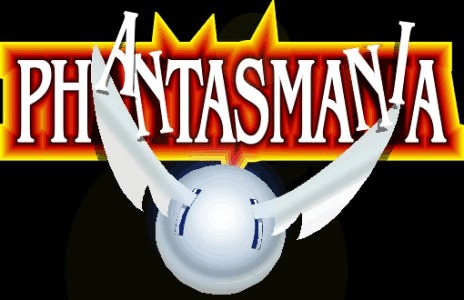 I visit the Official PHANTASM site from time to time and so
I knew there was going to be a PHANTASMANIA deal in
Austin, Texas. But my mind does funny things sometimes and I had
fallen under the mistaken belief that PHANTASMANIA would be taking
place much later in the month. Bopping through last Friday I
discovered, to my horror, that PHANTASMANIA was well under
way and the next show, PHANTASM II would be playing that very
NIGHT (4/4/00)!
Austin is a 2.5 hour drive at 70 mph from Houston. So I drove like a
bat out of hell!
My wife, Luz, and I arrived with an hour to spare for the midnight
show. Luz got out to stand in line and buy the tickets while I went hunting for
a parking space. Finding one was quite a task because on the weekends Austin,
Texas party's like no other city in Texas, or California or Arizona for that matter.
Its an unbelievable sight. Every weekend is like Mardi Gras without the costumes.
I shelled out my 6 bucks for a tight wedge between a GM truck and a Toyota
and made my way inside the Alamo Theater.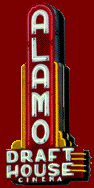 Now if you have never been to Ain't It Cool or Draft House on the web, let
me tell you that a movie theater that has a bar in front of every row of
seats, and a waitstaff that can zip in and out without blocking the screen
overmuch, is my idea of a DAMN GOOD THEATER!
Tim, the owner, has a proud little place sequestered in the heart of the Texas
capital city. What's more, he has taste par excellance! I found, much to my
deep disappointment, that I had missed seeing Make-up artist Tom Savini (!) in
person just two weeks before. Suddenly the idea of driving 5 hours round trip
on the weekends didn't seem like such a bad idea. Let's face it; any town that
celebrates April Fools Day like New Year's Eve or St. Patty's Day is an interesting
place. Moving to Austin seems even more appealing!
The silver balls were hung from the ceiling with care,
in hopes that The Tall Man, soon would be there.

Unlike some Star Trek Conventions I could mention, there are no self-important
"guards" standing watch over the folks of PHANTASM, keeping the fans at bay.
Creator / Writer / Director Don Coscarelli, Angus Scrimm, and Reggie Bannister
sat together behind a plain folding table, within easy reach of the Phans.
And I mean easy! Don and company had no problems at all with
exuberant fans jumping behind the table and asking for a photo shot.
Don, Angus, and Reggie were cool, enthusiastic, and seemed like they
couldn't be happier to fulfill the wishes of their fans.
Whether it was the notorious Shawn "Mopar Maniac" Larson with his
notebook filled with photos of Mopars that he has loved and built
(find him at It's Never Over), Jon "Lord Hoban" Norris with his encyclopedic
knowledge of horror movies (find him at The Chosen), or just some fan too
overwhelmed in the presence of her heroes to do much more than babble inanely
without end (Hey! I've been in that position a few times myself. It's no fun! In my
head I'm thinking,
'Shut up! I've got to shut up! What can I say to escape this situation with dignity? ARGH! I'm still talking!').



4 DAYS AT THE ALAMO DRAFTHOUSE


Don Coscarelli is a guy who loves to laugh.
Here I crack him up with an off the cuff remark.
It was a spontaneous thing so don't bother asking what I said. I don't remember!

Just one among the many.
There were folks like me popping behind the table all
during the autograph period. There is no hurrying the
fans along to move the line. Don, Angus, and Reggie
treated everyone of us like we were special.

Exhausted but there for the Phans
Reggie was a bit under the weather, but he wasn't
going to let that stop him.
Here he autographs a PHANTASMANIA book for
all the Feo Amante crew who contributed to the
Official PHANTASM anthology
PHANTASM: Excursions Into OblIVion

Get serious, Ice Cream Man!
Reggie steps it down for a moment.

Reggie recalls some embarrassing moments
After Reggie's set, he brought the mythos of
PHANTASM down to earth.
Don and Angus alike get a kick out of some of
their self-deprecating antics.
All of them shared past works with a
PHANTASM blooper reel. Some funny stuff!
For example, did you know that
Brad Pitt auditioned for the lead in PHANTASM II?



The Reggie Autograph


Reggie Jams
Reggie played some of his original tunes with some
local musicians. The bongo player (

Stephen Romano

) is having the time of his life.

The Tall Man's Revenge
Mr. Scrimm did not appreciate my comments
about PHANTASM: OBLIVION and prepares
to "crush me down" into an evil killer dwarf!

Reggie Shows His Good Taste
After the movie, Reggie reveals his Gothic pride. Reggie is a big
fan of Carpe Noctem magazine, and just really likes the shirt.
Also in the picture with us is Mr. Ain't It Cool himself, movie critic
Harry Knowles.
Thus ended an excellent night!
All photos taken by Luz McMullen
E.C. McMullen Jr. is a participant in the Amazon Services LLC Associates Program,
an affiliate advertising program designed to provide a means for sites to earn advertising fees by advertising and linking to amazon.com.

Feo Amante's Horror Home Page, Feo Amante's Horror Thriller, and feoamante.com are owned and
Copyright 1997 - 2017 by E.C.McMullen Jr.
FAIR USE - PRIVACY POLICY - OWNERSHIP - CONTACT
All images and text belong to E.C.McMullen Jr. unless otherwise noted.
All fiction stories belong to their individual authors.