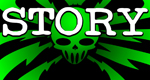 You Support This Site
When You Buy My Books
E.C. McMullen Jr.
PERPETUAL
BULLET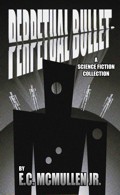 "'Some People' ... may be the standout story in the book."
-

John Grant

, Infinityplus

E.C. McMullen Jr.
WILLOW BLUE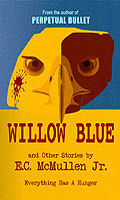 "'Willow Blue' will burrow under your skin and stay there long after you've put the book down."
- Jeffrey Reddick, Creator of
FINAL DESTINATION

IN OTHER BOOKS
E.C. McMullen Jr.'s
short story
CEDO LOOKED LIKE PEOPLE
in the anthology
FEAR THE REAPER

"This Ray Bradbury-esque is one of the most memorable and one of the more original stories I've read in a long time."
- Steve Isaak,
Goodreads

HORROR 201:
The Silver Scream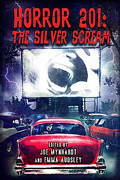 Filmmaker's Guidebook
featuring
RAY BRADBURY,
JOHN CARPENTER,
WES CRAVEN,
TOM HOLLAND,
E.C. McMULLEN Jr.,
GEORGE A. ROMERO,
and many more.



Extensively quoted in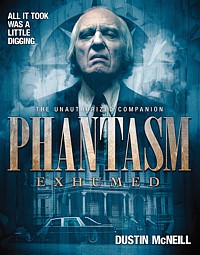 PHANTASM
EXHUMED
The Unauthorized Companion

Robert S. Rhine's
SATAN'S 3-RING
CIRCUS OF HELL

Forward by
GAHAN WILSON &
FEO AMANTE.
Featuring comics by
ALEX PARDEE,
WILLIAM STOUT,
STEVE BISSETTE,
FRANK DIETZ,
JIM SMITH,
FRANK FORTE,
ERIC PIGORS,
MIKE SOSNOWSKI,
OMAHA PEREZ,
DAVID HARTMAN,
STEVEN MANNION,
and more!

And In
CINEMA


E.C. McMullen Jr.


Head Production Designer

MINE GAMES


(Starring:
JOSEPH CROSS, BRIANA EVIGAN,
ALEX MERAZ)

Dept. head
Special Effects Make-Up
(SFX MUA)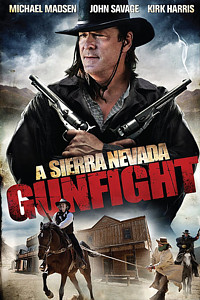 A SIERRA NEVADA
GUNFIGHT
(MICHAEL MADSEN & JOHN SAVAGE).

Production Designer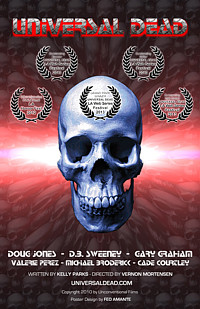 UNIVERSAL DEAD
(DOUG JONES,
D.B. SWEENEY,
GARY GRAHAM)

Art Director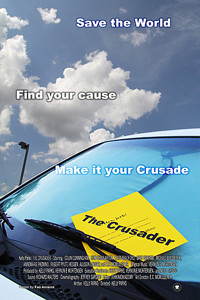 THE CRUSADER
(COLIN CUNNINGHAM,
GARY GRAHAM)
Review by
E.C.McMullen Jr.

PHANTASM

- 1979
USA Release: March 28, 1979
New Breed Productions, Inc., Embassy Pictures Corporation,
(

Current Distributor

) MGM Motion Pictures
USA: Rated R
If you've never seen any of the PHANTASM* movies, then shame on you! Go out and see PHANTASM, PHANTASM II, PHANTASM III, and well, okay, go and see PHANTASM IV.
PHANTASM was and still is Writer/Director Don Coscarelli's (PHANTASM [all], BEAST MASTER, SURVIVAL QUEST) masterpiece. While Coscarelli has never been the best writer, what he lacked in storywriting ability, he more than made up for in vision. I mean PHANTASM! WOW!
The movie starts with a graveyard sex scene (yeah I know, Cool start for any movie!). However, once the sex is over the Lady In Lavender (Kathy Lester: PHANTASM III: Lord Of The Dead) stabs her lover Tommy (Bill Cone) and then turns into an evilly leering weirdo known as The Tall Man (Angus Scrimm: SWEET KILL [as Rory Guy], PHANTASM [all], SUBSPECIES, WISHMASTER). This Succubus idea is well thought out, since the succubus of legend is really a male demon that transforms itself into a female before attacking his/her victims.
Now it is up to our three remaining heroes to discover just what the hell is going on at Morningside Cemetery and Mortuary; Especially that ultra clean and sinister mortuary. Our heroes are Jodie (Bill Thornbury: PHANTASM III, PHANTASM IV), his brother Mike (A. Michael Baldwin: The whole PHANTASM series 'cept II), and my favorite character of the series Reggie (Reggie Bannister: The PHANTASM Series, WISHMASTER - Visit the Reggie photo Gallery). These three must uncover the secret of The Tall Man and it's one wicked secret.
There are particular scenes which also serve as homages to stories/authors that Coscarelli has read, most particularly Frank Herbert's DUNE series.
At one point, the young brother Mike goes to a fortune teller after he has witnessed The Tall Man single handedly robbing graves (I mean he pulls out the entire casket all by himself, body and all!). The Fortune Teller's Granddaughter (Terrie Kalbus) and the Fortune teller herself (Mary Ellen Shaw) give Mike the old Bene Gesserit Trick of Stick-Your-Hand-In-The-Black-Box ("Ow! Damn that hurts!" "HA! We know! Ha! Whatcha afraid of? Don't be afraid! Ha! Big Baby!") Coscarelli does the whole "don't give into fear" bit without actually saying "Fear is the mind killer!" This small scene works in Mike's favor for the rest of the movie, as he will come across some Really Scary Stuff! Things like zombie dwarves, chopped-off dancing fingers that bleed yellow goo and the infamous flying silver balls, which do stone-wicked things to one's head!
Is this a well directed movie? Not particularly. Is the script really great? Hardly. Does the acting really stand out? It doesn't stand out as good acting no.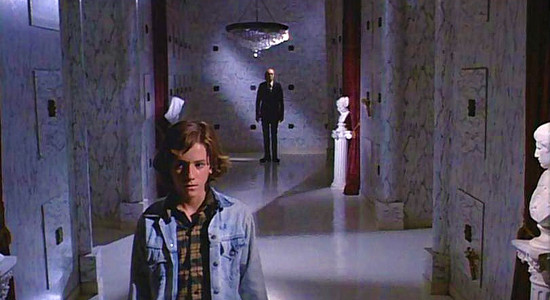 But what makes this movie a Damn Good Movie is the chemistry between the actors, the fact that Coscarelli never misses a chance to throw a well thought out fright at us, and the many site gags that are dead on cue at every turn (meaning: no stupid cats jumping out at the actors, but the real get-right-in-your-head and scare ya!). This is a bizarre movie, as weird and strange as anything by David Lynch or Clive Barker.
Except that this film never gets lost in the story it tells, and a cool story it is. Coscarelli and crew take a well worn "Bogeyman" plot line, strip it to bare bones, and refill it with something so totally fresh and freaky that no one else has ever been able to duplicate it or improve upon it. With excellent Cinematography (again by Don Coscarelli - with a low $300k budget, Don insisted on 35mm shot on Panaflex camera(s) and lenses at a 1.85:1 spherical!) this classic well deserves its 3 Shriek Girls. As well as it's 3 Neg. Shriek nod toward the So Bad Its Good category.







This review copyright 1999 E.C.McMullen Jr.
2009
PHANTASM's 30th birthday is celebrated at the
Big Bear Film Festival.
For Phans of PHANTASM, Read RED PLANET by Rick Elkin. From the Official and Authorized Phantasm anthology PHANTASM: Excursions Into Oblivion
PHANSITES
See Feo at the PHANTASMANIA in Austin, Texas
The Official PHANTASM site
*
UPDATE:
According to the Official PHANTASM site, PHANTASM V: RAVAGER is set for a September 2016 release!
Old Updates:
According to the Official PHANTASM site, work began on
PHANTASM V in 1999.
As of August 8, 1999, the PHANTASM folks were still seeking backing and
PHANTASM 1999 was pushed forward to PHANTASM 2000, then 2001 then 2002. As of this writing, 2006, it remains in hiatus.
All Fans of this series should go to the PHANTASM site and let their voices be heard.