Review by
E.C.McMullen Jr.

RED VELVET

- 2008
Ulalume Films / 3Mac Studios
Ratings: USA: R
RED VELVET is a very cool mindfuck film. Rare to see that as most people seem to think that such a movie requires a bunch of psychedelic SFX and a dwarf or midget at some point.
RED VELVET has a SCREAM sensibility to it in that it deconstructs a number of Slasher movie clichés, but it's canny enough not to call self-referential attention to itself and thus become merely clever or cute.
Aaron (Henry Thomas: PSYCHO IV: THE BEGINNING [TV], DESPERATION [TV], Masters of Horror: CHOCOLATE [TV]) is a man with noisy neighbors. He tries to write in his home but his neighbors are constantly arguing, fighting, breaking things, man what a pain in the ass.
So one day when Aaron spies his female neighbor, Linda (Kelli Garner), run crying off to the laundromat, he follows apace. He makes himself physically known to her without actually saying anything and when she recognizes him from their apartment and tries to engage him in conversation, Aaron snaps at her cruelly. Being a woman who takes plenty of shit from her own boyfriend, Linda is not about to let the whole world screw with her and snaps back. Aaron enjoins the battle, and the two are soon doing the scorpion dance.
We know by Aaron's actions that he understands the kind of woman, like Linda, that would stay in an abusive relationship. He knows what makes her tick and he knows how to wind her clock. Linda finds herself attracted to the repellent nature of Aaron and clearly enjoys the game, but only Aaron knows where the game leads and how to win it.

Aaron is a Horror writer. Linda doesn't like Horror stories. Aaron tells one anyway. He tells her a slasher story about her friends who, even now, are enjoying a birthday party celebration at Big Bear while Linda, who was invited, didn't go (her boyfriend wouldn't take her). Linda, fascinated by a guy who thinks she's hot but doesn't seem to want her, is drawn in to both the story and the teller. The fun comes in the visual telling of Aaron's Horror story as he unveils it, creates it, and modifies it to fit the moods and personalities of Linda's friends. The dialog, written by Joe Moe, is snappy and the "Twenty-somethings in the woods stalked by a killer" is played for laughs and fun.
As Linda, actor Kelli Garner really shone in this picture and, unfortunately for Henry Thomas, overwhelmed his low-key approach to his character. I loved the way the characters in the scenarios kept changing as Aaron had to modify his story based on new info from Linda. The language, dialog, directing and even editing of their scenes together was sharp, but Henry, who is a good actor in his own right, was either not rehearsed enough for his role with Kelli or just wasn't the right person for the part. He doesn't bring it down, but he doesn't raise it like Kelli did and she controls every scene.
That said, the movie maintained its entertainment even with the uneven pacing by having the loopy birthday party with an ever changing cast of characters, motivations, actions, and even props.
RED VELVET
is movie geek quotable with great lines and unexpected one-liners throughout adding to the fun, thanks to a tight story and script by Anthony Burns (
his first film
).
Amazingly, newbie Director Bruce Dickson got the most out of his cast and story on his very first film, which is like hitting a home run on your first time at bat.
Amazing again, RED VELVET adheres to the shop-worn articles of Slasher movies, their timing, and resolutions even while lampooning them. The maniac slasher with the bunny ear speakers and the pink tool belt is arguably one of the most original killers ever to hit the screen. And his lines are funnier than any pun Freddy ever uttered. With a dirty carnival gleam that shines as bright as its candy colored sets, RED VELVET is the best Fun House comic book ride of the year. Three Shriek Girls.




This review copyright 2008 E.C.McMullen Jr.
FROM


E.C. McMullen Jr.




WILLOW BLUE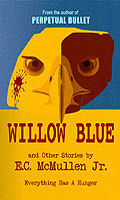 from the author of PERPETUAL BULLET.




PERPETUAL BULLET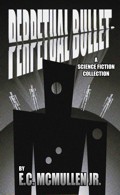 "'Some People' ... may be the standout story in the book."
- John Grant, Infinityplus

ALSO
E.C. McMullen Jr.'s
short story
CEDO LOOKED LIKE PEOPLE
appears in the anthology


FEAR THE REAPER