Review by
James Futch
The PSYCHO Sequels
There are some die hard or hard core fans who look at 1977 as the last year of Western Civilization. As far as they are concerned, 1978 was actually Year 1 ASW. Since 1977, ASW has meant to these many fans "After Star Wars".
My reviewer and WHC photographer, James Futch (who is often described by his friends and neighbors as "A quiet young man, a shy young man - keeps to himself and never troubles anybody . . ." ), has his own theories of Western Civilization. To him, the last year was 1960. 1961 was Year 1 AP: After Psycho.
The following article is all about PSYCHO and its sequels and remakes in all their myriad forms. As such, it is loaded with spoilers. This however, should be no problem to those of you living after the year 41 AP.
The Grandfather of Them All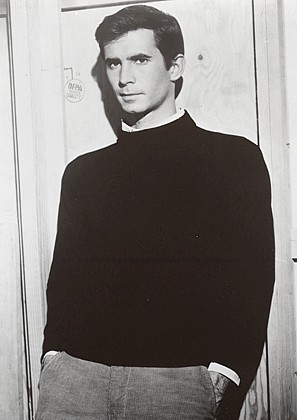 Anthony Perkins as Norman Bates on the Universal Sound stage in 1959.
Before Michael Myers and Jason Voorhees. Before Leatherface and Freddy Krueger, there was Norman Bates, the shy motel proprietor with a skeleton in his closet and one down in the fruit cellar.
While hockey masks and chainsaws have an undeniable charm, it was Norman Bates who pioneered the stalk and slash, the shadowy assassin creeping up to the shower curtain. Norman Bates's Oedipal struggles and emotional plurality became the blueprint for the minions of slasher films to follow. And like his masked children from HALLOWEEN and TEXAS CHAINSAW MASSACRE, Norman Bates returned, again and again but unlike the other "part 4's and 5's", the PSYCHO sequels retained, nay, even expanded the emotional depth of the Hitchcock classic.
As Norman Bates, Anthony Perkins brought a sympathetic edge to the character, played him like the guy next door, and it was hard not to root for him. You actually wanted him to get away with it in spite of his macabre deeds. Attractive and boyish, shy and polite, you could not help but feel a little sorry for Norman Bates. Indeed, Anthony Perkins's characterization of Norman Bates was the key to the success of the first film and consequently the driving force of the three sequels that followed.
While no one will ever endorse them with the same praise as the original, are any of them worth more than a passing glance while strolling the aisles at the local mom and pop video store? We shall see.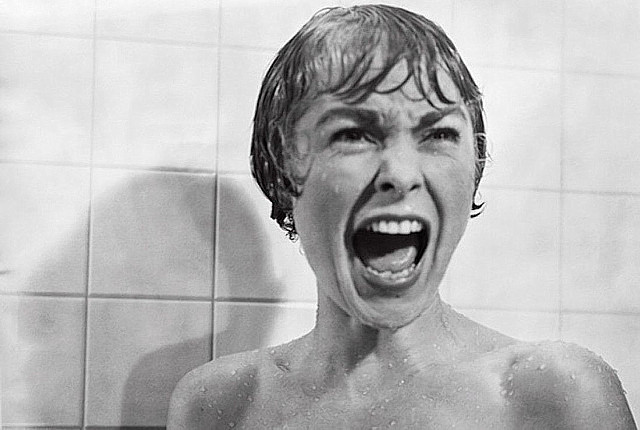 The sequels, with the possible exception of PSYCHO IV, take the PSYCHO mythology into new, exciting, and often horrifying territory. Each one allows a deeper and darker view inside the house, motel, and Norman Bates's mind, and in PSYCHO III, even a nightmarish journey by lantern light into the swamp behind the motel.
In each film, Anthony Perkins delivers brave, Oscar worthy performances, and is surrounded by outstanding creative teams. Collectively, PSYCHO and its sequels are more than mere thrillers, they are an epic character study of cinema's golden boy of insanity, the man in the wig and dress who stabbed a butcher knife into our hearts for damn near 40 years: Norman Bates.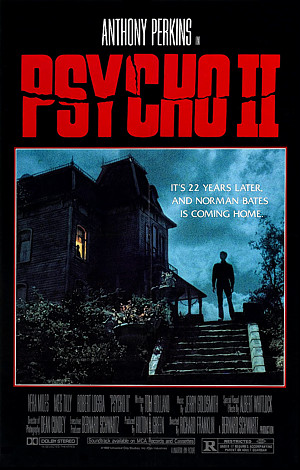 It's 22 years later, and Norman Bates is coming home…
In 1983, film history's longest awaited follow-up hit the big screens. It had been 22 years since Marion Crane absconded with the 40,000 in cash to elope with her boyfriend only to die a horrible death while taking a shower, hacked apart by a shadowy assassin.
22 years since the Gothic house on the hill became a ghoulish abattoir and the swamp a dumping ground for the dead. And finally, over two decades since audiences said goodbye to Norman. The last we saw him, he was out of his mind, sitting in a cell, a rough blanket around his shoulders, having succeeded, according to the glib psychiatrist, in "becoming his Mother."
What would he be like rehabilitated, after twenty-two years of incarceration?
Judged "restored to sanity", Norman returns to the house on the hill and tries to put his life back together. However, he cannot seem to stay out of trouble. He invites a coworker named Mary (Meg Tilly: BODY SNATCHERS) to stay at the motel. Norman's psychiatrist Dr. Raymond (Robert Loggia: INNOCENT BLOOD) warns Norman of Lila Loomis's (Vera Miles) schemes to drive him insane again. The characters move through the labyrinth house and plot in a suspenseful game of cat and mouse.
All the while, a large woman dressed in black creeps in the shadows, a large butcher knife raised.
In classic whodunit fashion, the audience is asking, is it the ghost of Mother leaving notes and making phone calls harassing Norman? Or is it Lila Loomis, trying to drive Norman crazy? If not them, then who killed the boy in the fruit cellar?
Then the bodies are found in the swamp...
The negotiations for a PSYCHO sequel began in 1982 with a co-production deal between Universal Pictures and Oak Media Development Corporation. As ideas were tossed around for possible films in the four-film venture, executive producer Bernard Schwartz mentioned PSYCHO II.
"The idea of PSYCHO II appealed to me," Schwartz said, "[The] theme that interested me (the question of releasing the criminally insane from institutions) [was] the basis to trigger a legitimate sequel to PSYCHO."
Bernhard Schwartz may be better known as Tony Curtis, who coincidentally was married to Janet Leigh of PSYCHO and fathered Jamie Lee Curtis, who later starred in one of PSYCHO's children, HALLOWEEN. PSYCHO II seemed like an obvious choice for the first film in the new venture.
But before production could begin they needed to land the right director for the sequel to Alfred Hitchcock's 1960 gothic thriller.
PAGE 2: The Origins of the new beginning

PSYCHO II and PSYCHO III photos copyright 1983 and 1985 Universal Studios, Inc. All rights reserved. May be reprinted for newspapers and other periodicals.
This article copyright 2002 E.C.McMullen Jr.