SHOULD YOU?


TIP JAR



A PERFECT GETAWAY
- 2009
Davis Entertainment / QED International / Relativity Media / Rogue Pictures / Tooley Productions / Universal Pictures
Rated: Canada: 14A / Ireland, Netherlands: 16 / South Korea: 15 / UK: 15 / USA: R
Flat out? I think this is the best David Twohy movie ever.

The movie begins in a manner to which we are becoming accustomed, as movie goers - as a meta movie. We watch a home movie of a wedding. There's the fun friends, the asshole brother, and the all around well wishes.

Then we get to Hawaii where we meet Cliff (Steve Zahn: JOY RIDE, CHICKEN LITTLE) and Cydney (Milla Jovovich: RESIDENT EVIL [all], ULTRAVIOLET). They're having a good time, Cydney more than Cliff, who seems to be pre-occupied by everything and everyone BUT his new bride.

Cydney keeps at Cliff, trying to get him to relax and enjoy the trip. When Cliff finally decides to let his hair down, he does so in the worst way, by picking up a pair of hitchhikers. "Come on honey, this is Hawaii!"

Cydney instantly gets a bad feeling from the couple. The woman, Cleo (Mary Shelton: SIN CITY, PLANET TERROR, DEATH PROOF) is cloy, touchy-feely, and overly chatty. Her boyfriend, Kale (Chris Hemsworth: STAR TREK) is moody, almost silent, and has tattoos that read "Do Not Resuscitate". It puts Cydney on edge and she insists that they don't provide the ride, making a happy moment suddenly awkward for all.

They arrive at their destination, on the outskirts of the park. A passing newspaper headline tells of a married couple, murdered. Another tells of a possible serial killing, but while we and Cydney notice it, Cliff hardly pays it no never mind. Cydney is enjoying the sights and Cliff is busy trying to make sure they have all of their camping supplies and licenses in order. After all, they are going into a National park in Hawaii and there is a legal limit to how many people are allowed there. Soon they are hiking through the park, chance meeting others there and that's when they get the bad news from some fellow hikers. A gaggle of girls are talking about the news on their cell phones. On one of the smaller islands, police are looking for two people, a man and a woman, who are suspected of murdering a number of other couples. Now Cliff pays attention. From now on, even while Cydney is still trying to enjoy their honeymoon, Cliff can't stop seeing potential murderers everywhere. When he discovers that the couple, Cleo and Kale, are also hiking in the park, he becomes a nervous wreck.

Along the trail they also meet Nick (Timothy Olyphant: SCREAM 2, DREAMCATCHER, DEADWOOD [TV]), a veteran of Iraq, and all around survivalist. Nick is witty, playful, but also edgy and dangerous. When he finds out that Cliff just sold his first screenplay, Nick glues himself to the couple, hoping to regale Cliff with his military record. As he delves deeper into his tales along the trail, Cliff and Cydney are just glad that Nick is alone. That is, until they meet his girlfriend Gina (Kiele Sanchez: LOST [TV], INSANITARIUM) "The crazy-ass love of my crazy-ass life!"

There are quite a few twists and turns along the way of this tale. Like many movies that go overboard with red herrings, some are less believable than others. Fortunately, none take you straight out of the movie.

Cliff and Cydney just want to enjoy the island alone in peace, but find their privacy constantly interrupted - nearly bouncing back and forth - between the two couples, either of whom (or neither) could be the serial killers.

Extra kudos go to Steve Zahn, Milla Jovovich, and Timothy Olyphant, who all actually acted and did it well! For them to belt out performances this good, out of a long acting career that has left me indifferent, kudos must also go to DT! (that would be...)

Writer and director, David Twohy, hasn't had a hit since 2000 and PITCH BLACK. BELOW and THE CHRONICLES OF RIDDICK tanked and for good reason. But Rogue Pictures and Universal Pictures should have known what they had here, and that's a film that could have been a hit. For the studios, each year is divided into Winter, Spring, Summer, Fall, and Winter again, but only one time of the year has been designated by Hollywood as their "Summer Blockbuster" period, when the most razzle dazzle effects laden movies are shown.

It's a huge misstep, or merely blatant incompetence, that someone(s) in the distribution arm wanted to unload A PERFECT GETAWAY during the height of the Summer blockbusters and pit it against mega-budget movies like G.I. Joe, HARRY POTTER AND THE HALF-BLOOD PRINCE, G-Force, and DISTRICT 9. What's more, outside of movie trailers at the theater, I've hardly seen this advertised anywhere. Which is way too bad, because A PERFECT GETAWAY is a near perfect thriller!

Four Shriek Girls.





This review copyright 2009 E.C.McMullen Jr.

FROM


E.C. McMullen Jr.




WILLOW BLUE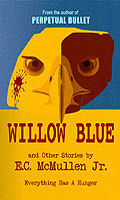 from the author of PERPETUAL BULLET.
Available exclusively at Amazon.com until 2015.




PERPETUAL BULLET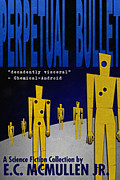 "'Some People' ... may be the standout story in the book."
- John Grant, Infinityplus



AVAILABLE AT


Amazon,
Barnes & Noble,
Diesel,
iTunes, KoboBooks,
Smashwords,

and


WHSmith

ALSO
E.C. McMullen Jr.'s
short story
CEDO LOOKED LIKE PEOPLE
appears in the anthology


FEAR THE REAPER