Review by
Kelly Parks

THE PUPPET MASTERS

- 1994
Hollywood Pictures
Rated: Australia: M / USA: R
Sometimes a story idea is so good that it becomes first a formula and finally a sort of sub-genre of its own. Aliens invade by somehow replicating / replacing / impersonating / taking over human beings. Maybe the reason everyone at work is acting strange is because they're not human anymore. It's just too cool an idea to ever let it go.
Stuart Orme (THE LOST WORLD [TV]) directed THE PUPPET MASTERS and the staff of Ted Elliot (GODZILLA), Terry Rossio (GODZILLA) and David S. Goyer (DEMONIC TOYS, DARK CITY, BLADE, BLADE II) wrote the screenplay. It is, of course, based on the Robert Heinlein novel of the same name, written in 1951 (ahead of his time, as usual).
The story begins with some farm boys in tiny Ambrose, Iowa. A strange pattern of lights in the sky catches their attention and they go to investigate when it looks like something lands in the woods.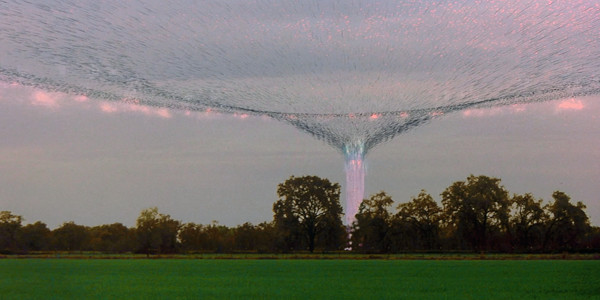 An adult also spots the landing and when he goes to investigate he sees the boys coming back out of the woods. They tell him, "Yeah, there's a flying saucer in there. Follow us and we'll show you." Clearly, this guy hasn't seen enough weird movies because like an idiot he does follow them into the woods and the boys smack him in the head with a bat.
Cut to a small landing field. Sam Nivens (Eric Thal), a special agent from a little known federal agency called the Office of Scientific Intelligence meets up with fellow agent Jarvis (Richard Belzer: SPECIES II). Andrew Nivens (Donald Sutherland: DON'T LOOK NOW, INVASION OF THE BODY SNATCHERS [1978], VIRUS [1999], FINAL FANTASY), the head of OSI and Sam's father, arrives and introduces Sam to Dr. Mary Sefton (Julie Warner: FLATLINERS), an exobiologist from NASA. Exobiology is the study of extra-terrestrial life – a field without any actual subject matter thus far.
TRIVIA:
Donald Sutherland played in the 1975 movie DAY OF THE LOCUST as the character Homer Simpson.
In 1996 he was the voice of Hollis Hurlbut, in THE SIMPSONS episode 7.16, "Lisa the Iconoclast"
"Ah ... there's my Johnny cakes!"

Andrew tells his crew that they are here to investigate reports of a flying saucer landing. Apparently the local news at first reported that a real saucer landing had occurred, but later changed the story and said it was all a hoax perpetrated by some local boys. Andrew wants to know the truth.
There are helpful signs guiding them to the flying saucer. The same boys we saw in the beginning have built a saucer out of plywood and fiberglass and are giving tours to curious tourists. People go in one side and come out the back, often adjusting their clothing as they emerge. Mary, who aside from being a scientist is also a hot babe, notices that none of the boys look at her boobs, which strikes her as odd. The group decides not to take the tour and heads for the local TV station.
The station manager assures them that everything is fine but when he reaches in a drawer a gunfight ensues. The dead manager is examined and found to have an alien parasite attached to his back. A barbed tentacle is dug into the back of his head and even though he is dead, the parasite is alive and plenty pissed.
Our heroes barely make it out of the small Iowa town as "controlled" townsfolk converge and attack. There's no denying it – the invasion is well under way.
So often movies like this center around one person or a small group of people who know about the invasion and who try desperately to convince the authorities. This movie doesn't play that game. The ones who know ARE the authorities and the government flies into action. The army surrounds the town and it looks like all will be well. But back at the lab the captured parasite proves smarter than the puny humans and even more dangerous. Plus the Army they sent in reports that the fighting is over and everything is fine but when Andrew asks the General (over the video link) to take his shirt off so they can see no alien parasite is attached, the link is suddenly cut.
OSI needs an intelligence-gathering mission into parasite-controlled territory. They send in Sam and his friend from the military, Alex Holland (Keith David: THE THING [1982], THEY LIVE, PITCH BLACK, FINAL FANTASY). At some point in the mission of course the separate so when they meet up again you don't know if one or both or none has a parasite under his shirt.
The only effective remedy for alien parasites, of course, is a
!!!SCIENCE MOMENT!!!:
One thing I'll mention here is that like the alien in ALIEN, creatures like this can't evolve naturally. They'd have to be artificial given the unlimited variety possible in alien forms, chemistry and neurology. Assuming that they are artificial also allows me to skip over any discussion of how a parasite could evolve intelligence in the first place. Brains are metabolically expensive and they don't evolve without very good reason.
I also have a moral problem with several scenes in this movie. It becomes clear early on that, although difficult, you can remove the parasite and the victim can fully recover. Once you know that, you'd think the main characters would be reluctant to shoot and kill so many controlled humans, since it's at least possible that all of them could be "cured."
The story meanders a bit here and there and I have to take points away for overlooking an obvious solution: nudity. If everyone is naked then you can plainly see who is under alien control and who's not. Heinlein knew that and had scenes like that in the novel. But this is a decent sci-fi thriller. I give it three shriek girls.




This review copyright 2003 E.C.McMullen Jr.