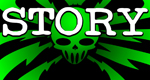 Support This Site

When You Buy My Books
E.C. McMullen Jr.
PERPETUAL
BULLET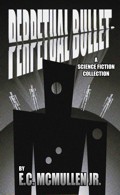 "'Some People' ... may be the standout story in the book."
-

John Grant

, Infinityplus

E.C. McMullen Jr.
WILLOW BLUE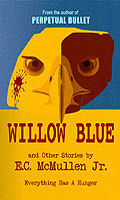 "'Willow Blue' will burrow under your skin and stay there long after you've put the book down."
- Jeffrey Reddick, Creator of
FINAL DESTINATION

IN OTHER BOOKS
E.C. McMullen Jr.'s
short story
CEDO LOOKED LIKE PEOPLE
in the anthology
FEAR THE REAPER

"This Ray Bradbury-esque is one of the most memorable and one of the more original stories I've read in a long time."
- Amazon Review

HORROR 201:
The Silver Scream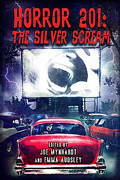 Filmmaker's Guidebook
featuring
RAY BRADBURY,
JOHN CARPENTER,
WES CRAVEN,
TOM HOLLAND,
E.C. McMULLEN Jr.,
GEORGE A. ROMERO,
and many more.



Extensively quoted in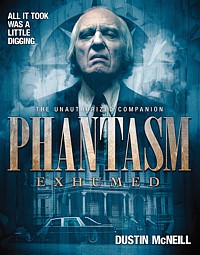 PHANTASM
EXHUMED
The Unauthorized Companion

Robert S. Rhine's
SATAN'S 3-RING
CIRCUS OF HELL

Forward by
GAHAN WILSON &
FEO AMANTE.
Featuring comics by
ALEX PARDEE,
WILLIAM STOUT,
STEVE BISSETTE,
FRANK DIETZ,
JIM SMITH,
FRANK FORTE,
ERIC PIGORS,
MIKE SOSNOWSKI,
OMAHA PEREZ,
DAVID HARTMAN,
STEVEN MANNION,
and more!

Also
IN CINEMA
E.C. McMullen Jr.
Head Production Designer

MINE GAMES


(Starring:
JOSEPH CROSS, BRIANA EVIGAN,
ALEX MERAZ)

Dept. head
Special Effects Make-Up
(SFX MUA)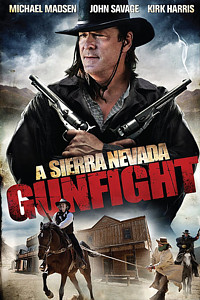 A SIERRA NEVADA
GUNFIGHT
(MICHAEL MADSEN & JOHN SAVAGE).

Production Designer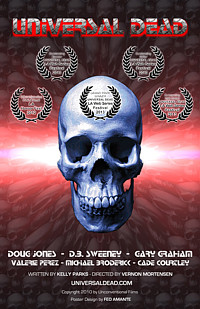 UNIVERSAL DEAD
(DOUG JONES,
D.B. SWEENEY,
GARY GRAHAM)

ART DIRECTOR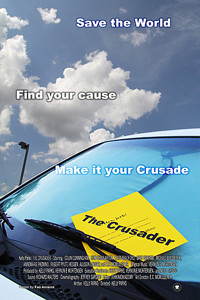 THE CRUSADER
(COLIN CUNNINGHAM,
GARY GRAHAM)
Review by
E.C. McMullen Jr.

TALES FROM THE CRYPT: BORDELLO OF BLOOD

- 1996
USA Release: AUG! 16, 1996
Tales From The Crypt Holdings, Universal Pictures
Ratings: USA: R
As before, the opening is a red herring which leads back to the Cryptkeeper (John Kassir: TALES FROM THE CRYPT [TV], TALES FROM THE CRYPT: DEMON KNIGHT, CASPER, MONSTER MASH: THE MOVIE, EARTHWORM JIM, EEK! THE CAT, TALES FROM THE CRYPT: RITUAL). He introduces the tale of BORDELLO OF BLOOD.
Katherine Beaudreau (Erika Eleniak: THE BLOB [1988], DRACULA 3000) has an argument with her obnoxious little brother Caleb (Corey Feldman: TIME AFTER TIME, FRIDAY THE 13TH: THE FINAL CHAPTER, GREMLINS, FRIDAY THE 13TH: A NEW BEGINNING, LOST BOYS, TEENAGE MUTANT NINJA TURTLES I & II, STEPMONSTER, CITIZEN TOXIE: THE TOXIC AVENGER IV). Caleb winds up at a bar, making dangerous bets with the patrons.
Apparently Caleb's little group of bad-asses are all virgins.
But one of the group is an crazed outsider, who recommends a bordello that promises to get them laid with sex so intense, they may be able to crawl after a few days.
"325 Beaumont. Ask for the Cunningham Way!"
The outsider walks off, disappearing into the night. This is exactly what Caleb is looking for and only one of his reluctant group, Reggie (Matt Hill: WATCHERS, TEENAGE MUTANT NINJA TURTLES III, X-MEN: EVOLUTION, TRANSFORMERS: ENERGON), follows.
Caleb forgets the 3 and drives to 25 Beaumont.
The Bordello turns out to be a funeral home. I know, funny place for a Bordello, but who am I to judge?
Merry Mishaps occur thanks to the Madame, Lilith (Angie Everhart: JADE, MAD DOG TIME, THE GARDENER, THE STRAY, SEXUAL PREDATOR, WICKED MINDS, BUGS, THE CRADLE WILL FALL) and soon Katherine is filing a missing person's report with the uninterested police. This attracts the attention of the local private investigator hanging around, Rafe Gutman (Dennis Miller: DISCLOSURE) of Gutman Investigations.
He runs his business out of an abandoned theater and his pushy pitch combined with her worry over her missing brother, makes Katherine give Rafe a shot. But Rafe gets creepier by the second and Katherine is ready to walk out until Rafe practically begs for the job.
"Like it or not, Katherine, I'm all you've got."
Soon Rafe is on the case and in the bar, talking to Caleb's friends, Zeke (Robert Paul Munic) and some dimbulb. From that Rafe winds up at the funeral home and attending a daylight funeral, sitting next to the crazy stranger who directed Caleb to the place.
Why is everyone forgetting that damn 3?
Meanwhile, Katherine is back on her own job at Current World Ministries, working at the Crystal Cathedral for Evangelist J.C. (Chris Sarandon: THE SENTINEL, FRIGHT NIGHT [1985],CHILD'S PLAY, THE NIGHTMARE BEFORE CHRISTMAS, FRIGHT NIGHT [2011]). J.C. is a white television preacher who runs a black gospel church. Creative license abounds, but Chris played his role as a stereotype that was already worn out for stand-up comics back in the 1980s, let alone 1995. While the setup is supposed to be funny the church scene drags as nothing funny is coming out of JC's mouth. Truly Chris gives it his all, but co-writer, director, and producer Gilbert Adler (Producer: THE HITCHHIKER [TV], FREDDY'S NIGHTMARES [TV], TALES FROM THE CRYPT [TV], TALES FROM THE CRYPT: DEMON KNIGHT, HOUSE ON HAUNTED HILL [1999], THIR13EN GHOSTS, GHOST SHIP, CONSTANTINE, DYLAN DOG: DEAD OF NIGHT) has nothing for him and this cut-and-paste uncreative scene drags out for an unmercifully long time.
And then it continues.
Rafe shows up to watch.
And for some unknown reason, this scene continues to go on as if it is actually germaine to the movie.
And then, holy living crap, it continues!
Finally the scene is over, Chris wraps it up, Gilbert Adler has Dennis Miller as Rafe, go through his stand-up schtick and ends his job when he tells Katherine that her brother disappeared at a whore house.
Soon Rafe is drowning his sorrows at the bar and runs into the crazy guy. Crazy guy recites his pitch about the whorehouse ("Ask for the Cunningham!"), and Rafe moves onto greener pastures.
Back at the funeral home, the funeral director McKutcheon, exults over a farting corpse. Rafe shows up at the door and begs for the Cunningham.
McKutcheon smells a trap and gives Rafe the bum's rush. So Rafe breaks in through another part of the building.
Rafe discovers that the funeral home steals from the dead and among the gold fillings and body jewelry, finds a skull shaped nose stud, and returns to Katherine and J.C.
He goes through some more schtick, upbraides Katherine, and returns to the mortuary that night where blah, blah, blah.
Then Rafe leaves. Then he comes back. More evangelist (J.C., get it? Oh ho! Ho! Ho!). More Crystal Cathedral. More of everything that isn't the story so Adler can pontificate about those horrible, phony TV evangelists.
You want to make that kind of movie, fine. Then make a movie called TALES FROM THE CRYPT: CRYSTAL CATHEDRAL (yeah, see how much of your diminishing audience you can sucker into seeing that!). But dressing your uncreative braying piece of crap as a sexy vampire comedy movie and delivering a tedious lecture is incompetent. Go back to hiring writers and directors instead of pretending to be one.
Holy crap but this movie is dull. And as much suspension of disbelief I'm more than happy to give to a vampire movie, BORDELLO OF BLOOD is preposterously unbelievable. Not because of the monsters, but because of what is supposed to pass for the real world, which is actually more unbelievable than the vampires. The movie keeps straying from the point of the movie, which is a Bordello of Blood! When Quentin Tarantino and Robert Rodriguez made FROM DUSK TILL DAWN around the same time, they knew precisely how to make a Vampire Hooker Horror movie.
BORDELLO OF BLOOD eventually gets to a bloody, predictable ending.
Co-Writer, Producer, and Director Adler or the studio must have known they had an overpriced Direct to Video lemon on their hands, and so filled the movie with as much nudity as a whorehouse would need. Unfortunately, very little time is spent at the Bordello of Blood where the story actually takes place. Whenever the movie isn't there, there is no movie.
2 Shriek Girls.



This review copyright 2012 E.C.McMullen Jr.