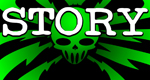 Support This Site

When You Buy My Books
E.C. McMullen Jr.
PERPETUAL
BULLET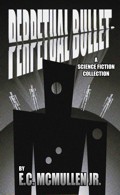 "'Some People' ... may be the standout story in the book."
-

John Grant

, Infinityplus

E.C. McMullen Jr.
WILLOW BLUE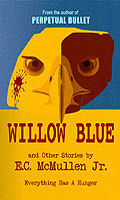 "'Willow Blue' will burrow under your skin and stay there long after you've put the book down."
- Jeffrey Reddick, Creator of
FINAL DESTINATION

IN OTHER BOOKS
E.C. McMullen Jr.'s
short story
CEDO LOOKED LIKE PEOPLE
in the anthology
FEAR THE REAPER

"This Ray Bradbury-esque is one of the most memorable and one of the more original stories I've read in a long time."
- Amazon Review

HORROR 201:
The Silver Scream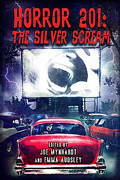 Filmmaker's Guidebook
featuring
RAY BRADBURY,
JOHN CARPENTER,
WES CRAVEN,
TOM HOLLAND,
E.C. McMULLEN Jr.,
GEORGE A. ROMERO,
and many more.



Extensively quoted in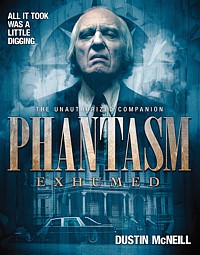 PHANTASM
EXHUMED
The Unauthorized Companion

Robert S. Rhine's
SATAN'S 3-RING
CIRCUS OF HELL

Forward by
GAHAN WILSON &
FEO AMANTE.
Featuring comics by
ALEX PARDEE,
WILLIAM STOUT,
STEVE BISSETTE,
FRANK DIETZ,
JIM SMITH,
FRANK FORTE,
ERIC PIGORS,
MIKE SOSNOWSKI,
OMAHA PEREZ,
DAVID HARTMAN,
STEVEN MANNION,
and more!

Also
IN CINEMA
E.C. McMullen Jr.
Head Production Designer

MINE GAMES


(Starring:
JOSEPH CROSS, BRIANA EVIGAN,
ALEX MERAZ)

Dept. head
Special Effects Make-Up
(SFX MUA)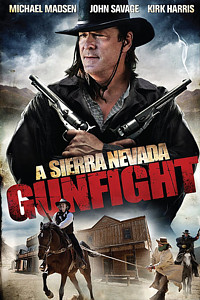 A SIERRA NEVADA
GUNFIGHT
(MICHAEL MADSEN & JOHN SAVAGE).

Production Designer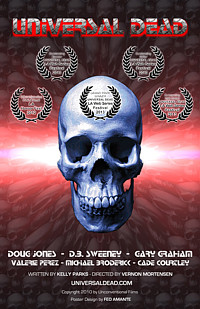 UNIVERSAL DEAD
(DOUG JONES,
D.B. SWEENEY,
GARY GRAHAM)

ART DIRECTOR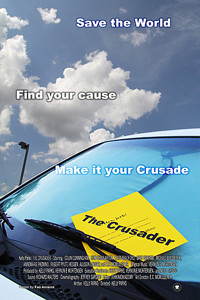 THE CRUSADER
(COLIN CUNNINGHAM,
GARY GRAHAM)
Review by
Ken King

UPGRADE

- 2018
USA Release: June 1, 2018
Goalpost Pictures, Nervous Tick Productions, Automatik Entertainment, Blumhouse Productions
Rating: USA: R
"It does not make sense that humans deliberately malfunction."
-STEM
This movie is nothing short of amazing.
Mad props to actor/director/writer Leigh Whannell. The dude is a jack of all trades and does them rather well in many instances. As an actor, he has been in such films as: STYGIAN, THE MATRIX RELOADED, THE RAZOR EATERS, SAW, SAW III, INSIDIOUS [all], CRUSH (2013), RAZE, and THE BY BYE MAN. Whannell's directorial resume include: INSIDIOUS CHAPTER III and THE INVISIBLE MAN (2020). Some of his other works as a writer are: SAW, SAW II, SAW III, DEAD SILENCE, INSIDIOUS (2010), COOTIES (2014), THE MULE (2014). Whannell also has his own adaptation of THE WOLFMAN and a television series of UPGRADE coming down the pike.
Quite the list of accomplishments, eh?
UPGRADE shows the wonderments of A.I. (Artificial Intelligence) and all the good it can do, but all the bad it is capable of in the wrong hands. What would happen if true A.I. gained sentience and moved beyond its creator's protocols and failsafes put in place to prevent a potential nightmare scenario from ever occurring?
What, indeed.
A man named Grey Trace (Logan Marshall-Green: DEVIL, PROMETHEUS, THE INVITATION) and his wife, Asha (Melanie Vallejo: DYING BREED) are ambushed by a quartet of thugs who take out their electronic car and in turn take them out.
Grey awakens in the hospital, a quadriplegic. He is visited by a kid genius, Eron Keen (Harrison Gilbertson: HAUNT, IN THE TALL GRASS), who had gotten a classic Trans Am that Grey had restored for him. Keen had also showed the couple a chip called STEM that was the next step in the evolution of A.I.
Eron offers this technology as Grey lies in bed, having given up on life and wanting to die. At first, Trace is reluctant. Then thinking back on what his day-to-day living had been like since the accident and his wife's murder, he finally accepts. The operation is done at Keen's pad and the surgery is a smashing success.
Grey is a new man.
His first job with his new abilities in place (like the Six Million Dollar Man, he's stronger. Faster. And has reflexes that are like liquid lightning) is to hunt down and take out the scum that killed his wife. He eventually finds what he is looking for, but Grey doesn't have an easy time of it. Revenge isn't an easy path to follow, that's for damn sure.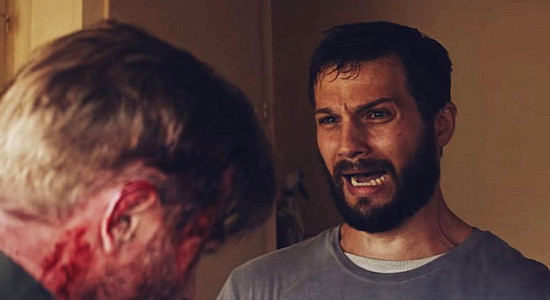 "EE-YUCK! I don't think I'm cut out for butchering people!"
To complicate matters, Grey has a cop dogging his every move, Detective Cortez (Betty Gabriel: THE PURGE: ELECTION YEAR, GET OUT, BEYOND SKYLINE, UNFRIENDED: DARK WEB, WESTWORLD [TV], COUNTERPART [TV]) who has been assigned to his case to hunt down his wife's murderers and is now on his case. She follows his every move until she happens upon the truth. When she does, I'm sure she wished she hadn't.
One last thing here before I sign off on this one, folks. The fight choreography on this film was magnificent. It's right up there with the collective films of John Woo and The JOHN WICK trilogy. I'm just saddened there wasn't more of it in the film.
FINAL THOUGHTS
Yeah, this review was a short one, I know. It can't be helped. UPGRADE was pretty cut and dry. The movie doesn't get to complicated with technical terms that lose the average viewer and is pretty easy to follow. Doing this is sometimes tricky. Directors tend to forget you can tell a story and not give a lecture on quantum physics at the same time and folks will get what you're saying. When the message gets too muddied with schematics you will lose your audience every single time. Nobody wants to go to a college lecture when they want to be entertained. A movie can't possibly get good word of mouth when an audience walks out way before the credits start rolling.
Five Shriek Girls.





This review copyright 2008 E.C.McMullen Jr.
YOU MIGHT ALSO ENJOY
(Sub-Section: MODDED HUMANS)

IRON MAN


MOVIE REVIEW
CAPTAIN AMERICA: THE FIRST AVENGER
MOVIE REVIEW
I, ROBOT
MOVIE REVIEW