Review by
E.C.McMullen Jr.

SHOULD YOU?


TIP JAR




STIGMATA

- 1999
USA Release: Sept. 10, 1999
FGM Entertainment / MGM/UA
Rated: USA: R
STIGMATA reaches pretty far for a horror movie.
While many movies that opt for a controversial theme take the well paved and approved roads of violence, foul language, sex, and misogyny, its very rare to see a movie that doesn't simply attack organized religion, but does so in such a learned and unconventional way. The fact that this movie is produced by none other than Horror schlockmeister Frank Mancuso Jr. (FRIDAY THE 13th [Movie and TV series], APRIL FOOLS DAY, BODY PARTS, SPECIES II) is even more intriguing.
As the movie opens, we are brought to a small Brazilian village where there is an upheaval of faith, not due to the lack of it, but the very opposite, for a miracle is occurring. This miracle has brought forth Catholic Priest, Father Andrew Kiernan (Gabriel Byrne: THE KEEP, GOTHIC, DARK OBSESSION, DEAD MAN, ENEMY OF THE STATE, END OF DAYS) on unofficial business. The Vatican, through the creepily sinister Cardinal Vignielli, (Jonathon Pryce: SOMETHING WICKED THIS WAY COMES, BRAZIL, MAN ON FIRE) assigns Father Andrew to seek out Catholic miracles around the world and debunk them. As both a man of God and a scientist, Father Andrew keeps an open mind to both worlds.
Within the Catholic church of this village, Father discovers the body of a Catholic Priest who has died of old age and is laid in state near the altar of the church. Since his death, it is said, the statue of the Virgin Mary weeps blood and doves have come to nest at the feet of the statue.
As holy and inspiring as these events are, they attract the thieves as well as the devout, including one young boy who steals from the body of the dead priest, his holy rosary. He sells it to the first buyer, which happens to be a U.S. American woman on vacation there and touring the marketplace. She in turn mails it to her daughter Frankie (Patricia Arquette: A NIGHTMARE ON ELM STREET 3, ED WOOD, LOST HIGHWAY, BRINGING OUT THE DEAD) living a young, dissolute and undirected party life in Philadelphia (Ahh, those Pennsylvania Party people!). The package is opened and Merry Mishaps ensue.
At first Frankie experiences painful marks on her wrists, bloody puncture marks that go all the way through to the other side. In the hospital, the emergency room doctors insist that the wounds are self inflicted. Soon Frankie is getting more wounds, this time on her feet as well as her hands. By chance she receives wounds on her back while riding a subway train in full view of the subway car's security camera as well as a Catholic Priest and Nuns. Cardinal Vignielli sends Father Andrew to investigate.
Being neither Catholic or Christian, and so never particularly scared by Supernatural movies, I saw STIGMATA with my wife, who is both C and C (yes, she has got her work cut out for her with me. Funny how love works). Neither of us found the movie to be scary as in the film's tag line: It Will Scare The Hell Into You. That doesn't make it a bad movie though. While never scary it is, at first, intriguing with an intelligent script by first time Horror Movie Writer Tom Lazarus, artful direction by First time Horror Movie Director Rupert Wainwright and powerful acting by Arquette and subdued acting by Byrne.
The possession in this movie is not of evil possessing good, but of good possessing the spiritually lost. From the start we, as an audience, know that Frankie is possessed by the dead Padre through the rosary. But the mystery here, is why. Together with Father Andrew, we will discover a secret that threatens not only the Catholic church, but all organized religion.
You will note please, that I said organized religion.
This movie promotes Christianity over the bureaucratic entrenchment of the church: Any church. While many can rightfully argue that various churches have created a focus, Asylum, and Sanctuary for believers and non believers alike; over their long history, it must also be admitted that the church has frequently refused to take a stand in the overwhelming face of evil. It is not only the Catholic or Christian churches that I paint with this brush. This is not the place for this argument here, this is a movie review, but these are the Powerful themes that will confront you when you see STIGMATA.
Unfortunately, for all its artistic expression, the movie never becomes as scary as promised. It also gets sillier than it should. While it is still far more intense than, say, THE HAUNTING (1999), STIGMATA falls short from what it could have been.
A barely earned 3 Shriek Girls




This review copyright 2000 E.C.McMullen Jr.
E.C. McMullen Jr. is a participant in the Amazon Services LLC Associates Program, an affiliate advertising program designed to provide a means for sites to earn advertising fees by advertising and linking to amazon.com.
BUY BOOKS FROM
E.C. McMullen Jr.
WILLOW BLUE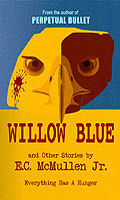 "'Willow Blue' will burrow under your skin and stay there long after you've put the book down."
- Jeffrey Reddick, Creator of
FINAL DESTINATION

PERPETUAL BULLET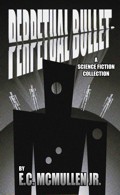 "'Some People' ... may be the standout story in the book."
- John Grant, Infinityplus

IN OTHER BOOKS
E.C. McMullen Jr.'s
short story
CEDO LOOKED LIKE PEOPLE
in the anthology
FEAR THE REAPER


"This Ray Bradbury-esque is one of the most memorable and one of the more original stories I've read in a long time."
- Amazon Review
HORROR 201: The Silver Scream
PAPERBACK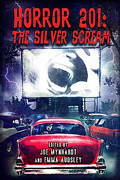 Filmmaker's Guidebook
featuring
RAY BRADBURY,
JOHN CARPENTER,
WES CRAVEN,
TOM HOLLAND,
E.C. McMULLEN Jr.,
ED NAHA,
GEORGE A. ROMERO,
and many more.
Extensively quoted in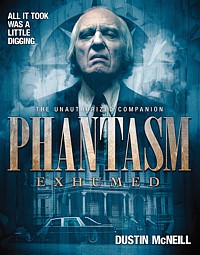 PHANTASM EXHUMED
The Unauthorized Companion

Robert S. Rhine's
SATAN'S 3-RING CIRCUS OF HELL


Forward by
GAHAN WILSON,
FEO AMANTE.
Featuring comics by
WILLIAM STOUT,
HILARY BARTA,
STEVE BISSETTE,
SPAIN RODRIGUEZ,
FRANK DIETZ,
JIM SMITH,
TONE RODRIGUEZ,
FRANK FORTE,
ERIC PIGORS,
ALEX PARDEE,
MIKE SOSNOWSKI,
OMAHA PEREZ,
DAVID HARTMAN,
D.W. FRYDENDALL,
SHANNON WHEELER,
VINCENT WALLER,
JACOB HAIR,
NENAD GUCUNJA,
STEVEN MANNION,
NORMAN CABRERA,
and more!
ALSO
IN CINEMA
E.C. McMullen Jr.
HEAD PRODUCTION DESIGNER


MINE GAMES
(Starring:
JOSEPH CROSS, ALEX MERAZ, BRIANA EVIGAN)
Dept. head
PRODUCTION DESIGNER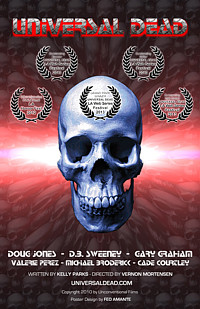 UNIVERSAL DEAD
(Starring:
DOUG JONES, D.B. SWEENEY, GARY GRAHAM)