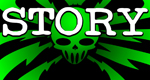 Support This Site

When You Buy My Books
E.C. McMullen Jr.
PERPETUAL
BULLET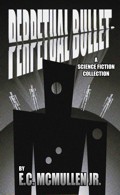 "'Some People' ... may be the standout story in the book."
-

John Grant

, Infinityplus

E.C. McMullen Jr.
WILLOW BLUE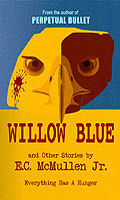 "'Willow Blue' will burrow under your skin and stay there long after you've put the book down."
- Jeffrey Reddick, Creator of
FINAL DESTINATION

IN OTHER BOOKS
E.C. McMullen Jr.'s
short story
CEDO LOOKED LIKE PEOPLE
in the anthology
FEAR THE REAPER

"This Ray Bradbury-esque is one of the most memorable and one of the more original stories I've read in a long time."
- Amazon Review

HORROR 201:
The Silver Scream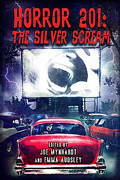 Filmmaker's Guidebook
featuring
RAY BRADBURY,
JOHN CARPENTER,
WES CRAVEN,
TOM HOLLAND,
E.C. McMULLEN Jr.,
GEORGE A. ROMERO,
and many more.

Robert S. Rhine's
SATAN'S 3-RING
CIRCUS OF HELL

Forward by
GAHAN WILSON &
FEO AMANTE.
Featuring comics by
ALEX PARDEE,
WILLIAM STOUT,
STEVE BISSETTE,
FRANK DIETZ,
JIM SMITH,
FRANK FORTE,
ERIC PIGORS,
MIKE SOSNOWSKI,
OMAHA PEREZ,
DAVID HARTMAN,
STEVEN MANNION,
and more!

Also
IN CINEMA
E.C. McMullen Jr.
Head Production Designer

MINE GAMES


(Starring:
JOSEPH CROSS, BRIANA EVIGAN,
ALEX MERAZ)

Production Designer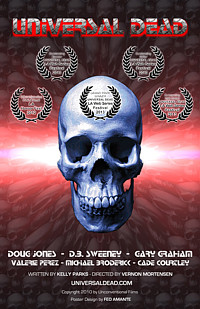 UNIVERSAL DEAD
(DOUG JONES,
D.B. SWEENEY,
GARY GRAHAM)

ART DIRECTOR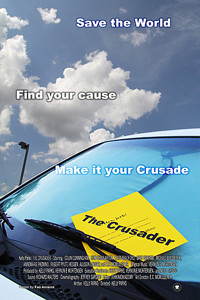 THE CRUSADER
(COLIN CUNNINGHAM,
GARY GRAHAM)
Review by
E.C. McMullen Jr.

LARA CROFT: TOMB RAIDER

- 2001
USA Release: June 15, 2001
Paramount Pictures
Rated: : Argentina: 13 / Australia: M / Chile: TE / Finland: K-11 / France:U / Germany: 12 / Netherlands: AL / Norway: 15 / Singapore: PG / Spain: T / Sweden:11 / UK: 12

CENSORED

/ USA: PG-13
Wot ho!
This movie starts out with the beautiful and deadly Laura Croft (Angelina Jolie: THE BONE COLLECTOR) skulking through a presumed tomb, lurking for a nice little bauble to add to her collection.
Now lots of women may collect knick-knacks and trinkets, though few go raiding ancient sarcophogai. But Laura is not your average woman and eBay can't hold her interest, apparently. So here is Laura of the long leg and push up bra with intimidating lips. She wears hotpants and a tank top. I guess that would be proper attire in the sweltering heat and, at any rate, this is how her bitmapped ancestor ran around for several years and several PC games.
So just as we are into accepting all of this, out pops a giant robot and proceeds to wreck havoc on both Laura and the tomb. If this was some kind of protector, then it is doing a lousy job of protecting its domain. On the other hand, if it was sent in by a demolition crew to destroy said tomb for a brand new Ikea and the requisite parking lot, then job well done, eh?
Actually it's neither. Instead it is an elaborate joke on the audience, one of many "Gotchas" scattered throughout this film and in keeping with the visual site gags that cropped up all over the TOMB RAIDER games.
The story revolves around this wossname buried in the depths of a hidden pantry beneath the stairs. To get at it, Laura, instead of bothering with cryptic locks and such, merely busts the door open. Then, finding the wossname, tick, tick, she tears it apart to reveal the "Key to the Great Secret".
Seems the planets are about to align like they do every few thousand years (don't pay attention to the science, here. This is a world where women like Laura Croft would actually go adventuring instead of sniffing at the unpopularity of such an expertise) and that means that the secret order of the Illuminati have the opportunity to take over the world again. The last time the Illuminati tried such a thing - bringing democracy to the world - they were summarily destroyed by a populace who prefered being babysat by some benighted inbred who believed that he was better than his people by virtue of the fact that his sister was also his wife's mother.
So Laura Croft has this mysterious key and soon everyone who could possibly want to kill her for it is having a go. Her family estate gets destroyed by the bad guys, led by the mercenary Manfred Powell (Ian Glenn: DARKNESS). During the Croft Castle home invasion her servants, Bryce the computer geek (Noah Taylor) and Hillary The Butler (Chris Barrie), set about demonstrating exactly why the royals would think them low class. Laura does physical stunts that are nothing short of superhuman. You'd never see dusty old Prince Phillip or Charles capable of such shenanigans. On the other hand the Queen Mum, who is over 101 years old and doesn't look a day over 80, could be capable of anything: so who knows?
All we, the audience, know is that Laura must traipse around the world in 24 hours to get the rest of the puzzle peices together before the bad guys do it first. This is where the Thriller aspects of this movie come in as well as all the Creature-Feature cgi effects and a possible ghost or two. She also learns more about her deceased father, Lord Richard Croft (played by real life Jolie Pap, Jon Voight: ANACONDA, TRANSFORMERS)
Purists - and I use the term lightly - who cleave to Indiana Jones movies as having less plot holes and being more realistic have been snubbing Lara Croft TOMB RAIDER.
Personally I think it's a sexist anti-girl thing. If you want to talk about gaping plot holes, then who can forget RAIDERS OF THE LOST ARK where Indiana hitches a ride on the outside of a German submarine and sails across the freezing Atlantic seemingly hundreds of miles without that sub ever ONCE going underwater???
Still, a positive thing to be said about the Indiana Jones movies is that Indy was not only respectful of the indigenous peoples of the places he visited, he needed their help and knowledge. He was interested in what they did, how they lived, and how to best get along with them with as little offense as possible. All Laura does is borrow their phone and look suitably soppy when a monk hauls out that old chestnut of: "I knew your father. He was a great man."
Everything else involves her wrecking as much ancient artifacts, buildings, and temples as she possibly can in her hunt to find the items before the supposed bad guys get them. All in all, whether good or bad, both sides are tearing the living hell out of Third World history in order to preserve their own version of Merry Olde England.
This is not a liberal twist take on the movie, this is the actual PLOT! I'm not sure if the writers realized this or not, or whether the relics of non-whites even mattered to them. Who knows?
The Special Effects are good, but nothing to write home about. In fact, everything about this movie is just a bit above mediocre, but nothing to write home about.
Never the less. TOMB RAIDER is the best movie I've ever seen that was based on a computer game and I'm giving it 3 ShriekGirls.




This review copyright 2001 E.C.McMullen Jr.