Review by
E.C. McMullen Jr.

WHEN THE SCREAMING STOPS


aka

Las Garras de Lorelei


aka

The Loreley's Grasp Double Feature

- 1974
USA Release: AUG! 24, 1976
Rating: USA: R
Sometimes it is unfortunate that I only speak two languages (English and Spanish) because there just aren't enough words in either language to tell you just how bad WHEN THE SCREAMING STOPS is. IT IS JUST SO HORRIBLY BAD! It is so mind numbingly, teeth grindingly, godawfully, poorly, stupidly, dumbfoundingly BAD! ¡Es Mucho malo y horrendo! ¡Hace mi mente enferma!
And I can't stop watching it!
This Spanish made movie presumably takes place in Germany - never mind the fact that there doesn't seem to be a single German name among the credits.
It said on the old American distributor VHS box that the screen will every time something violent happens (just like in real life!).
UPDATE: This review is from the cleaned up restored Spanish version (The Director's vision).
The movie starts out with a luscious young thing (think I'm being sexist? Trust me on this one - all of these women were picked for their looks first and all secondary considerations were thrown out the door) who is quickly and unfortunately slashed to ribbons in the first two minutes by some reptilian varmint that then goes and eats her heart.
My first thought was "Wow! A monster that rips your heart out and eats it. This must be a female monster!"
As it turns out, I was RIGHT! The dino monster wears a bikini! And you can tell that she is a BAD monster because she wears a BLACK bikini! This is no Lloyd Kaufmann schlock fest. I love Lloyd but even HE can't make movies this atrociously bad without a nod and a wink to the audience. This movie was filmed and played straight. You can tell that the actors think they are making some kind of serious SF/Horror in the vein of THE PLANET OF THE APES or ALIEN.
So the beautiful school marm (Silvia Tortosa: HORROR EXPRESS) of the local girls school goes to the nearby tavern (because all problems in Europe can be solved by a bunch of drunks) to ask the village elders (who ain't getting any younger with THAT kind of lifestyle) to help protect her and her "girls" from the ravishes of that ravishing monster.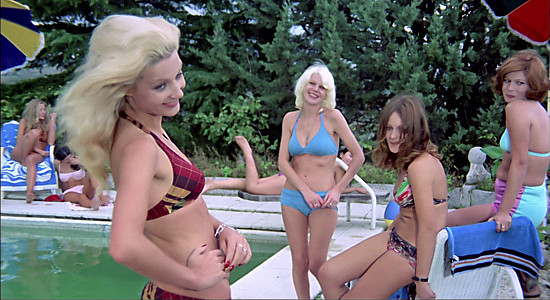 This is a "GIRL'S" School?!?
"Girl's School" HA! The youngest one is 20 if she's a day! They appear to be learning how to dance around a swimming pool in their bikinis: don't laugh, you can make a career of that in Southern California (unfortunately this takes place in chilly old Germany. The wind gets pretty nipply there. Ah well.)
Someone or something is brutally murdering the girls of the school. Yet the survivors scream one minute then giggle and frolic the very next day!
Naturally all this arouses the bleary interest of the old sots of the tavern.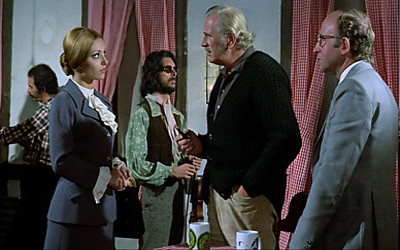 Now don't you worry your pretty little head.
And your little waist... and your curvaceous...
The portly head of the village (Luis Induni: THE HORRIBLE SEXY VAMPIRE, DR. JECKYLL Y EL HOMBRE LOBO, NIGHT OF THE HOWLING BEAST) smirks at the beautiful school marm condescendingly. He tells her not to worry her pretty little head about the monster, for they have enlisted the aid of (tah dah!) The Hunter! And The Hunter is a man of many years of experience! With this reassurance (Sheesh!) the Schoolmarm thanks them one and all for their trouble - but you and I know that something is amiss because the local blind man is standing in a corner and gripping his fiddle furiously. He knows that Merry Mishaps will soon occur!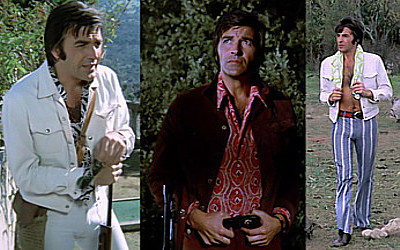 This is what Sirgurd wears to go hunting.
You won't believe what he wears to go dancing!
So here comes The Hunter, Sirgurd (Tony Kendall: RETURN OF THE BLIND DEAD). He looks like a cross between Sean Connery and Hugh Hefner and wears clothing that NO hunter in his right mind, regardless of culture would EVER wear. A paisley polyester satin disco shirt, an oversized stiff white jacket to bulk up his small shoulders, and pants so tight and thin you can tell he is uncircumcised.
More people die however and, whatever other faculties The Hunter may have, he's a limp noodle in solving the murders or protecting the schoolgirls. He also fights off the advances of these go-go dancing-around-the-pool girls.
He turns them down.
He fights them off.
Some of these "girls" look to be in their 30's and he fights them off.
A local Professor / scientist (Ángel Menéndez: UN VAMPIRE PARA DOS, FRANKENSTEIN'S BLOODY TERROR, SANTO FACES DEATH, THE LEGEND OF BLOOD CASTLE, EMMA PUERTAS OSCURAS, VIOLENT BLOOD BATH, NIGHT OF THE SKULL, NIGHT OF THE WALKING DEAD, THE KILLER IS NOT ALONE, SCHOOL OF DEATH) who mostly keeps to himself, sees that Sirgurd is having problems. Instead of prescribing Viagra, he shows him this amazing knife he has invented - in his apartment - with little more than a child's microscope, a few beakers and a Bunsen burner. What does it do? Why it stops people from turning into lizards!
Why did the professor spend his life trying to invent such a knife? He's funny that way. How does the knife work? Why IT'S RADIOACTIVE! You know all about movie radiation - it makes ants gigantic, shrinks men or turns them invisible, and if you get it in your ear it makes you psychic!
Later, The Hunter realizes that this knife, so damn radioactive that it can halt the metamorphosis of a godling, or kill a monster, is a pretty useful tool, so he STICKS IT IN HIS BELT!
Now I don't know where YOU are from and I don't care if you're from Germany OR Spain, but how many shades of stupid do you have to be to stick a Radioactive hunk of metal, sharp metal I might add, near your boys? The scene is jaw droppingly insane!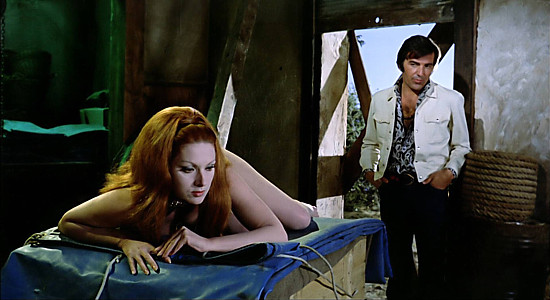 Presenting: LORELEI!
Now we have the incredibly hot, red haired babe in the black bikini (Helga Line: HORROR, NIGHTMARE CASTLE, LA SAGA DE LOS DRACULA, HORROR EXPRESS, GRAVE DESIRES, THE DEVIL'S BREATH) traipsing through the freezing German mountain air. She is a skittish one to be sure and has all the personality of some of my more psychopathic girlfriends of the past. Still, she IS beautiful and DOES like to run around wearing a tiny bikini with the air so cold and nipply.
But wait, isn't that a BLACK bikini she is wearing? Sayyy, you don't suppose . . . ?
And just where the hell did she come from and what the hell does she have to do with anything? You know, if I lived in this village I DAMN sure wouldn't be hanging out all day in the Tavern with the village elders! Not with all the beautiful women around here who wear only bikinis all day! These village men are spoiled! That's what! They don't know how good they got it!
Sirgurd ain't from around these parts so he cannot help but notice her. She is shy, as I said, but eventually, The Hunter wears down the resistance of this delectable creature and romances her in an old decrepit shack. Hey, when you've got it, you've got it and you don't need flowers or a nice car either!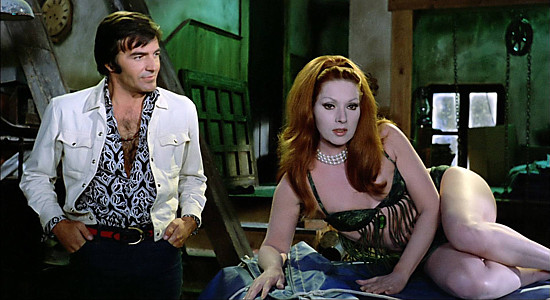 Say! Did you know you have a tick hanging off the back of your head?
So after some arcane oddness, The Hunter takes the bikini babe in his arms and kisses her.
"No man has ever done that to me before." she says.
WHA-AT????
What the hell is wrong with the men in that town? Are they all wearing radioactive knives too close to their boys or something? Friends, if I was living in that town and this sexy thing was running around in a bikini all the time, I don't care if she invited me into an old hovel or under a bridge! Once she started putting the moves on me like that, kissing her is the LEAST I would do!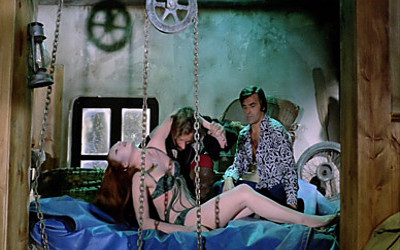 How they pick up women in the olde country.
So then it appears that the bikini babe is named Lorelei. She and Sirgurd are making love, but then she seems to have an orgasm (or something) and passes out. Sirgurd looks perplexed.
He obviously doesn't have "years of experience" with this situation.
But hark! Another guy wanders in (Luis Barboo: RETURN OF THE BLIND DEAD, CONAN THE BARBARIAN), picks up Lorelei and walks away with her - and Sirgurd just sits there and does NOTHING!
BARBOO!!!
Now I understand that you have to respect other cultures (to a point) and "when in Rome . . . " but just what the hell kind of village is this anyway? Some clown comes walking in on me and my girl doing the humpy-monkey and its ass whupping time!
Not The Hunter.
No he just sits there and takes in these foreigners with ways different than our own. Maybe later they will do some folk dancing!
Okay, so in short strokes (Kheee! Hee! Hee!) the thing is this: Lorelei is damn near immortal and only changes into an ugly beast at night (as opposed to first thing in the morning when I wake up - like normal women) and then goes about eating the hearts of other women (When Cat Fights Go Bad: Tonight on FOX!). She loves Sirgurd, she loves sex, she can live and stay young damn near forever. Also, she has hot lovely assistants who are ga-ga for The Hunter. Will he be her lover forever or will he kill her?
Tough choice. I know I would have gave it a bit more thought than ol' Sirgurd does.
Suffice it to say that this is a mind screamingly awful movie with lots of gore and nudity and insanely bad everything else. Thank you famed Spanish Horror Director Amando de Ossorio (MALENKA, TOMBS OF THE BLIND DEAD, RETURN OF THE BLIND DEAD, ATTACK OF THE BLIND DEAD, TERROR BEACH, THE SEA SERPENT) who also wrote most of his own horror movies. Just knowing that there was someone who was making movies like this makes the world a richer place.
I kid you not.
Because Amando didn't set out to make crap. There is nothing in his movies that show he knew he didn't have what it takes to make a good movie and went for the pretense of making intentional shlock. Amando cared. He did his best with what talent and budget he had.
His creature may be laughable, though no worse than anything seen in Star Trek or Kolchak of that era, but he made sure his gore effects were jaw drop realistic.

It's all fun and games until Ossario threw a quick shot like this at you
and you would swear he killed someone for real.
Some low budget directors have asked that I not post reviews of their movies because I gave them 3 or more Negative Shriek Girls (Hey, I won't rag on small direct-to-video Indie filmmakers, so shut your cake hole). But how can such people neglect the genuine love so many of us Horror fans feel for such movies? At least Lloyd Kaufmann recognizes our devotion. I hope Amando did too. You might as well just go ahead and buy WHEN THE SCREAMING STOPS because once seen, you sure won't be able to stop watching it.
5 negative Shriek Girls for sure!






This review copyright 2001 E.C.McMullen Jr.