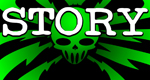 Support This Site

When You Buy My Books
E.C. McMullen Jr.
PERPETUAL
BULLET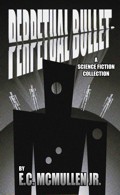 "'Some People' ... may be the standout story in the book."
-

John Grant

, Infinityplus

E.C. McMullen Jr.
WILLOW BLUE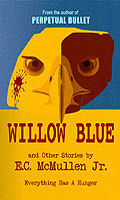 "'Willow Blue' will burrow under your skin and stay there long after you've put the book down."
- Jeffrey Reddick, Creator of
FINAL DESTINATION

IN OTHER BOOKS
E.C. McMullen Jr.'s
short story
CEDO LOOKED LIKE PEOPLE
in the anthology
FEAR THE REAPER

"This Ray Bradbury-esque is one of the most memorable and one of the more original stories I've read in a long time."
- Amazon Review

HORROR 201:
The Silver Scream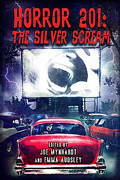 Filmmaker's Guidebook
featuring
RAY BRADBURY,
JOHN CARPENTER,
WES CRAVEN,
TOM HOLLAND,
E.C. McMULLEN Jr.,
GEORGE A. ROMERO,
and many more.

Also
IN CINEMA
E.C. McMullen Jr.
Head Production Designer

MINE GAMES


(Starring:
JOSEPH CROSS, BRIANA EVIGAN,
ALEX MERAZ)

Dept. head
Special Effects Make-Up
(SFX MUA)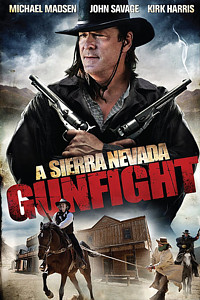 A SIERRA NEVADA
GUNFIGHT
(MICHAEL MADSEN & JOHN SAVAGE).
Review by
Kelly Parks

KISS OF THE VAMPIRE

- 1963
USA Release: Sep. 11, 1963
Hammer Films / Universal International Pictures
Rated: No rating
Vampires are notoriously bad kissers, what with the whole "breath like a charnel house" thing.
KISS OF THE VAMPIRE was directed by Don Sharp (CURSE OF THE FLY) and written by Anthony Hinds (THE GHOUL, LEGEND OF THE WEREWOLF, THE BRIDES OF DRACULA, DRACULA HAS RISEN FROM THE GRAVE, FRANKENSTEIN CREATED WOMAN). It opens with a funeral taking place in an early 20th century town in Hungary. The coffin is lowered into the ground and the priest is saying a benediction when an old man wearing a hat approaches. He is Professor Zimmer (Clifford Evans: THE CURSE OF THE WEREWOLF) and he holds out his hand for the grave digger to hand him a shovel. You think he's going to toss the first shovelful of dirt on the deceased when instead he violently plunges the shovel through the roof of the coffin! A horrible scream comes from inside and blood wells forth, causing panicked flight from the funeral-goers.
Cut to Gerald (Edward de Souza: THE SPY WHO LOVED ME, THE THIRTY-NINE STEPS) and Marianne (Jennifer Daniel: SPELL OF EVIL, THE REPTILE) Harcourt driving a very early model motor car through the woods. They run out of gas and Gerald goes looking for help, leaving Marianne to have a very scary moment and a brief meeting with Professor Zimmer. Gerald and Marianne end up in the same small town and get a room at a place called the Grand Hotel, even though it's not especially grand. In fact it's hard to understand how they stay in business since it's clear they haven't had any guests in a very long time.
They hardly get a chance to unpack when a letter arrives addressed to "the English Gentleman". It's an invitation to dinner from Dr. Ravna (Noel Willman: THE ODESSA FILE, THE REPTILE, THE MAN WHO KNEW TOO MUCH), who lives in the castle on the hill. Marianne is hesitant but Gerald is all for it so they hop in the provided carriage.
Meanwhile Professor Zimmer has an encounter with a female vampire named Tania (Isobel Black: TWINS OF EVIL, CURSE OF THE MUMMY) in the graveyard. She gives him a nasty bite on the hand and runs away to Dr. Ravna's house, where she stays hidden from the guests.
Dr. Ravna, his son Carl and his daughter Sabena are excellent hosts and a good time is had by all. But when Carl plays a tune of his own composition on the piano, Marianne seems strangely mesmerized. What is going on here?
Petrol for the Harcourt motor car is being delivered by ox cart and will take a few days to arrive so they have to remain in the rainy little town (the cloudy weather proves to be an important plot point later on). Ravna invites them to a party at his place and having nothing better to do, they accept, despite some vague, drunken warnings from Professor Zimmer. The party is a lot of fun right up until Gerald gets drunk and passes out and Marianne is kidnapped by the Vampire cult.
When Gerald wakes up and asks about his wife everyone says, "What wife, you drunken sot? You came here alone. Now get out!" Even the hotel staff backs up the no wife story. Only Professor Zimmer dares to speak the truth (which would have made me ask, "Why didn't you tell us about the vampires before we went to the party?")
Can Gerald and Professor Zimmer rescue Marianne? Does Marianne want to be rescued? I can't tell you that but I what I can tell you is, for its kind, this is a decent horror flick.
Except for the ending, which made me wonder just what kind of guy Professor Zimmer is and why didn't he just do what he does at the end much sooner? But hokey endings are part of the formula (though usually not this bad) so if you like the old Hammer horror films, you'll like this one. I give KISS OF THE VAMPIRE three shriek girls.




This review copyright 2005 E.C.McMullen Jr.