Review by
Kelly Parks

BEFORE IT'S TOO LATE!


TIP JAR




20 MILLION MILES TO EARTH

- 1957
USA Release: June, 1957
Morningside Movies / Columbia Pictures
USA: NR
The first manned mission to Venus is highly classified! It's double plus Top Secret, because . . . I guess.
20 MILLION MILES TO EARTH, directed by Nathan Juran (THE DEADLY MANTIS, ATTACK OF THE 50 FOOT WOMAN) and written by Christopher Knopf and Robert Creighton Williams (who were both used to writing only westerns) opens with some pointless narration about the distances man has traveled into space and who knows what strange things lurk, etc. A much better opening occurs moments later when we see a fishing boat near a small coastal village in Sicily. A perfectly normal day until a huge rocket plane comes roaring out of the sky and crashes into the sea. The two brave fishermen and their young assistant Pepe (Bart Braverman: RUNNING RED, ALLIGATOR) reach the rapidly sinking space ship and climb aboard looking for survivors. They manage to pull two injured astronauts out before the rocket slips beneath the waves.
Excited locals gather around and do their best to help when the injured men are brought to shore. In all the activity nobody notices little Pepe as he discovers a large plastic container from the ship has washed up on shore. It contains a gelatinous mass that looks rather . . . egg-like.
Meanwhile, back at the Pentagon, General McIntosh (Thomas Browne Henry: THE BRAIN FROM PLANET AROUS, BLOOD OF DRACULA, SPACE MASTER X-7) and his staff are wondering what happened to the astronauts they sent to Venus. His chief scientist, Dr. Judson Uhl (John Zaremba: EARTH VS. THE FLYING SAUCERS, FRANKENSTEIN'S DAUGHTERS), pinpoints the crash site in the Mediterranean.
The locals know a man named Dr. Leonardo (Frank Puglia: THE BLACK ORCHID, THE SWORD OF ALI BABA) is in the area doing some research so they go to him to ask for medical help with the astronauts, but it turn's out that Leonardo's Ph.D. is in zoology. However, his grand daughter Marisa (Joan Taylor: EARTH VS. THE FLYING SAUCERS) is one year away from her M.D. While Marisa goes on her errand of mercy, young Pepe shows up with the weird egg for sale. Dr. Leonardo is intrigued by the strange object and pays Pepe's price (just enough to buy a cowboy hat).
One of the two rescued astronauts is covered with strange marks and obviously infected with an alien disease. The other, Col. Robert Calder (William Hopper: THE DEADLY MANTIS, CONQUEST OF SPACE), just has enough bumps and scratches to look heroic. The diseased astronaut dies and strangely no one is concerned about plagues or quarantines. Sort of an afterthought, I guess.
BLU-RAY
Man does this disc have a lot of goodies! Including interviews with Ray Bradbury and Ray Harryhausen.
On this disc you will discover, among other things, how the screenwriters and producers of this movie stole Ray Bradbury's story and how they got caught!
HA! The extras alone are worth the price!
Calder and Marisa irritate each other and we all know where that's going. Calder's friends from the Pentagon show up and the search is on for the most dangerous thing brought back from Venus: a gelatinous egg.
Meanwhile, back at Dr. Leonardo's trailer, the egg has hatched and a small creature that looks like a lizard man has emerged. The little monster is more curious than dangerous and Dr. Leonardo's main concern is reaching a zoo in a major city so he can get credit for the discovery. The most noticeable characteristic of the creature is that it seems to be growing really fast.
So just as fast, let's have a
!!!SCIENCE MOMENT!!!:
I can say one good thing and one bad thing about the science here.
First, the way Venus is described (but never shown) here is perfectly accurate for 1957. After nearly a century of study using the best telescopes and scientific minds available, it had been determined that Venus was a rain forest version of Earth, hot and humid and perpetually shrouded in clouds. Images of jungles and mists and endless rain seemed about right. Then NASA launched the first interplanetary space probe, Mariner 2 (Mariner 1 had a launch failure) in 1962. In one brief fly-by everything we thought we knew about Venus was shown to be wrong.
Continued at !!!SCIENCE MOMENT!!!/20Million Miles To Earth.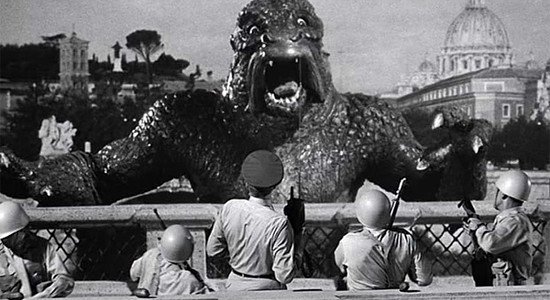 The most notable thing about this movie is that it represents the debut of Ray Harryhausen (MIGHTY JOE YOUNG, MYSTERIOUS ISLAND, EARTH VS. THE FLYING SAUCERS, THE BEAST FROM 20,000 FATHOMS, IT CAME FROM BENEATH THE SEA, CLASH OF THE TITANS) and his special brand of visual effects. He used his own version of stop motion photography that brought creatures to life in a remarkably believable way. Harryhausen is a legend in the special effects business (remember the restaurant, "Harry Hausen's", in MONSTERS, INC.?)
The creature (referred to as an Ymir in the alternate title "The Giant Ymir") is a sad figure, never intentionally hurting anyone until it's attacked and obviously confused and frightened in spite of being very dangerous. In fact, the creature is a vastly better actor than anybody else in this movie, which is why I can only give 20 MILLION MILES TO EARTH two shriek girls.



This review copyright 2003 E.C.McMullen Jr.