Lucio Fulci's
ZOMBIE NEWS

ZOMBIE

aka

Zombi 2

- 1979
USA Release: July 18, 1980
Variety / Blue Underground
Rating: Finland:

CENSORED-BANNED

/ France: 16 / Germany: 18 / Italy: VM18 / Norway:

BANNED

/ UK: 18 / USA: Unrated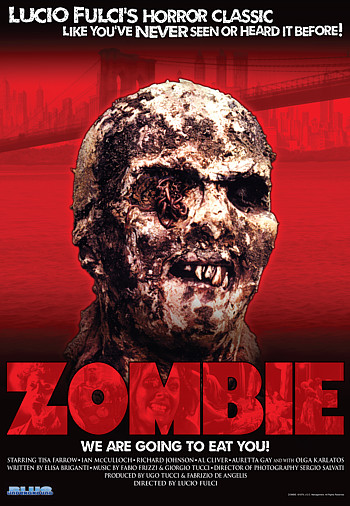 From David Szulkin
Nationwide Theatrical Release of Lucio Fulci's ZOMBIE
Experience the Italian horror maestro's gore classic as you've never seen or heard it before, digitally restored and remastered!
October 3, 2011 (LOS ANGELES) --- Blue Underground is bringing its digitally restored and remastered version of Lucio Fulci's ZOMBIE to theaters across the U.S. and Canada this month. The exclusive midnight screenings give fans the chance to experience Fulci's horror classic as it's never been seen or heard before in advance of Blue Underground's release of ZOMBIE on Blu-ray disc.
A listing of theaters and dates is attached; all screenings will take place on October 21 & 22, 2011, except where noted. Theaters and showtimes are online now at Blue-Underground.com/zombie/
See the new trailer for ZOMBIE.
The late, great Lucio Fulci is known to horror fans for such wildly imaginative and outrageously gory films as THE BEYOND, HOUSE BY THE CEMETERY, and CITY OF THE LIVING DEAD; his influence continues to be felt in the work of contemporary genre directors including Eli Roth (CABIN FEVER, HOSTEL) and Guillermo del Toro (HELLBOY, PAN'S LABYRINTH).
Originally released in Italy as an unofficial sequel to DAWN OF THE DEAD, Fulci's ZOMBIE is arguably the director's most popular movie and remains one of the most eye-skewering, skin-ripping, gore-gushingly graphic horror hits of all time! ZOMBIE stars Tisa Farrow (THE GRIM REAPER), Ian McCulloch (CONTAMINATION), Al Cliver (CANNIBALS), and Richard Johnson (THE HAUNTING).
Blue Underground is proud to present ZOMBIE in a new 2K High Definition transfer from the original uncut and uncensored camera negative. Each frame has been lovingly restored to perfection under the supervision of cinematographer Sergio Salvati (THE BEYOND), and the soundtrack has been remastered in 5.1 Dolby Digital Surround Sound to create the most pristine, mind-blowing version of the movie ever seen.

How To Make A Beautiful Zombie - A Look at Restoring Fulci's ZOMBIE in HD
"We are very excited about this theatrical release of ZOMBIE," says Blue Underground founder and president William Lustig. "We spent hundreds of hours working by hand to restore every frame of the movie. When we premiered our restoration of the film at Fantastic Fest in Austin, fans told us that ZOMBIE looks like it was made yesterday!"
Blue Underground's Ultimate Edition of ZOMBIE will be released as a 2-Disc Blu-ray and 2-Disc DVD on October 25, 2011.
"When I first saw ZOMBIE, my mind exploded! After the movie ended, I didn't know if I had dreamed it, because surely such movies didn't exist! You are about to see a movie that is created by one of the most brilliant minds in the genre, that is full of 'Oh, my God!' moments that you will not believe....visceral satisfaction fully guaranteed! Fulci was a ferocious mind, and ZOMBIE is his most savage movie."
– Guillermo del Toro, director of Hellboy and Pan's Labyrinth
"One of the all-time great horror classics, Fulci's ZOMBIE contains the greatest scene ever committed to celluloid, and that is a zombie fighting a shark. Fulci put a stuntman dressed as a zombie in a tank with a live shark and made them fight - it's one of the craziest, most insane and irresponsible scenes ever put on film. This was 1980, years before CG. And the zombie wins! To this day, nobody knows how in the hell he did it, it's simply jaw-dropping. There's nothing you will see in any modern zombie movie that comes close to what Fulci did in 1980. Viva Fulci!"
– Eli Roth, director of Hostel and Cabin Fever
For more information about Blue Underground, visit Blue-Underground.
Follow Blue Underground on Twitter at Twitter.com/BLUnderground.
This news copyright 2011 E.C.McMullen Jr.
E.C. McMullen Jr. is a participant in the Amazon Services LLC Associates Program, an affiliate advertising program designed to provide a means for sites to earn advertising fees by advertising and linking to amazon.com.
BUY BOOKS FROM
E.C. McMullen Jr.
WILLOW BLUE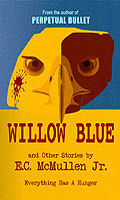 "'Willow Blue' will burrow under your skin and stay there long after you've put the book down."
- Jeffrey Reddick, Creator of
FINAL DESTINATION

PERPETUAL BULLET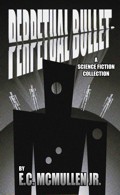 "'Some People' ... may be the standout story in the book."
- John Grant, Infinityplus

IN OTHER BOOKS
E.C. McMullen Jr.'s
short story
CEDO LOOKED LIKE PEOPLE
in the anthology
FEAR THE REAPER


"This Ray Bradbury-esque is one of the most memorable and one of the more original stories I've read in a long time."
- Amazon Review
HORROR 201: The Silver Scream
PAPERBACK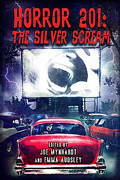 A tome of interviews with
RAY BRADBURY,
JOHN CARPENTER,
WES CRAVEN,
TOM HOLLAND,
E.C. McMULLEN Jr.,
ED NAHA,
GEORGE A. ROMERO, and many more.
Extensively quoted in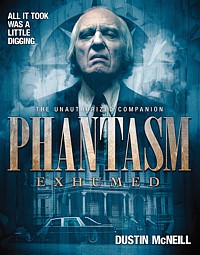 PHANTASM EXHUMED
The Unauthorized Companion

Robert S. Rhine's
SATAN'S 3-RING CIRCUS OF HELL


Forward by
GAHAN WILSON,
FEO AMANTE.
Featuring comics by
WILLIAM STOUT,
HILARY BARTA,
STEVE BISSETTE,
SPAIN RODRIGUEZ,
FRANK DIETZ,
JIM SMITH,
TONE RODRIGUEZ,
FRANK FORTE,
ERIC PIGORS,
ALEX PARDEE,
MIKE SOSNOWSKI,
OMAHA PEREZ,
DAVID HARTMAN,
D.W. FRYDENDALL,
SHANNON WHEELER,
VINCENT WALLER,
JACOB HAIR,
NENAD GUCUNJA,
STEVEN MANNION,
NORMAN CABRERA,
and more!
ALSO
IN CINEMA
E.C. McMullen Jr.
HEAD PRODUCTION DESIGNER


MINE GAMES
(Starring:
JOSEPH CROSS, JULIANNA GUILL, BRIANA EVIGAN, ALEX MERAZ)