Review by
Kelly Parks

CONTAMINATION

aka

ALIEN CONTAMINATION

- 1980
USA Release: June 11, 1982
The Cannon Group
Rating: France:-12 / Germany:18 / USA: R
I'm in the mood to watch a movie. I want one with an alien monster, alien eggs on board a ship, and chest explosions. Yeah, that one! What's it called?
CONTAMINATION was directed by Luigi Cozzi (THE BLACK CAT), using the Americanized name "Lewis Coates". Mr. Cozzi and Erich Tomek (NAKED SUPER WITCHES OF THE RIO AMORE) wrote the screenplay.
The story opens with a police helicopter patrolling Manhattan. The helo is directed to check out a large cargo ship coming in to the harbor. The ship doesn't respond to radio calls and is approaching land much too fast. The chopper can't see anyone on deck and jumps to the amazing conclusion that maybe a disease has wiped out the crew. How insightful.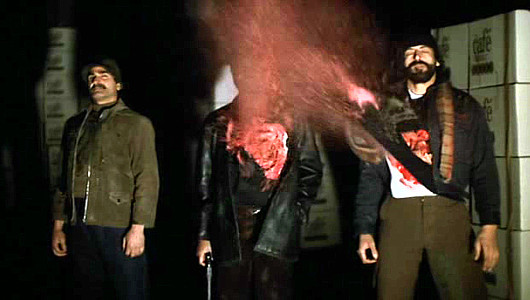 TONIGHT on an All New JACKASS! The boys get into competitive chest explosions!
Cut to later that night, when the ship is in dock. Apparently a rescue team was able to reach and stop the ship before it ran aground. Police Lt. Tony Aris (Marino Mase: THE CORPSE WHICH DIDN'T WANT TO DIE) leads a team from the health department on board. Bloody bodies are quickly located, looking as though they exploded. A check of the cargo hold reveals boxes marked coffee but one box has broken open and inside are green eggs. (Sorry, no ham).
One of the eggs is pulsating, of course, so naturally the team investigates:
Soon-to-be-dead-guy #1: "Don't touch them! It could be dangerous!"
Soon-to-be-dead-guy #2: "Hey, don't worry."
As soon as they touch the egg it pops, spewing green goo on everyone. The immediate and amazing effect of the goo is Blam! Everybody touched by the tiniest drop has their chest exploded by a cheesy but kinda cool special effect. Tony the cop is the only survivor.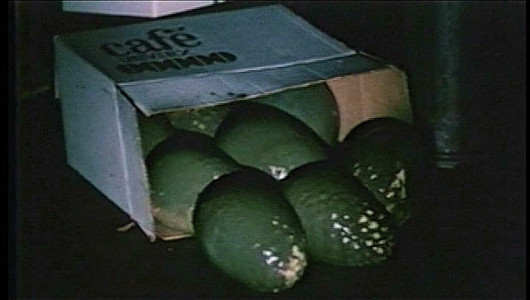 Green Alien Eggs come 8 to a box, but they're cheaper by the dozen
The Federal government steps in, or at least the form of the Federal government that an Italian sci-fi movie director imagines of America. Colonel Stella Holmes (Louise Marleau: SATAN'S SABBATH, BLACK MIRROR) of Internal Security brings Tony in to her spaceship-like office and has him decontaminated. They examine the records for the cargo ship and find the warehouse where the boxes of "coffee" (from South America) were supposed to be delivered. A SWAT team sent to investigate discovers many more eggs guarded by bad guys who kill themselves rather than be captured. Clearly there's a green egg conspiracy afoot.
The Colonel realizes the eggs look familiar. They look just like the ones described by an astronaut named Hubert (Ian McCulloch) who was part of a two-man expedition to Mars a few years before. He and his partner Hamilton (Siegfried Rauch) investigated an ice cave at Mars' north pole and found...
But that would be telling, so instead I'll offer a refreshing
!!!SCIENCE MOMENT!!!:
There's a lot I could say about people exploding and how it's not easy to make people explode because we have so many orifices, which makes it hard to build up that much pressure. But I'll skip that and address the statement the movie makes about these being "silicon" life forms. All life on Earth is carbon based in the sense that the large organic proteins that make up living things are only possible because carbon atoms can form so many molecular links. In fact "organic" doesn't mean "living" it means "carbon compound."
Silicon is directly below carbon on the periodic table, which means that its properties are similar. This is why science fiction writers have often speculated about silicon-based life forms. However silicon chemistry takes place at much higher temperatures than carbon, which makes cold Mars an unlikely place of origin. But it's a big universe. Who knows?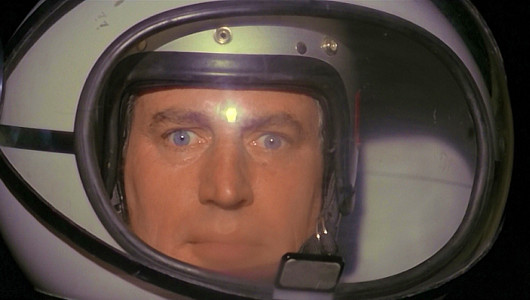 In Future Space Missions, Astronauts will wear Motorcycle helmets under their Space helmets - with metal snaps for their plastic face plates. But they won't wear those face plates 'cuz they wanna look Cool!
The DVD comes with a short documentary where Mr. Cozzi first makes the statement that, "it's not my style to copy other movies." But then he proceeds, without embarrassment, to describe how this film was inspired by the movie ALIEN. He also freely admits to borrowing from THEM, INVASION OF THE BODY SNATCHERS, and QUATERMASS 2. Think of it more as homage than a rip-off. Cozzi is clearly a genuine sci-fi fan in a land where that is unappreciated (according to him).
Along with the documentary, the DVD includes a graphic novel version of the story (too bad the movie didn't follow the graphic novel more closely – there would have been some cool nudity). All these things add together to be a good bad movie experience, which is why CONTAMINATION gets three negative shriek girls.




This review copyright 2003 E.C.McMullen Jr.