Back in 2010 I began preproduction work on a feature film we shot in 2011. And by "We" I mean long time feoamante.com alumni Kelly Parks (LAST CALL, THE CRUSADER, UNIVERSAL DEAD) and our more recent collaborator, Vernon E. Mortensen (LAST CALL, THE CRUSADER, UNIVERSAL DEAD).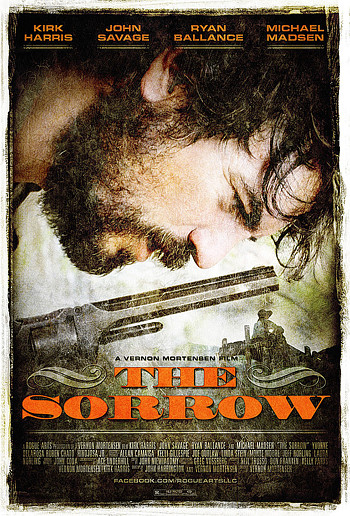 See the billing? Yeah, that don't sell movies, so...
While Kelly worked on the picture as a cameo "Dead Miner" his actual function was as a Producer (there were 14 of them*).
However for this project, THE SORROW was Vernon's baby all the way. Where he had served as editor on my short film, LAST CALL, and as director of the first episode of THE CRUSADER, and director of all of three episodes of UNIVERSAL DEAD, THE SORROW was co-wrote, produced, and directed by Vernon. It's pretty much all his vision exactly the way he wanted it.
The entire movie was shot on exterior sets, and about 95% of it took place in the Sierra Nevada mountain range North east of San Diego, California. It was there that I lived in a camper for the four week shoot, literally "off the grid", except for weekends.
For name recognition, THE SORROW starred Michael Madsen (SPECIES, SPECIES II, KILL BILL, SIN CITY) and John Savage (The Deer Hunter, The Onion Field, Inside Moves, The Thin Red Line, The New World, Kill Your Darlings).
Still, being an indie movie, it took until April 2011 before shooting was wrapped and the rest of the year and part of 2012 for post production to complete. After that it was all film festivals until finally in late 2012, a distributor picked it up.
The title of THE SORROW was changed by the distributor to the more "Action" title of A SIERRA NEVADA GUNFIGHT.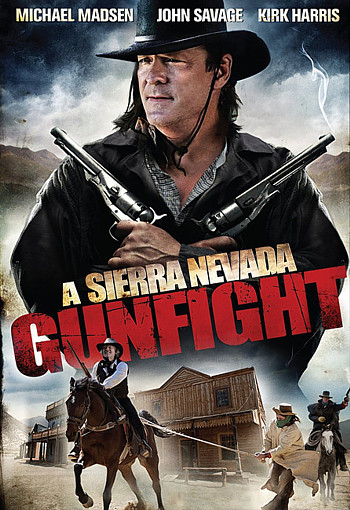 Now THAT'S a billing that sells movies!
Cool with me. I know I did a fine job on it as SFX Make-Up Artist (see my work on it Here) as well as stunt-double for Michael (see my work on it Here), and I hope the movie will be something I can be proud of.
I have two more feature films with expected release dates this year, MINE GAMES from Australia (Production Designer) and MIKEYBOY (Art Consultant, Actor).
But for a May 7, 2013 release and on advance sale now, A SIERRA NEVADA GUNFIGHT.
*
PRODUCERS
Vernon E. Mortensen
Neil Trusso
Don Franken
Kirk Harris
Kelly Parks
EXECUTIVE PRODUCERS
Allan Camaisa
Kelli Gillespie
Linda Stein
Joe Outlaw
Monte M. Moore
CO-EXECUTIVE PRODUCERS
Colleen Quinn
Craig Quinn
CO-PRODUCER
Ace Underhill
ASSOCIATE PRODUCER
Geoff Goodloe

A SIERRA NEVADA GUNFIGHT Trailer
Kudos for my SFX Make-Up work on
A SIERRA MADRE GUNFIGHT
"Gross. And awesome"
- Jeffrey Reddick (Creator of the FINAL DESTINATION movies)
"WHOA! Great work. That looks too real."
- Staci Layne Wilson, (Reporter / Reviewer: E!, BBC, NBC, M-TV, Bravo)
"Strong work, I think I'm gonna be sick."
- Scott Sigler (Best selling Science Fiction author INFECTED and CONTAGIOUS)
"Very realistic"
- Laurent Tartour (Writer, Director URBAN WOLF)

"Great job man!"
- Roger Scheck (Writer, Director, Producer NOBODY LOVES ALICE)

"Impressive work"
- Garry Charles (Writer, DEAD CERT, THE SUMMER OF THE MASSACRE)

"Disgusting! I love it!"
- Ben Rock (Production Designer, THE BLAIR WITCH PROJECT. Director, ALIEN RAIDERS)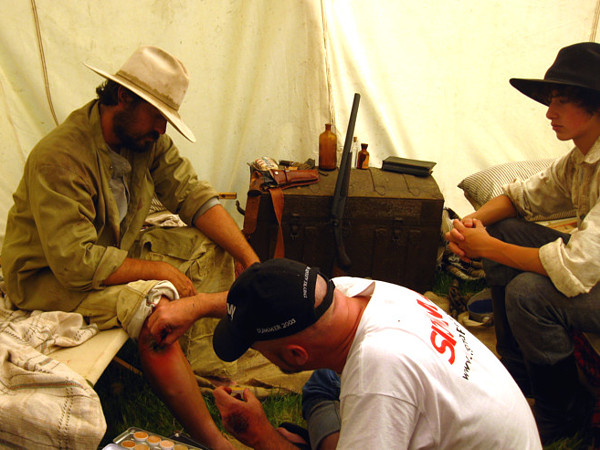 Here I am applying the "Weeping scab" to actor Kirk Harris' leg. You'll notice that I first applied the "wound" to the back of my hand so that the director could get an idea of how it would look.
Actor Ryan Ballance is also in this photo.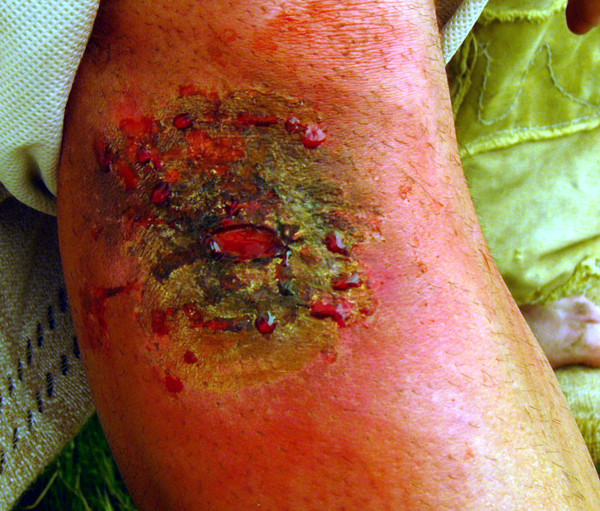 Weeping scab. Some SFX Make-up artists don't like extreme close-up stills of their work, but I've no problem with it.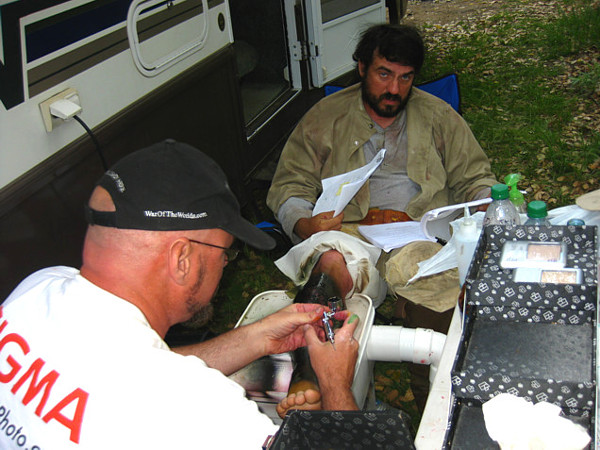 Working on the final stage leg, the gangrene leg.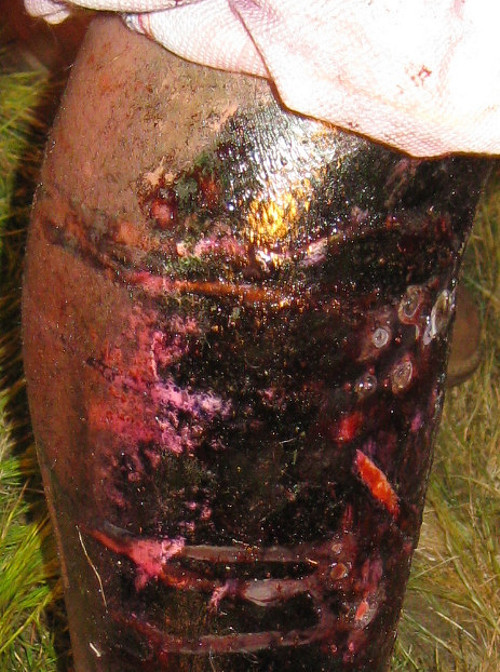 Extreme close-up of the gangrenous leg.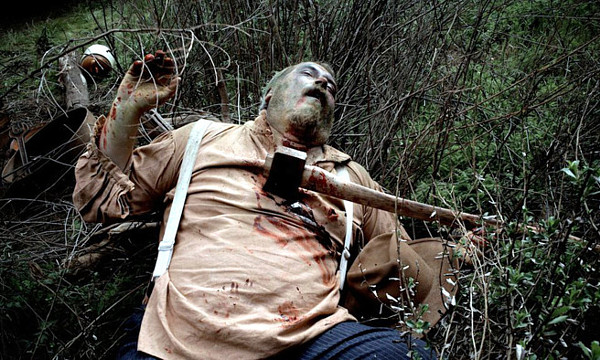 Producer Kelly Parks as a miner who has been dead for a few days.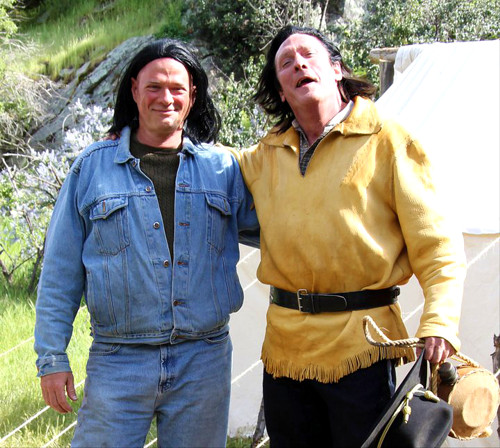 Oh yeah. I also shaved my face and stunt-doubled for Michael Madsen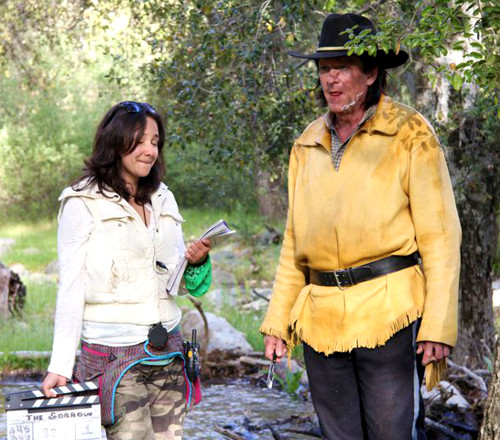 1st Assistant Director, Leny Iniguez and Michael Madsen.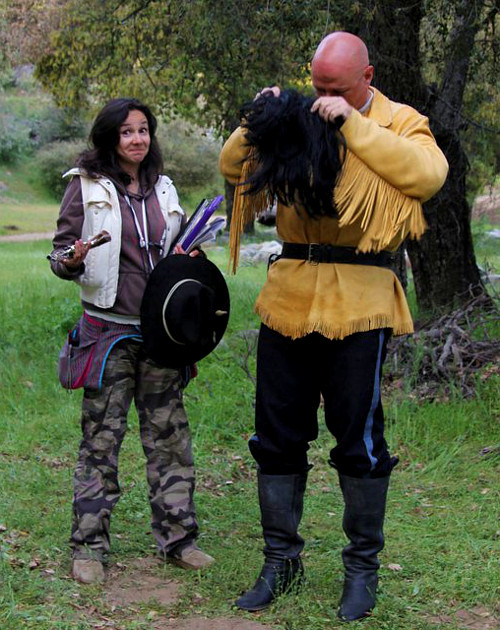 1st AD, Leny Iniguez and E.C. McMullen Jr.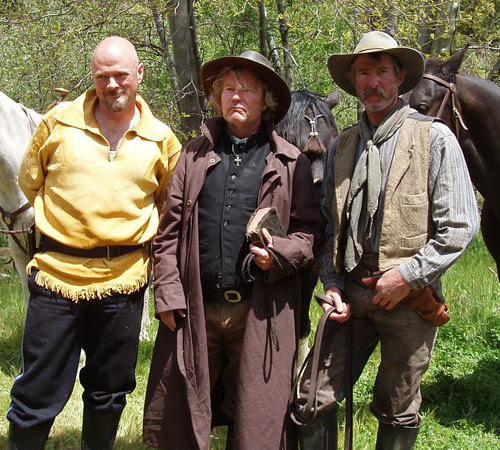 Posing for the local news with actors
John Savage and Curt Copher.
Photography by Leny Iniguez and Luz McMullen

END
This article Copyright 2013 E.C.McMullen Jr.