Review by
E.C.McMullen Jr.

AVENGERS ENDGAME

- 2019
USA Release: April 25, 2019
Marvel, Disney
Rating: USA: PG-13
You saw all of the AVENGER movies. You saw AVENGERS INFINITY WAR. You saw the trailers for AVENGERS ENDGAME. You know what's going on and what this is all about.
Still, if you want a Spoiler Free Review, here it is,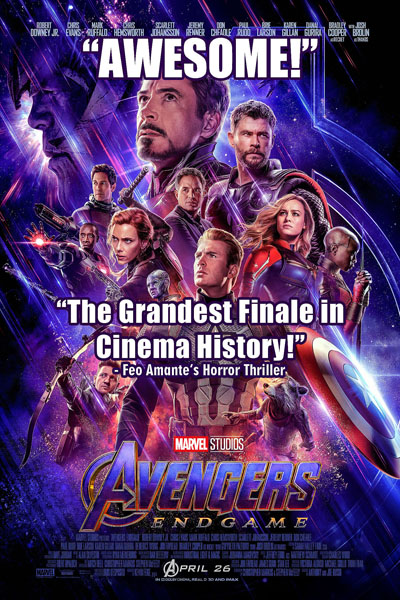 Do you want more? Well you've got it!
Throughout my brief time in this life of movie watching I've seen so Many Major franchises crash and burn. It's inevitable.
From all of the franchise Universal Monsters to PLANET OF THE APES to JAWS to THE EXORCIST to Star Wars to HALLOWEEN to ALIEN to RAIDERS OF THE LOST ARK to THE TERMINATOR to CHILD'S PLAY to ROBOCOP to TREMORS to HELLRAISER to THE CROW to THE MATRIX to BLADE to THE X-MEN to SPIDER-MAN to SPIDER-MAN redux, FINAL DESTINATION, SAW, and so many more.
Successful movie franchises that did not already have a full actual novel for each and every movie in the series to build upon are exceedingly rare. In fact, right at this moment I can only think of one: MAD MAX.
But not this time! For fans of the MCU, AVENGERS ENDGAME is an outstanding Crescendo to the most massive story arc ever committed to cinema.
After seven long years, the culmination of Stan Lee's vision, AVENGERS ENDGAME brings a cathartic close to the MCU saga.
Going in the theater, the fans shared the quiet, though not silent, melancholy of knowing that Stan didn't live to see the final outcome of his guiding force. Having got our seats early, the Stan Lee conversation was all around us.
The last we saw of the AVENGERS, Infinity War, finished with the result of Thanos winning everything. With a snap of his fingers in the Infinite mitten, Thanos (Josh Brolin: NIGHTWATCH [1997], MIMIC, HOLLOW MAN, NO COUNTRY FOR OLD MEN, PLANET TERROR, JONAH HEX, MEN IN BLACK 3, OLDBOY [2013], SIN CITY: A DAME TO KILL FOR, AVENGERS INFINITY WAR, DEADPOOL 2) erased half of all life in the universe out of existence.
All Life.
Then he went off to a distant planet to be by himself and live a nice, quiet rural existence to the end of his days. When he eventually died, he'd do so believing with all of his giant purple heart that the sacrifices he made and the uncountable lives he extinguished from the universe was worth it to protect his vague concept of natural resources.
What is never mentioned, yet sledgehammer obvious to the most casual observer, is that within the cinema universe of the MCU, as laid out in INFINITY WAR, Thanos is an Ecoterrorist.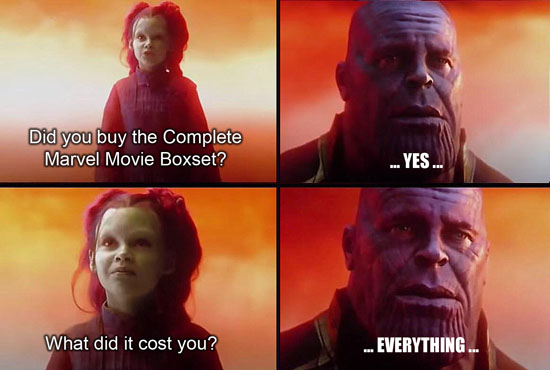 When AVENGERS INFINITY WAR ended, the tears began. Grown men and women left the theater crying, it was that much of an emotional punch to an audience who had spent years getting invested in the various characters.
The entire point of ENDGAME is, of course, can the remaining Avengers undo the damage Thanos did? And if so, how?
After AVENGERS ENDGAME, ensemble superhero movies like DARK PHOENIX and any future variations of The Justice League, just don't inspire (not by their trailers, anyway) and I won't be surprised if they don't cut it. AVENGERS ENDGAME is a Tsunami; a final word on the genre.
I don't know where they can go with BLACK PANTHER. All of the Wakandas are basically high tech superheroes who fight together against a common foe. Any threat after Thanos is anti-climatic.
Outside of the MCU? I don't see where they can go with the X-MEN, who are largely only fighting themselves.
The upcoming Spider-Man?
Yeah, he may make it. Peter Parker is a lone wolf always on his own and fighting low-level, demi-supervillains. It's unlikely that The Vulture could stand a chance against an IRON MAN or CAPTAIN AMERICA, and that's a niche that can work for Spidey. He's never really a member of any "team" and falling back on a half dozen supers coming to his rescue in the second act is not his thing. Same can be said for DEADPOOL and - just maybe mind you - the gang of outcasts known as THE GUARDIANS OF THE GALAXY.
In a sense, ENDGAME expressed just how awkwardly out of step the Guardians are to the rest of the Avengers. Peter Quill (Chris Pratt: WANTED, JENNIFER'S BODY, ZERO DARK THIRTY, GUARDIANS OF THE GALAXY [all], JURASSIC WORLD [all], AVENGERS INFINITY WAR) is a super powered Jack Burton buffoon with weak character and emotional issues, beyond the otherwise adult flaws of the rest of the group outside his core. So far he always wins because he had another unknown Super power ace up his sleeve. Peter will have to dig deep beneath the saving grace of his boyish charm as he's largely a Mary Sue, which Vol. 2 alluded to anyway.
ENDGAME: Apropos title for this complex, magnificent final AVENGERS movie. Like Star Wars before it that crushed all nascent (and lesser) space operas in its wake, AVENGERS ENDGAME is not a game changer, it's the Game Ender.
Five Shriek Girls.






This review copyright 2008 E.C.McMullen Jr.