Review by
Kelly Parks

THE DAY THE EARTH STOOD STILL

- 1951
USA Release: Sept. 18, 1951
20th Century Fox
Rating: N/A
Exposition is like bad tasting medicine. The best way to give it to somebody is to sneak it in along with something that tastes good. If you give it all in one big dose it leaves a nasty taste in your mouth. That's why I hate movies that begin with a ten or twenty minute let's-get-to-know-the-characters expositionrama. And that's why I like movies that draw you in by having a flying saucer land on the White House lawn.
THE DAY THE EARTH STOOD STILL was directed by Robert Wise (CURSE OF THE CAT PEOPLE, THE ANDROMEDA STRAIN) and written by Edmund H. North (SINK THE BISMARK!, METEOR), based on the short story "Farewell to the Master" by Harry Bates.
The story opens with news reports of a strange craft detected on radar circling the globe at speeds up to 4000 miles per hour (several of the reporters seen here were actual newsmen of the early 50's, giving a much more realistic flavor for theater audiences of the era). The saucer is seen over Washington D.C. and comes in for a landing in a city park on the Mall (a grassy area in front of the capital building - I exaggerated a bit about the White House lawn). Crowds surround the vehicle and the military takes charge.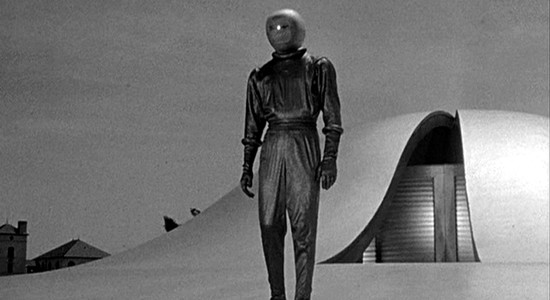 Hey! Check it out, yo! I'm an alien from another world! How freaking COOL is THAT?
Okay, now I'm going to pull out this Sharp and Pointy thing which,
according to our studies of your planet, looks like one HELL of a dangerous weapon!
BUT, Don't Freak Out like ALL of the beings on ALL of the other planets do!
We don't have to wait long. The ship opens and a man wearing a spacesuit walks out. He says he comes in peace but when he reaches into a pocket an overeager soldier fires. The man drops and the crowd gasps as a huge robot steps outside. The robot proceeds to disintegrate every rifle, tank and artillery piece in sight. It would have done more but a word from the spaceman stops the destruction.
The spaceman is Klaatu (Michael Rennie: THE POWER, CYBORG 2087, THE LOST WORLD [1960]). He is taken to Walter Reed hospital and is well treated but kept in a locked room (something he finds amusing). The hospital staff is amazed by Klaatu's powers of recovery.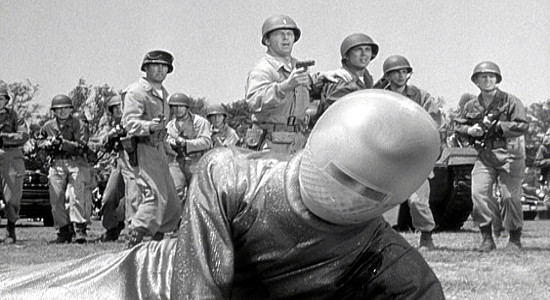 "Didn't I just tell you NOT to freak out like ALL of the other beings do?
Damn it! I come all this way to visit and you freaking SHOOT ME?
You guys just SUCK!
Oh, leave me alone, Gort, I've got this! I'VE GOT THIS!"
Back at the saucer the giant robot (we later find out his name is Gort - he's played by the very tall Lock Martin: INVADERS FROM MARS) remains motionless as well as impervious to all tests. The military decides to encase the metal monster in plastic to keep him from moving around.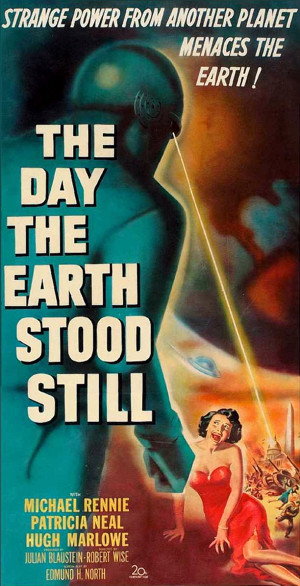 STRANGE POWER FROM ANOTHER PLANET MENACES THE EARTH!
Klaatu meets with Mr. Harley (Frank Conroy: MIGHTY JOE YOUNG), a man from the government, and is disappointed to discover that a meeting of all the heads of state on Earth can't be convened immediately. Klaatu is disdainful and dismissive (and kind of a jerk) of our "petty squabbles" here on Earth. Don't these foolish Earthlings know why he's here? Don't they understand what's going on?
Well, no, of course they don't. And Klaatu decides he doesn't understand them either so he makes his escape and - since he looks perfectly human and speaks English (learned by listening to our broadcasts) - easily blends in with the populace. He takes the name "Carpenter" (one of several Jesus references) and rents a room from Mrs. Barley (Francis Bavier, better known in TV land as Aunt Bea). There he befriends a young boy named Bobby (Billy Gray: THE NAVY VS. THE NIGHT MONSTERS, WEREWOLVES ON WHEELS, THE VAMPYRE WARS) and his single mother Helen Benson (Patricia Neal: STRANGER FROM VENUS, GHOST STORY).
The discussions around the dinner table at the boarding house reveal the near panic of the general public, knowing that an escaped alien is wandering around the city. Rumors of destruction and invasion are everywhere, although opinions vary as to exactly how alien Klaatu is. Mrs. Barley makes it clear she thinks it's all a communist plot.
Klaatu does some sightseeing with Bobby and seems truly fond of the boy, which is an interesting contrast to threats Klaatu made earlier to Mr. Harley. In order to be taken seriously he asked if he needed to do something drastic, like destroy New York City. As later events make clear, he was quite serious. Klaatu is likable in many ways but make no mistake: this is not a nice guy. He's here on a mission and will do whatever it takes.
And what is that mission? For that, you have to see the movie. And when you do you'll better understand this
!!!SCIENCE MOMENT!!!:
When Mr. Harley questions Klaatu about his trip, Klaatu reveals that he traveled 250 million miles to get to Earth. He's coy about exactly what planet he comes from, saying only, "Let's just say we're neighbors." But given these clues his homeworld could only be Mars or Venus. Keep in mind this is 1951, before we knew just how thin Mars' atmosphere was and back when we still thought Venus was a humid, cloud covered jungle world instead of the sulfuric acid cloud inferno that it is. The movie sort of acknowledges this because when Klaatu leaves the hospital we briefly see the newspaper headline: "Martian Escapes!"
This is an excellent movie that certainly rises far above the many bad sci-fi flicks that come from this era. But there is a political undertone here that people sometimes miss. Klaatu isn't an invader exactly but he does have a "do it our way or die" agenda.
He doesn't scare me, though. But just to be safe I'm giving this movie four shriek girls.






This review copyright 2004 E.C.McMullen Jr.